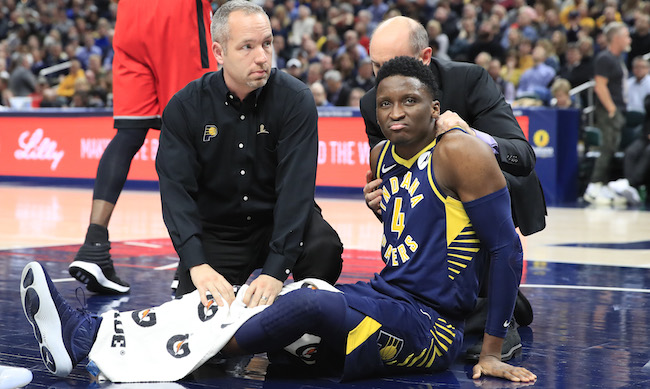 Victor Oladipo has been an absolute revelation during his season and a half in Indiana. He went from unwanted castaway in OKC to the league's Most Improved Player and a first-time All-Star. He subsequently helped lead the Pacers to a thrilling seven-game showdown against the Cavs in the opening round last spring.
So when he took a hard fall trying to chase down Pascal Siakam in the open court on Wednesday night in the first half against the visiting Raptors, the whole arena and everyone else watching at home held their collective breath. Oladipo knew something was seriously wrong immediately as he motioned for the trainers and was subsequently stretchered off the court.
His colleagues around the NBA tweeted their support as he was taken to the locker-room to be evaluated, and now it appears the worst fears are indeed reality. According to ESPN's Adrian Wojnarowski, Indiana fears Oladipo's knee injury will require surgery and keep him out for the rest of the season.
https://twitter.com/wojespn/status/1088254227879813120
Although there weren't anymore specifics about the nature of the injury, it's clearly a serious blow to an Indiana team that is currently No. 3 in the East and appeared poised to make a legitimate run at the conference crown. It's also obviously devastating to Oladipo personally, who had continued to play at an All-Star level this season and will apparently be done barring something unforeseen being revealed by Thursday's MRI.
The Pacers went 7-4 in the 11 games Oladipo sat out earlier this season, but they were winless without him in the lineup all of last year. Still, he and the organization are hoping for a best-case scenario in which he makes a full recovery and is eventually able to continue his NBA career and be a productive member of his team.