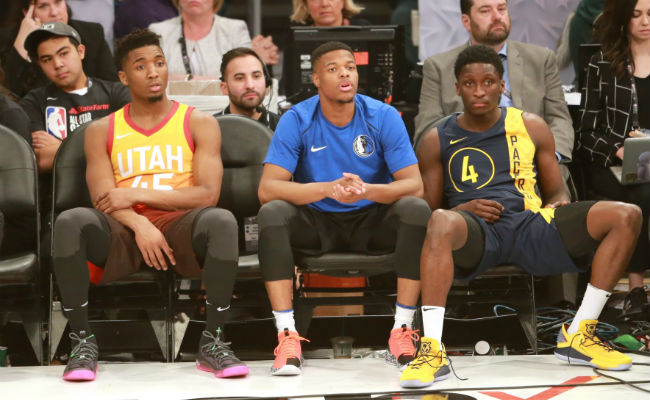 Victor Oladipo didn't win the Slam Dunk Contest on Saturday night, and now we know it's only because he saved his best dunk for the finals he didn't reach.
Oladipo didn't finish his first dunk and got some help from Black Panther star Chadwick Boseman to deliver a Wakanda-inspired dunk wearing the Black Panther mask, but it wasn't enough to get him in the final. That doesn't mean his All-Star Weekend was a disappointment — his father saw him play for the first time in the All-Star Game on Sunday.
But it does mean that now that we've seen footage of the dunk he left on the table there's real reason to think we missed out on something special. TeamFlight Brothers posted a video of a previously unseen dunk from Oladipo, and it's clear that if he busted it out at Staples Center on Saturday night he would have gotten straight 10s from the judges.
https://www.youtube.com/watch?v=DmNFmdFA52Y
This dunk is, in a word, completely insane. It's a mix of a lot of dunk standards — off the backboard and a 360 spin — while also a combination of what many felt was the dunk of the night: Larry Nance Jr.'s double tap off the backboard.
But the dunk is far more than just a quick extra tap off the glass. In fact, you could certainly argue that Oladipo's dunk would have been far better than Nance Jr.'s, which wasn't executed while in the middle of a 360 and switching from one hand to the other.
There's no going back here, and nostalgia carried the evening and led to a Donovan Mitchell win, but it's really a bummer to know Oladipo had this in the chamber and didn't get the chance to wow the crowd with it. Hopefully he gets to bust it out next year if he's given the chance.