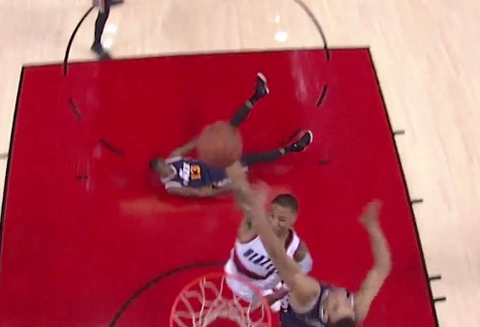 This shouldn't come as much of a surprise, but Damian Lillard once again destroyed a big defender at the rim with a powerful hammer on Tuesday night. After all, the All-Star snub has made his presence known at the rim this season, especially in the fourth quarter. With seven minutes remaining between the Blazers and Jazz, the former Rookie of the Year got the Moda Center rocking with an electric drive that showcased his impressive handle and fearless ability to attack the rim.
Dame beat Elijah Millsap off the dribble with a right-to-left crossover before an explosive kick to the bucket, which actually caused Millsap to lose control of his feet and fall to the floor. With that newfound space created, Lillard took flight and flushed through a mighty, right-handed slammer over the towering, 7-1 Rudy Gobert.
It sure is a shame we won't be seeing Dame or his dunking antics at the All-Star Game this month. Lillard tallied 25 points, six assists, and four rebounds on Tuesday, as Rip City narrowly escaped a back-and-forth battle against Utah with a 103-102 win.
What do you think?
Follow Elizabeth on Twitter at @gobibs.
Follow Dime on Twitter at @DimeMag.
Become a fan of Dime Magazine on Facebook HERE.