It's a testament to the Warriors that we still knew they were in the game despite falling behind to the Mavs last night 24-4 in the opening first six minutes of the first quarter. Klay Thompson's NBA-record 37 points is still the apogee of individualized scoring this season, but his fellow Splash Brother, Stephen Curry, performed a fair approximation by scoring 26 points in the third quarter last night when the Dubs took the lead, and 51 overall after knocking down 10 three-pointers on the game.
Steph's line was impressive. He was 16-for-26 including 10-of-16 from beyond the three-point arc and 9-of-11 from the charity stripe. He added four assists and four rebounds to his NBA Jam ON FIRE mode in the third.
Just crazy. Here's Steph's shot chart, and it's worth noting he was just 2-of-4 in the restricted area — good on you Tyson Chandler.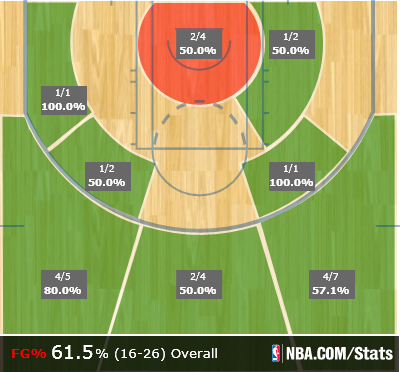 Curry also managed to make his coach, Steve Kerr — no stranger to epic performances, shake his head in wonder after another three ripped the nylon in the second half:
https://platform.vine.co/static/scripts/embed.js
https://platform.vine.co/static/scripts/embed.js
Steph's last bucket, to give him 51 and cement a high-scoring 128-114 Warriors win, came after shaking a helpless Raymond Felton with inside of a minute remaining before draining a 28-footer.
https://platform.vine.co/static/scripts/embed.js
Watch Steph's magnificent performance in all it's glory and marvel at a backcourt that can go off at any time.
What do you think?
Follow Spencer on Twitter at @SpencerTyrel.
Follow Dime on Twitter at @DimeMag.
Become a fan of Dime Magazine on Facebook HERE.