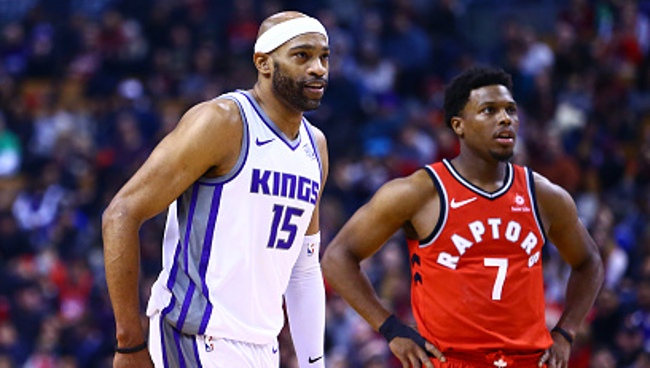 On Tuesday, it became official that one of the two longest-tenured players in the NBA right now will come back for his 21st season, as Dirk Nowitzki agreed to terms to return to the Dallas Mavericks next year. One day later and the NBA's "other" longest-tenured player will also return for at least one more year, as Vince Carter is set the play his 21st NBA season.
According to Adrian Wojnarowski of ESPN, Carter will head to a new city during the 2018-19 campaign. In an effort to add a veteran presence among all the young players on their roster, the Atlanta Hawks have decided to bring Carter on board.
Shams Charania of Yahoo Sports added that Carter will head to Atlanta for the veteran's minimum.
Outside of Kent Bazemore, Jeremy Lin, and Miles Plumlee, the Hawks are incredibly young, as the team is expected to lean heavily on second-year forward John Collins and rookie guard Trae Young next season. It's the eighth stop for Carter in his NBA career, as he's suited up for Toronto, New Jersey, Orlando, Phoenix, Dallas, Memphis, and Sacramento before ending up in Atlanta.
Carter will turn 42 in January, so while he will have the occasional flash of being a serviceable NBA player, expectations should almost certainly be tempered about what he can still do on the floor. But, he's a great veteran presence for a locker room that can use one, which is ultimately the most important thing for the Hawks. Time will tell if he decides to set the NBA record during the 2019-20 campaign with his 22nd season, but for now, Carter is tied with Kevin Garnett, Robert Parish, Kevin Willis, and Nowitzki for the longest career in NBA history.