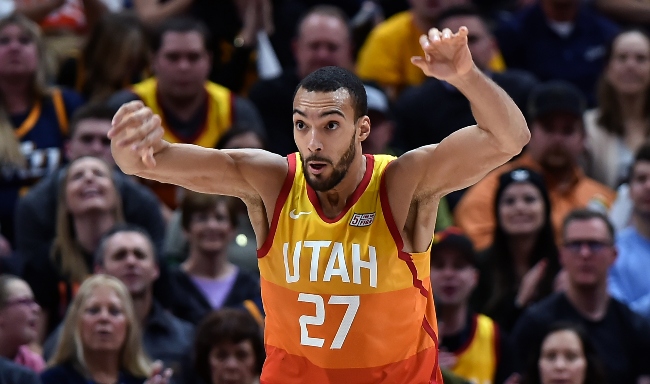 Utah Jazz center Rudy Gobert wasn't considered a lock to make his first All-Star team, but the standout big man was viewed as a clear-cut snub when he wasn't named one of the game's reserves on Thursday night. It moved Gobert to tears while meeting with the media on Friday afternoon, and according to a report, not making the game cost the France native a $1 million bonus.
Gobert appeared to take some frustration out on the court on Friday night, as he was magnificent during Utah's 128-112 win over the Atlanta Hawks. In 28 minutes of action, Gobert tied his season-high with 25 points and pitched in 13 rebounds and a pair of blocks.
Hawks veteran Vince Carter made it a point to seek out Gobert after the game, giving him a hug and saying something to the Stifle Tower. During a press session in the locker room, Gobert revealed that Carter basically told him to keep his chin up in light of missing out on the All-Star festivities.

"He told me eventually people are going to start recognizing you, to keep doing what I was doing," Gobert said.
The big man went on to say that the NBA's oldest player is a guy he, unsurprisingly, respects immensely. It was a kind gesture from Carter, who has been through it all over the course of his professional career and has made it a point as his time on the hardwood is winding down to mentor younger dudes. Beyond Gobert, Carter had some praise for Gobert's teammate, Donovan Mitchell as well.
"You can just see the maturation in his game, how comfortable he is," Carter said, according to UtahJazz.com. "That's what you want in a young guy who's in his second year. Now you see, you understand how the season goes, you understand how the NBA game is played. He just looks comfortable out there."
Seeing as how Gobert and Mitchell are two pillars for the Jazz moving forward, seeing them get this sort of praise from a guy as well-traveled as Carter has to make Utah fans pretty happy.