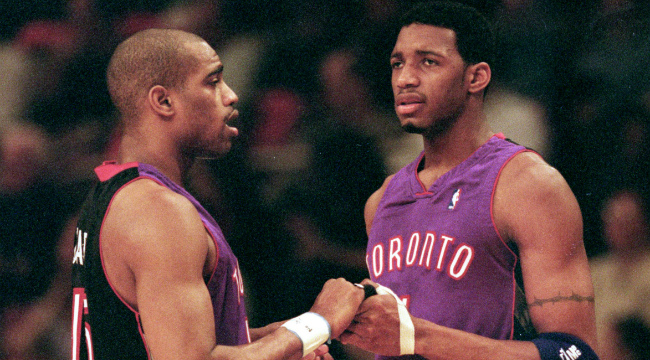 From 1998-2000, the Toronto Raptors had the best young pairing in the NBA. The team drafted Tracy McGrady with the ninth pick in the 1997 NBA Draft, and one year later, the Raptors acquired Vince Carter in a draft day trade. While the two cousins only spent two years together — McGrady joined the Orlando Magic in free agency — it was still wildly entertaining watching them start their careers together.
We never got to see the two perform with one another in their primes, but Muggsy Bogues saw what they could together. And for the famously diminutive point guard, he saw two players who had the potential to be one of the greatest duos in league history.
Bogues finished his career in Toronto and told Bleacher Report about the pair's potential. In his eyes, Toronto had two players who could have been the next Michael Jordan and Scottie Pippen.
When Bogues arrived in Toronto, he had an instant comparison for what he saw in McGrady and Carter. "Once we got there, we saw the ability that Tracy McGrady had and what Vince was doing and continued to do," Bogues said. "They were the two closest [to] Michael [Jordan] and [Scottie] Pippen in terms of physicality, in terms of their game and what they brought to the game."
Neither Carter nor McGrady were ever considered great defenders, so that aspect of a comparison to Jordan and Pippen is a little off. But as for offensive ability — along with the physical gifts Bogues mentions — absolutely could have made them one of the best duos ever.
Sadly we never got to see the two players team up in their primes and raise hell against just about everyone, but I suppose this adds to the mystique of the pairing.
(Via Bleacher Report)