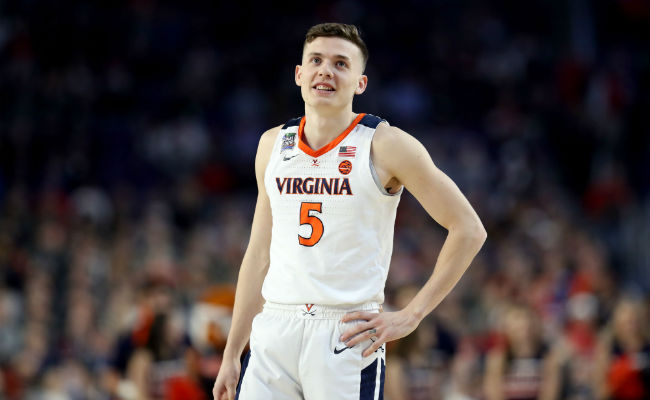 Virginia basketball will play for a national championship. Despite a late game collapse, a foul call that no one will forget anytime soon with less than a second remaining sent Kyle Guy to the charity stripe for three free throws. The Cavaliers standout hit all of his shots, a late-game heave by Auburn was for naught, and through boos from the Tiger (and impartial) faithful, UVA celebrated coming out on top, 63-62, for the first title game berth in program history.
The first half was interesting, because while Virginia managed to grind things down to the slow, methodical pace that has become their trademark under Tony Bennet, Auburn took a 31-28 lead into the locker room. The Tiger defense was ferocious — while Ty Jerome's 13 points led all scorers, the Hoos' other two stars, Guy and De'Andre Hunter, combined for nine points on 4-for-16 shooting.
Interestingly enough, the difference came down to the free throw line. Both squads only made 12 field goals, three of which were behind the three-point line, but Auburn hit three more free throws. The unlikely duo of Samir Doughty and Anfernee McLemore led the way with seven points apiece, while Jared Harper and Bryce Brown couldn't really get going.
We did get a chance to see Harper turn on the jets and go coast-to-coast for a layup, though, which is as exciting of a moment as there is in college basketball.
All things considered, the Tigers had to have been thrilled to get to the locker room with the lead. Auburn's at its most dangerous when it can push the ball and knock down threes, but Virginia put the clamps on both of those things. The Cavaliers made this the kind of game they are so good at winning for the first 20 minutes of action, while the Tigers were unable to cook the way they've been able to on their Tournament run… and yet the scoreboard was tilted in favor of Bruce Pearl's bunch.
But as Virginia is wont to do, their style of play got them back out ahead early on. Hunter picked up a pair of buckets at the start of the second half to give Virginia the lead, and due to a nearly six-minute scoreless drought to start the period by Auburn, the Hoos found themselves out in front.
An interesting thing happened, though: Every time it looked like Virginia was about to break the game wide open, the Tigers found ways to respond to keep it just close enough that you thought they had a chance to win the game.
At no point was that more evident than when the Cavaliers had a 10-point lead thanks to a triple by Jerome with less than six minutes remaining.
Auburn responded to this with 12 consecutive points to take the lead with less than two minutes remaining. Virginia just completely collapsed — its final bucket before this stretch came with 5:24 left in regulation — while the Tigers turned to Brown, who hit a trio of triples to spark the run.
Still, the Cavaliers had a chance down the stretch. McLemore hit two free throws, then Guy hit an off-balance triple, then Harper went 1-for-2 from the stripe. With 1.5 seconds left, Guy got a look from three in the corner, and while he missed, the officials called a foul against Doughty.
Guy stepped up and hit all three, and because scoring in college basketball with 0.6 seconds left is awfully hard, the Tigers were unable to hit a miracle shot.
It's unfortunate that the circumstances under which the program made its first national championship game will come under such serious scrutiny, but Virginia will keep on dancing. Jerome's 21 points led all scorers, while Guy and Hunter had 15 and 14, respectively. For Auburn, the trio of Doughty (13 points), Brown (12), and Harper (11) did most of the heavy lifting.
There was also a significant missed call before the foul that gave Virginia the win.
Salute to the Tigers, because they were an absolute joy to watch this season as they made the first Final Four in school history. Ultimately, it wasn't enough, and now, the Cavaliers will take on either Michigan State or Texas Tech on Monday night.