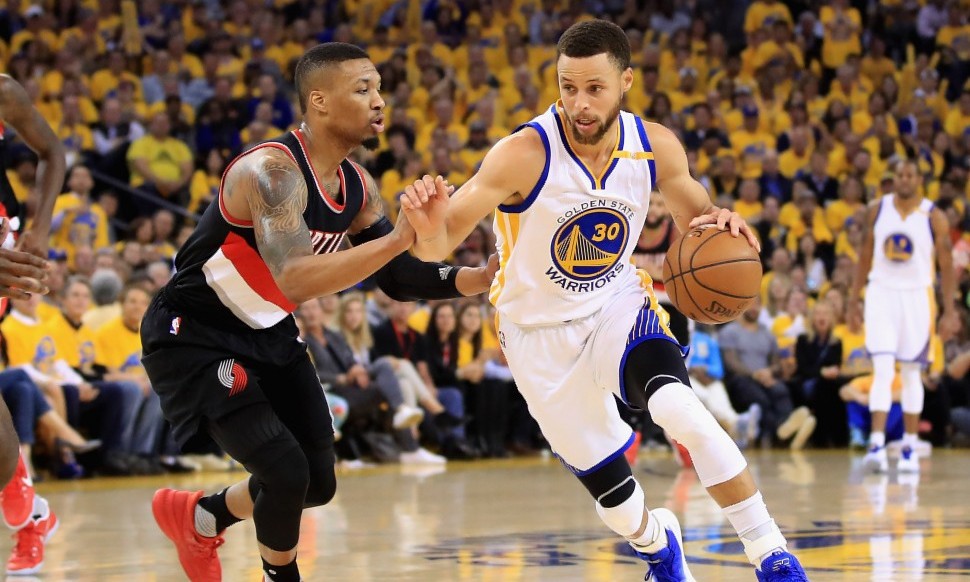 The Warriors and Blazers will meet in the Western Conference Finals, as Portland is now the last line of defense in the West to prevent the Warriors from a fifth straight NBA Finals appearance.
It's the third time in that period the two teams have met in the postseason, with the Warriors winning easily in the first two series. The hope this time is that this particular Blazers team, which has made it further than any Portland team since 2000, has learned from the lessons of past playoff failure and is ready to be a true challenger to Golden State's throne.
The oddsmakers still have Golden State as a hefty favorite (-500) and the Blazers as sizable underdogs (+375), for good reason, but those odds are much closer than they would have been had the two teams met in the first round. That's because Portland has been impressive in dispatching of the Thunder and Nuggets in the first two rounds, and Damian Lillard and C.J. McCollum seem to be in top form as one of the league's most formidable backcourts.
There are five main factors that will decide this series, and we'll explore those below. The Blazers are a long shot, but it's far from a certainty that the Warriors will roll through to the Finals with ease.
Kevin Durant's Health

Durant won't play in Game 1 and it seems highly doubtful he'll be ready to go for Game 2. For all the firepower the Warriors possess, Durant has been operating as the league's best player in the playoffs and there is no one on the Blazers that can matchup with him on the defensive end. Portland doesn't have a P.J. Tucker they can throw at him — or even a Patrick Beverley to pester him — and every game he's not on the floor offers the Blazers defense a better chance at trying to limit Steph Curry and Klay Thompson by not needing to focus energy on Durant.
The Warriors offense is still great without Durant, as it puts the ball in Curry's hands more and seems to open up the flow of their offense more than when Durant is there to isolate. Even so, Durant's absence puts more pressure on Golden State's (very good) "others" like Draymond Green and Andre Iguodala to get more involved offensively. In Game 6 in Houston, those two in particular were spectacular. In this series, for however long Durant is out or limited, they'll have to come up big to help out the Splash Bros.
Lillard And McCollum Working Together
The Blazers backcourt is special. Full stop. However, to beat the Warriors they can't take turns having big scoring nights as they often do. Portland will need a Game 6 like combination, when they both topped 30 points against Denver, from their dynamic guard duo on a regular basis if they are to take down Golden State.
When Lillard and McCollum are both engaged and, to steal a soccer term, in the mood, the degree of difficulty for the defense rises tremendously. The Blazers are 4-0 this postseason when they score 60-plus combined and 4-4 when they finish under that mark. That is a bit over simplistic, but it illustrates the level those two need to be on to cause real problems for Golden State. Klay Thompson will be thrown at whichever of those two is hottest on a given night, with Steph Curry likely having to handle the other one. If both are going, it'll make the decision of who to matchup with more difficult for Golden State and give Portland a much better opportunity to pull off an upset.
Crossfit Dray

Draymond Green has been unbelievable through two rounds of the playoffs and much has been made about his commitment to getting in top shape towards the end of the season. He's in the midst of one of his best postseasons of his career, quite the feat for someone many questioned as being on a potential career backslide earlier this season.
If you want to go so far as to say the backcourt matchup is a wash in this series (which is an aggressive take, but let's roll with it) and Kevin Durant's injury is going to keep him out significant time, then it's Green that is the Warriors greatest advantage. It's almost unbelievable how much better Golden State's been this postseason with Green on the floor than off of it through two rounds. The man that's long been considered the emotional heart of the Warriors is also the engine driving them this playoffs.
The Warriors' net rating with Green on the floor this postseason is a +11.7 (the best of the starters and second to Kevon Looney (!) at 16.0), while they plummet to a -13.6 net rating when he's on the bench (by far the worst on the team, with Curry's -6.8 in second). It's not just the defense that takes a hit when Green exits, but he's been key in keeping the offense going as well. In previous playoffs, Green's scoring contributions have been split fairly evenly between twos and threes (typically in the 60-40 range), but given his 20 percent three-point percentage he's attacking the rim at a much higher rate (almost 68 percent of his points in the paint and 74 percent of his points coming from two).
Green's willingness to attack has been huge for the Warriors, and his eight assists per game leads the team by three full assists over Curry. This form of Green is the perfect complement to the Warriors stars and he is, truly, the reason they belong as such heavy favorites in this series. If he continues to play the way he has, the Blazers don't have an answer for that, which might buy Durant even more time to recover from his calf injury.
Zach Collins Staying Out Of Foul Trouble
The play of Enes Kanter this postseason has helped to rewrite the narrative about him on this stage, that for years has been defined by the video of Billy Donovan saying "can't play Kanter." However, the matchup with Golden State seems like a bit of a nightmare for him on the defensive end, and the Blazers will likely need to lean on Zach Collins for significant minutes — as they did late in the Nuggets series where he shined.
Collins was great late in that Denver series, giving them a major boost in the middle with his rim protection, rebounding, and scoring production off the bench. The biggest issue Collins has is getting into foul trouble — how he didn't foul out of Game 7 seems like a minor miracle — and the Warriors will put him to the test in that regard. Collins, like many young shot blockers, hasn't quite learned the patience needed to stay away from silly fouls. He jumps, a lot, and tries to get to shots he can't, which often leads to him picking up fouls. With how often the Warriors are likely to run lineups with Draymond at center against the Blazers and how much they run pick-and-roll with Curry when Durant's out, Collins has to be able to stay on the floor so Golden State doesn't just hunt Kanter on the switch.
If he can give them quality minutes to balance with Kanter — who it must be said is doing incredibly well given his injury and the fact that he's fasting for Ramadan — that'll be huge. If not, and Kanter has to log major minutes, that will be something Golden State tries to attack over and over again.
Wing Contributions For Portland
Rodney Hood's redemption arc has been rather incredible this postseason, and he avoided a serious knee injury when he left Game 7 in the late third quarter. Hood hyper-extended his left knee and is listed at day-to-day going forward. Evan Turner, after being almost non-existent through the first 11 games of the playoffs, gave them a huge boost down the stretch off the bench in Hood's absence in the Game 7 win.
Between Hood, Turner, Maurice Harkless, Al-Farouq Aminu, and whoever else, Portland has to get contributions from their wing rotation in this series to give support to their star backcourt. To this point, they've been able to lean on Lillard and McCollum in their playoff wins, but against the Warriors they have to get more complete games, which means their wings have to be threats to knock down open shots when Golden State inevitably collapses on Lillard and McCollum to force the ball out of their hands.