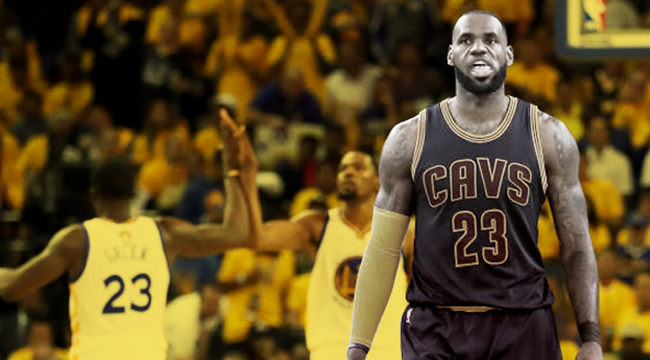 The Golden State Warriors made a statement in Game 1 of the NBA Finals against the Cavaliers on Thursday night in Oakland as they dominated Cleveland in a 113-91 rout. The Warriors' victory wasn't surprising – they were the heavy favorites to win both the game and series coming in – but the manner in which they did it proved that their margin for error is exponentially greater than that of the Cavs.
The Warriors weren't at their most efficient on offense, shooting 42.5 percent from the field, 36.4 percent from three, and 68.8 percent from the free throw line as a team, but that was still enough to blowout the Cavs. Kevin Durant and Steph Curry carried the offensive load with over half of Golden State's points (66) and 9 of its 12 made threes coming from the former MVPs.
While Durant and Curry thrived, Klay Thompson and Draymond Green struggled.
Thompson and Green had 15 points combined on 6-of-28 shooting (1-of-10 from three) between the two other All-Stars on the Warriors. Even without anything close to a decent night on offense from two of their four best players and a below average shooting night as a team, the Warriors were still able to manage a 109.7 offensive rating and crush the defending champs. That's due in large part to the defensive effort. For every missed bucket Green and Thompson had, they put in a tremendous defensive effort on the other end.


The Warriors "off nights" aren't like most teams, which is what creates such a problem for opponents. It was clear that this wasn't the Warriors' A-game on offense, and defensively they had some issues containing LeBron James' driving the ball in the first half. However, despite their relative struggles as a team offensively, Golden State remained tight with the ball, committing only four turnovers, and their defense shined with an 89.2 defensive rating.
They were especially great in their off-ball defense, sticking to weakside shooters when James would drive and try to kick and forcing a number of turnovers that way. The rim protection from Green, Zaza Pachulia, and JaVale McGee was also impressive.
Because the Warriors are a team with such an embarrassment of riches, they can afford to have key players have off nights. The Cavs usually have that advantage against most of their opponents, but they do not have that luxury in this series. Going up against the Warriors' defensive pressure and offensive firepower gives their opponents — even the Cavs — a razor thin margin for error, and that was never more evident than in Game 1.
Cleveland hung around in the first quarter while both teams seemed too amped up for their rematch, but as the game wore on, Golden State settled in thanks to Kevin Durant carrying them through the rest of the team's offensive struggles. Cleveland was never able to settle into a rhythm, especially their role players which could not provide LeBron James and Kyrie Irving (who combined for 52 of the Cavs' 91 points) with any support.
The Warriors can win games when their superstars carry the vast majority of the load on offense in this series. The Cavaliers cannot. Kyle Korver and Deron Williams, the two mid-season additions to the Cavs that everyone pointed to as improvements to Cleveland's firepower off the bench over last year combined to go scoreless on an 0-for-7 effort in 38 combined minutes. Kevin Love pulled down 21 boards, but went 4-of-13 from the field for 15 points. Tristan Thompson was rendered completely ineffective by the Warriors, going scoreless with a grand total of four rebounds in 22 minutes.


LeBron and Kyrie were far from perfect, combining for 12 of the Cavaliers' 20 turnovers (eight from James alone), but even if those two were at their best, against this Warriors' defense, they will still require some form of help from the rest of the team. On defense, the effort in transition was comical, as the Cavs outright refused to stop the ball on the fast break.
While it's an admittedly difficult choice between Durant dribbling down court and Steph Curry or Klay Thompson spotting up from three, the Cavaliers regularly abandoned the ball with no one else behind to chase out on shooters that had yet to even catch a pass. The defensive woes that had plagued the late regular season run, but had apparently been fixed in the Eastern Conference Playoffs reared their ugly head at the worst possible time for Cleveland — or, more likely, Golden State is simply better suited to expose flaws that the Cavs foes in the East couldn't.
Prior to the series, I felt that the Cavs would need to play five near-perfect games to win, because there will be one game that the Warriors are simply unbeatable — which, terrifyingly enough, wasn't tonight. After Game 1, that feeling is only strengthened. The Cavs now have to manage to put together those five performances in the six remaining games.
I'm not ready to call for a Warriors sweep. I've watched too much of LeBron James' career to be that foolish. But Game 1 wasn't even the Warriors' best effort, and they still dominated. That's a demoralizing thing for an opponent. Cleveland can certainly clean up their act and play much better, but the scary thing is so can the Warriors.
This series isn't over, but the first game solidified just how difficult a task Cleveland is facing.