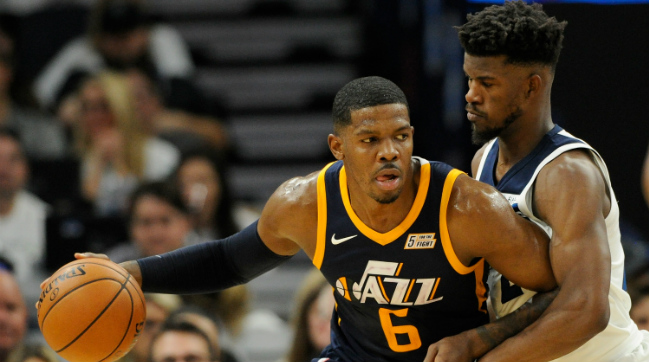 Joe Johnson may be 36 years old, but the veteran bucket getter is still chugging along. This year, Johnson has suited up for the Utah Jazz, averaging 7.3 points in 21.9 minutes per game on 42 percent shooting from the field and 27.4 percent shooting from three. It has hardly been his most productive season, but as he's shown at times this year, he's still capable of providing an offensive shot in the arm in the right situation.
He might be in a position where he needs to find that situation soon, because Johnson was included in the trade that sent Rodney Hood and George Hill to Cleveland. Johnson got sent to the third team in the deal, Sacramento, and seeing as how he has an expiring contract and the Kings aren't expected to turn into a juggernaut any time soon, he's a prime candidate to get bought out.
Should Johnson hit the market, Yahoo! Sports' Chris Mannix reports interest will be high in retaining his services, with two of the top teams in the league expected to try and earn his signature as a bench piece.

Johnson is absolutely the kind of player who can ring chase at this point in his career if he wants, and he would certainly give the Warriors or Celtics some more firepower off of their respective benches. It remains to be seen where exactly he'll end, but the thought of him joining the best team in either conference is certainly a fun one.