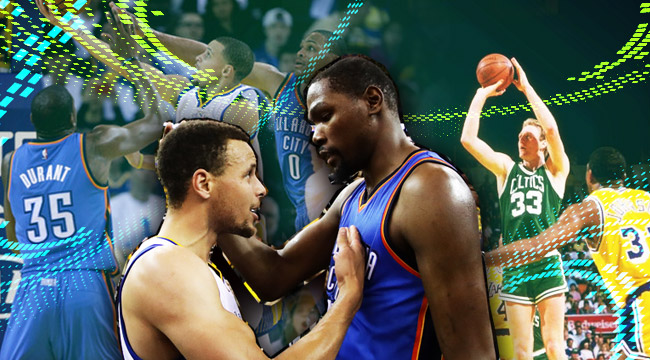 In the wake of Kevin Durant signing with the Golden State Warriors, much of the focus has been on how ridiculous the Warriors look on paper. And for good reason! The team now boasts four — Durant, Steph Curry, Draymond Green, and Klay Thompson — of the best 15 or so players in the league. Has any other NBA team ever been able to make that claim?
A few teams over the course of NBA history have had two or three, but never four. There have been superstar duos and trios — Shaq and Kobe; Cousy and Russell; Jordan and Pippen; Lebron, Wade, and Bosh; Bird, McHale and Parrish; Magic, Kareem, and Worthy — but I can't recall the existence of a roster with four guys like this, all potential first team All-NBA players and/or All-Star starters. The Warriors are well on their way to building a dynasty. How many games will they win next season? Seventy-eight? It actually doesn't seem impossible. Hell, just send the Dubs to Rio for the Olympics. They'll bring back gold while barely breaking a sweat.
But perhaps even more noteworthy and remarkable is what Golden State has done in the course of making a record-breaking 73-win team even better by replacing Harrison Barnes with Kevin Durant: they've completely vanquished a budding rival that stood to pose a legitimate threat to their ability to win titles for years to come, to their ability to build the dynasty they're obviously trying to build. After coming thisclose to taking out the Warriors in the Western Conference finals, the Thunder are effectively over. Sure, they'll be a decent team with Russell Westbrook carrying the load this coming season, but they won't be great. Certainly not a team capable of beating these Warriors in a playoff series. And then it's all but certain Westbrook will walk in free agency at the end of the season. Hell, there are already rumors swirling that the Thunder front office may now attempt to trade Westbrook to try to get something for him rather than have him walk and get nothing in return. If they do so, they won't get any current superstars in a trade. They'll get solid players, sure. Maybe a recent draft pick or two, a solid starter, and/or future draft picks. This will leave them as a good NBA team at best — one that could maybe make the playoffs in the Western Conference but likely as a 6/7/8 seed — or a rebuilding team at worse.
Bottom line: the Thunder will not be a team that poses a remotely serious threat to a potential Warriors dynasty like they did before Durant made the decision to walk. They've gone from being one game away from the NBA Finals to being utterly decimated.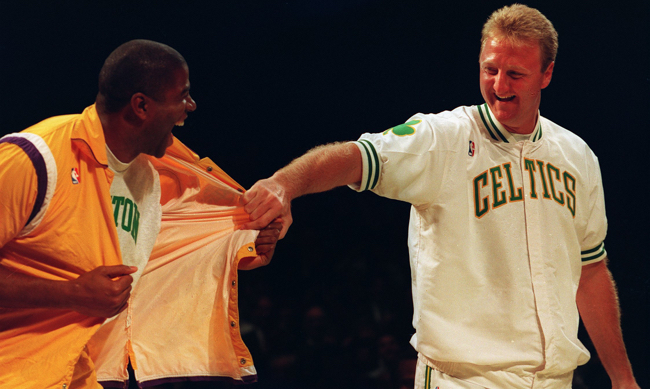 Has anything like this ever happened in the NBA before? Can you imagine Bird's Celtics poaching Magic from the Lakers, or Jordan's Bulls poaching Pat Ewing from the Knicks — or vice versa — right as their years-long rivalries were being birthed? Imagine how different things would have been. Think of all the great playoff moments we would have been deprived of as fans.
This is why Durant going to the Warriors makes me a little sad. Look, I'm not one of those people who thinks negatively of Durant for doing what he did. He simply took what he thought was a better job. Hell, if I were him, I would have probably made the same decision. But holy sh*t was that Warriors/Thunder series amazing to watch! As a fan, I was very much looking forward to another few years of a Warriors/Thunder rivalry. It would have been incredible. And would the Finals series have been anywhere near as outstanding as it was if the Warriors had Durant instead of a basically impotent Barnes? With all due respect to Lebron and Kyrie, the Dubs would have likely taken the whole thing in five or six games.
In record speed, beginning with Draymond's frequent crotch-kicking coupled with Steph's whining and mouthpiece-hurling, the Warriors are morphing from "team everyone loves to watch" to "team everyone loves to root against." They are becoming the new villainous Evil Empire. I'm a little sad that one of the few NBA teams that had the potential to take them down and, in the process, regularly serve up heaping plates of delicious Warriors schadenfreude has been effectively dealt a death blow. (Also, signing Durant takes the possibility of him strengthening another rival like the Spurs off the table.) We all stand to lose a bit as fans because of it.
The best we can hope for now is for Westbrook to go to a team that can pose a real threat to Golden State with him on the roster. Or, at the very least, for him to deliver at least one vicious, poster-worthy dunk on Durant's head as payback we can all take pleasure in.