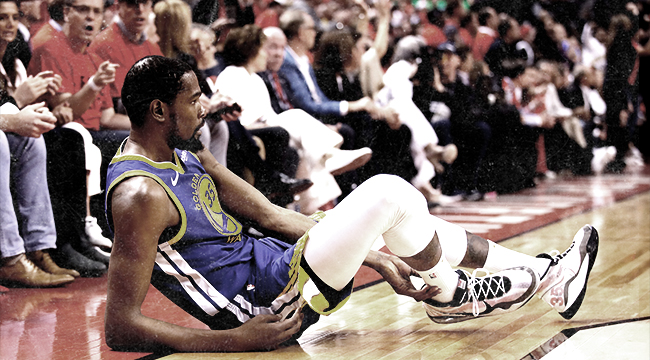 TORONTO — Kevin Durant took pregame warmups with all of Toronto raining down on him. What felt like half of Lake Ontario was falling from the sky, with Jurassic Park outside ScotiaBank Arena trapped in that scene when the storm arrives and Newman loses a bunch of genetic material because he's blinded by a bunch of velociraptors that refused to fetch the stick, stupid.
Durant took the floor for warmups to the usual mix of cheers and boos that have followed him pretty much everywhere since he left the Thunder for Golden State three seasons ago. As he began to put up shots and stretch before a game for the first time in a month, fans began to take notice, and a Bronx cheer from Raptors fans followed his uncontested misses. All Durant could do was keep going, spinning and shooting and stepping back against a dummy defender to test his legs before he tried to help Golden State fend off oblivion. But the jeering, though strong at first, soon went away and the usual pregame murmur returned.
Durant simply kept making shots until the noise went away altogether.
Basketball has always been what's fixed things for Kevin Durant. It's part of his story. The running uphill and hours of shooting and learning to sleep "all squinched" because he never had a big enough bed until he turned pro. Moving five times and attending seven different schools in his childhood. The struggles he expressed in his "You Da Real MVP" speech he dedicated to his mother were very real, though they feel a lifetime away given all that's happened since he tearfully delivered that speech in Oklahoma City in 2014.
"Basketball has gotten him through his life," Warriors general manager Bob Meyers said, his voice breaking in an impromptu press conference after Game 5, the executive coming to terms with what basketball had just done to one of the game's generational greats. Durant, absent for 32 days and nine Warriors postseason games, was subjected to weeks of speculation about the "frustrating" nature of his right calf injury, and came back to basketball like nothing had kept him away at all on Monday night.

Durant made his first two threes 32 seconds apart in the opening quarter and for a while it looked like everything was back to where it should be. The Warriors needed him, and he was ready to answer the call. The narrative was in place, Durant had 11 points in 12 minutes and was a quick +6 while on the floor. Then, three minutes into the second quarter, he planted his right leg and pushed into Serge Ibaka and everything stopped. Durant dropped the ball. He dropped to the floor. And everyone except the photographer next to me in Rogers Gondola knew what happened: Durant was hurt. This time it was bad.
In the moment, with a long-eluded championship dangling close for Raptors fans, the sight of Durant going down drew noticeable cheers. Durant, hyped as the last hope for a Warriors team that's looked anything but dominant through four Finals games without him, was a threat equalized by fate or the basketball gods or medical malpractice. Whatever, the fact that a human being had suffered before their eyes didn't matter in the moment.
It was a moment rightly derided across the NBA, and after the game Steph Curry said he was "very confused" by the reaction. Curry's father Dell played for the Raptors, and he grew up in Toronto and knows it well. He credited two current Raptors players for making fans — who later politely applauded Durant off the court and briefly chanted "KD! KD! KD!" as he exited from view — realize they got it wrong at first blush.
"Danny Green and Kyle Lowry especially, I think they were the ones that were kind of signaling to the crowd, like, let's check ourselves a little bit," Curry said. "You understand this is about an individual, a human being and not, oh, shoot he's out, he's hurt, we won the championship."
Kevin Durant the basketball player, the looming free agent, is now injured and may not play basketball for a while now. But in the immediate aftermath of one of the most stunning comebacks from a lightning-quick Warriors franchise still within striking distance of a third straight NBA title, what mattered to everyone in Golden State was not the shocking 106-105 win to make it a 3-2 series heading back to Oakland. All the Warriors were asked about is what happened to the player they'd mostly been without this postseason. And in a way, it was an important pause in an NBA season that's always been about whether the Warriors would threepeat.
"Everybody gets so wrapped up in chasing championships and the greatness that you see on the floor, but life is more important in terms of caring about an individual and what they're going through on a daily basis," Curry said. "And he gave us what he had, he went out there and sacrificed his body, and we know how it turned out."
The sacrifice, not just physical and financial, is enormous. And the guilt was spread far and wide on Monday night. Durant wanted to play, sure. But the Warriors let him play. And plenty of people made it glaringly clear that he had to play, whether to protect his own legacy as a superstar or to prove that he's a worthy teammate to Steph and Klay and Draymond and the core of a dynasty he joined in medias res. Because the narrative of Kevin Durant is out of his control — the bar impossibly high and impossible to reach — unless he's on the court to control it best he can.
"He's one of the most misunderstood people," Meyers said. "He's a good teammate, he's a good person. It's not fair."

Durant's injury will be framed differently because the apparatus around the NBA is large enough to twist it any which way, but the Warriors' talk of Durant's sacrifice was not some final transaction to justify his place with the franchise. Curry and Meyers made it clear — the Durant they've known has always been this guy, who may have permanently damaged his career for the sake of his teammates and love of the game.
"When you're on this level of greatness and everybody's kind of poking and producing trying to narrate your story and tell you who you are, who you should be, what decisions you should make constantly over and over and over again. It's part of what comes with this territory," Curry said. "But it's just — when you get to know somebody and see how genuine they are and how committed they are just to playing basketball and having fun and living life a certain way, you root for those type of guys."
There are many who have struggled to root for Durant and the Warriors, and an Achilles injury isn't likely to change that for much of anyone. But it's also telling that it brought out one of the more human moments from Kawhi Leonard, a player beloved in Toronto now but who was the source of a storm of speculation about the nature of his own lingering injury issue last season. Leonard's narrative uncertainty sparked a falling out in San Antonio that shifted the NBA's competitive balance in a way we won't fully understand for years. Asked about Durant's injury after Game 5, Leonard was more worried about Kevin Durant the person, not the basketball player.
"It's devastating," Leonard said after he game. "I feel bad for him. I've been in that situation before. I hope he has a speedy recovery and just gets healthy and hope that he's going to be OK mentally, just throughout the whole rehab process."
When you're rehabbing an injury, as Durant will no do no matter what free agency decision he makes this summer, there's no basketball to keep everyone occupied. The whispers will continue and there's not much you can do to change it, no matter how much you may try. But on a night where the Warriors made a championship party evaporate in a series that continues to flip the script, the biggest concern was about Kevin Durant, the human, and what basketball had done to a man who gave it everything he could.
"Sports is, it's people, sports is people," Meyers said, fighting off tears the entirety of his five minutes in front of the media. "I know Kevin takes a lot of hits sometimes, but he just wants to play basketball and right now he can't."