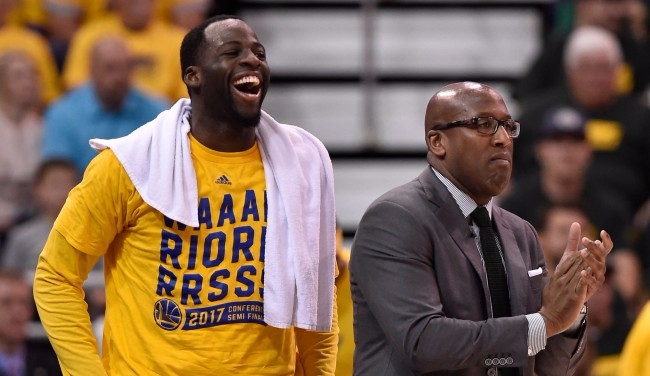 Stepping into Steve Kerr's rather large shoes, Warriors interim coach Mike Brown has done an excellent job leading Golden State this postseason. Under Brown's guidance, the Warriors set an NBA record by going 12-0 in the playoffs and are now up 1-0 in the NBA Finals against the Cleveland Cavaliers.
Brown's success with the Warriors isn't too surprising since Golden State is extremely talented, and Kerr has them operating like a finely-tuned machine. Yet Brown's lack of success at his previous stops in Los Angeles and his second go-around in Cleveland hurt his reputation a bit, and it wasn't guaranteed that he could guide the Warriors to the Finals. But Brown has proved any misgivings about his coaching ability to be false and is now seeking redemption of sorts against the Cavs, the team that last fired him.
However, you won't hear Brown speaking ill of the Cavs at all. And that may be because Cleveland is still paying him handsomely and will continue to do so until 2020.
From ESPN's Brian Windhorst:
Brown was able to drive a fantastic deal for himself in the spring of 2013 when the Cavs fired Byron Scott. Brown's deal was for more than $20 million over five years, though the last year of the deal was partially guaranteed.

When Brown was fired in May of 2014, a provision in the contract spread the payments out over the next six years. Brown will get all the money guaranteed him, with the amount he's paid as part of his Golden State Warriors contract being deducted, and the Cavs pay the balance. This is known as an "offset."
Brown coaching against the Cavs in the Finals while Cleveland is still paying him is pretty rich and hilarious. However, that's just part of the business of basketball and is simply one of the more amusing story-lines of the Finals.
(ESPN)