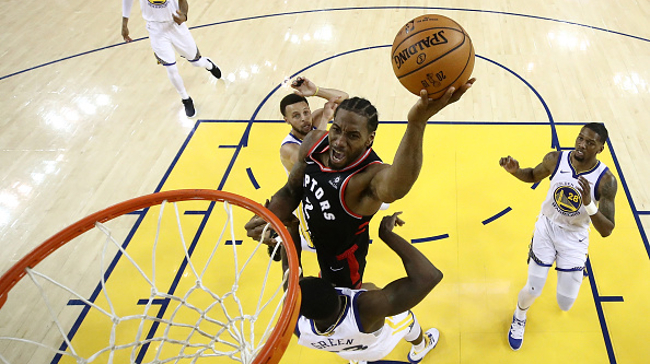 Steph Curry had arguably the best Finals performance of his career in Game 3 on Wednesday night at Oracle Arena, but it ultimately didn't matter, as the Raptors fired on all cylinders en route to a 123-109 win and a 2-1 series lead.
The Raptors had six players with double-figure scoring on the night, led by Kawhi Leonard, who finished with 30 points, seven rebounds, and six assists. Danny Green finally broke out of his postseason slump to submit a signature game, knocking down six three-pointers en route to 18 points, along with a highlight-reel chasedown block on Quinn Cook as the Warriors tried to stage a second-half rally.
Kyle Lowry was huge for Toronto as well, finishing with 23 points and hitting five three-pointers, several of which came down the stretch as the Raptors clung to a lead that seemed tenuous almost to the final buzzer.

The Warriors were down to a skeleton crew going into Game 3, with Kevon Looney, Klay Thompson, and Kevin Durant all ruled out due to injury. Klay and Looney both went down in Game 2 in Toronto on Sunday, the former with a hamstring strain that has him day-to-day, the latter with a more serious bone fracture that will sideline for the remainder of the series.
That gave the Raptors a rare opportunity to seize control of the series on the Warriors' home floor and put the pressure on the defending champs. It also put tremendous pressure on DeMarcus Cousins to make his presence felt and carry some of the scoring load as he stepped into the starting lineup alongside Shaun Livingston. That didn't happen, however, as Boogie scored just four points in 19 minutes.
Toronto raced out to a 19-9 lead thanks to everyone besides Curry getting off to a sluggish start. Curry was firing away early, but he was also hitting the glass, grabbing six rebounds in the opening period alone while super-charging the offense on the other end. He had 17 points in the first quarter, including this wild three-pointer with the clocking winding down to cut the deficit to four.

Curry's final stat line was an outrageous 47 points, eight rebounds, and seven assists. In a strange turn of events, Klay showed up on the Warriors bench wearing his warmup and went from being ruled out to being active and available to play, though he ultimately would not take the court in Game 3.
Marc Gasol got off to a hot start for Toronto with eight quick points in the opening quarter, as did Green, who was 3-for-4 from downtown to start the game. Pascal Siakam who led the way early for the Raptors with 14 points, leading a first-half charge that had his team shooting better than 60 percent from the field and over 40 percent from three. Siakam ended up having a great all-around game and finished with 16 points, nine rebounds, and six assists.
Steve Kerr wasn't able to find much rest for Curry in this contest. His two-time MVP was going 100 miles per hour from wire-to-wire and the Warriors' offensive struggles were magnified the moment he went to the bench in the second quarter.

Toronto built a 14-point lead in the first half but let the Warriors hang around, going scoreless for nearly five minutes before halftime and committing seven turnovers as Golden State got them into foul trouble and was able to cut the lead to eight going into the break.
The Warriors went on a 7-0 run to start the third and pull within five, but the Raptors were able to weather the storm behind timely threes from Lowry, Kawhi, and VanVleet. Every time the Warriors made a push, Toronto had an answer for them.

Even though a gimpy Golden State refused to roll over, the Raptors leaned on their talent advantage, and Green came up big during that stretch as he hit back-to-back threes late in the third quarter to give Toronto its largest lead of the game, 91-75.
He'd follow that up with another off-balance three with under 30 seconds remaining in the quarter to help stem another Warriors tide and give his team a 13-point lead heading into the final frame that they would not relinquish.

The Warriors fought all the way back to within 10 late in the fourth quarter, but VanVleet came up big once again as in Game 2 and sank a dagger three to seal the win.
The Warriors will look to even the series in Game 4 on Friday back at Oracle Arena.