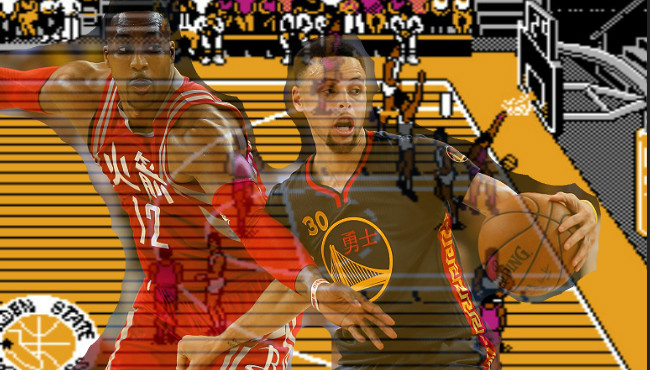 Most people assume that Golden State will crush Houston in their first-round matchup, but how can we even know that for sure until we study the analytics? That's what analytics are for — to predict what will happen with absolute certainty, unless the prediction is wrong, and then it is because of a "confounding variable" and those can't be your fault, they're confounding.
Anyway, it is highly unlikely that a standard computer model would be able to account for the Warriors' historic season and high-powered offensive attack, so for this series we busted out a premium simulator that not even the geeks at 538 are privy to: TECMO NBA BASKETBALL 1992.
From the opening tip, Houston looks like they have come to play. One wonders if there will be an emotional letdown for the Warriors after breaking the Bulls' win record on the final day of the season.
On offense, Houston looks sharp: James Harden is doing James Harden things, and Dwight Howard has even touched the ball on several occasions.
Slow start from the Warriors. Harrison Barnes is playing well, though.  He gets by Dwight on the baseline and rises up to flush it home:
So far the story of the game has been Houston's ability to chase the Splash Brothers off the three point line.  Seems like an easy enough strategy: don't let the Warriors make threes. Simple! MAKE BASKETBALL GREAT AGAIN.
Guys I have to be honest: I'm not liking what I'm seeing from the Warriors' body language.
Harden finds Clint Capela cutting to the hoop and the big man throws down:
We are heading into halftime and Houston is ahead:
It is now clear that the Rockets' season-long plan was to wallow in festering mediocrity, feign dysfunction, fire their coach in a brilliant misdirection, then shimmy ass-backwards into the playoffs as the 8-seed to match up against the best regular-season team in league history and suddenly PIPE IT UP.
Draymond has had enough and shoves Corey Brewer, who flops theatrically to the ground, drawing the foul:
Patrick Beverly is doing a tremendous job locking up Curry. Steph seems hesitant to shoot from deep and is content to take long two-pointers. Curry steps inside the arc to an open spot and as he's knocking down a bucket, you can actually see the NBA Twitter fans in the crowd tapping away at their smart phones and sending out real time Hot Takes®:
Stunningly, Houston holds on for the win.  Turns out all you need to do to beat the Warriors is a) don't let them hit a single three, b) don't turn the ball over once, and c) shoot 55 percent from the field.  THIS ISN'T HOLLINGER SCIENCE, GUYS.
We simulated the rest of this series: Houston goes up 2-0 but Golden State fights back to eventually force a Game 7. Houston comes back in the fourth quarter to win the deciding game and advance, proving once and for all that Daryl Morey is never wrong, except maybe when there are confounding variables.