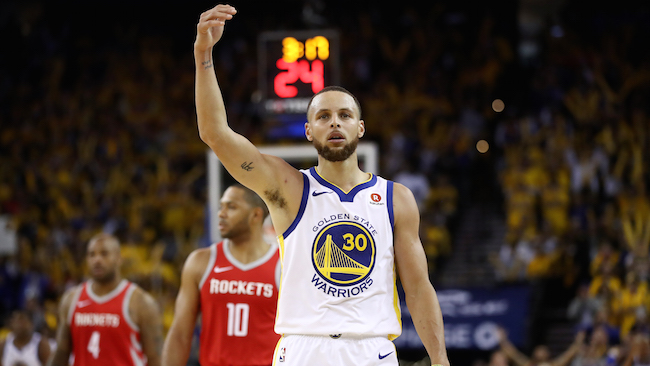 The Golden State Warriors looked flat in Game 2, playing a sloppy game while the Rockets put forth a monstrous offensive performance to even the series at 1-1. Draymond Green chalked that performance up to Golden State allowing themselves one game per series where they take their foot on the gas pedal, and vowed the team would be locked in for Game 3.
Green was correct in that assessment, as the Warriors pounced on the Rockets on their way to another conference finals blowout in a 126-85 final. Golden State took control in the mid-first quarter and slowly extended their lead to double digits by halftime, courtesy of the Rockets' inability to make seemingly anything at the rim.
However, it wasn't until the third quarter that the floodgates opened and the Warriors began running away from Houston. The catalyst for that run was Steph Curry, who finally came alive after a dismal first 2.5 games in the series. Curry struggled in the first half with nine points and was routinely targeted on defense once again (although he had much more success on that end in Game 3), but in the third quarter he found that vintage Curry swagger, lighting up the Rockets for 18 points in the quarter and effectively ending the game.

There were two moments in particular that showed everyone that Steph was indeed back. First with a deep three-pointer over a good contest from James Harden that elicited the Curry shimmy, followed by a drive to the tin and him yelling to the Oracle crowd that "this is my f*cking house!"

Curry finished with 35 points on 13-for-23 shooting, including 5-for-12 from distance, a marked improvement over his first two games. Kevin Durant had 25 points as he once again led the way in the first half, but happily deferred to Curry in the third quarter once everyone in the building realized he had found it again. Draymond Green had a ridiculous 17 boards on the night to go along with 10 points and six assists as he too found his groove in Game 3.
The Rockets simply weren't good enough on Sunday night in Oakland as no one on Houston's roster could get anything going offensively. James Harden was 7-for-16 from the field for 20 points and nine assists. Chris Paul was 5-for-16 for 13 points and 10 rebounds, while the trio of Eric Gordon, P.J. Tucker, and Trevor Ariza that caught fire in Game 2 combined for 23 points on 8-for-24 shooting and made only four three-pointers between them.
In the end, it was a romp for the Warriors, capped off by Shaun Livingston putting Harden on skates for the cherry on top of a dominant performance.
Houston still can regain homecourt advantage with a win in Game 4 on Tuesday night, but they can't have any of their core rotation have an off night if they're going to do that, much less all of them struggle as happened in Game 3.