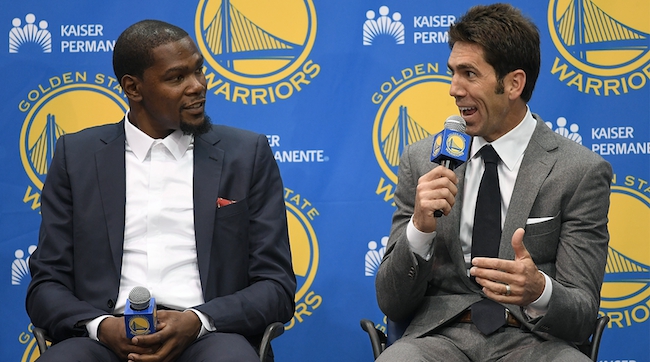 Now that the Golden State Warriors have Kevin Durant, they are far and away the odds-on favorites to win the NBA title in 2017. For gamblers, that means they need to bet a lot of money on the Warriors for there to be a significant payout.
But for a handful of forward-thinking wagerers, they could be looking at a nicer return than most if Golden State wins it all.
According to ESPN, there was "notable action" on the Warriors right before Durant's decision to sign with the team, when the odds were much higher.
On July 3, the Westgate SuperBook took a $20,000 bet on the Warriors at 3-2 to win the 2017 title. Westgate bookmakers treated the bet as an "educated guess wager" and adjusted Golden State's odds accordingly.

MGM's sportsbook also reported notable action on the Warriors in the days leading up to Durant's decision, including a "half-dozen" four-figure bets on Golden State at 3-1. The flurry of action at the MGM subsided on the Fourth of July after Durant was officially a Warrior. But by the time it was over, three times more money had been bet on Golden State than any other team.
So if you bet $100 on the Warriors before Durant at 3-1, you can win $300; if you waited until now when the odds are 2-3, that $100 bet gets you about $67.
The important to thing to remember is to gamble responsibly and always be willing to bet on the person who deserves your backing and confidence — you!
(ESPN)