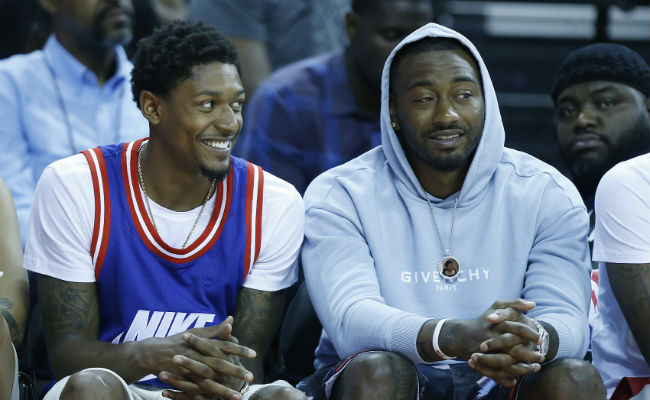 The Washington Wizards may be retooling their roster, but they've also made it clear that Bradley Beal is sticking around for the long haul if they have their way. Monday brought a slew of Wizards news, including a new front office structure that includes a former Cleveland Browns general manager. The goal of the reboot is to give some new direction to the organization, including a short rebuild that falls short of a full, painful tank.
But one thing Wizards general manager Tommy Sheppard, who officially assumed the role on Monday, wants to do is lock down Beal. The GM told ESPN's Adrian Wojnarowski on Monday that his first priority is to give the full max contract extension, literally as soon as possible.
"At the very first moment allowed, we are going to offer Brad the full max extension," Sheppard told ESPN.

Beal, 26, has until Oct. 21 to sign the extension, which would start with the 2021-22 season — a decision that agent Mark Bartelstein indicates that Beal will need time to consider.

"There are moments in a career where there are big decisions to make, and Brad will work through everything and figure out the right thing to do," Bartelstein told ESPN. "There are nothing but great feelings for Ted [Leonsis], Tommy and Scott [Brooks]. They've treated Brad wonderfully."

Wojnarowski's story includes more details about Beal's situation and notes that, with term remaining on his current deal, the Wizards feel they have to prove to him that they're going in the right direction. It's also important to note that with John Wall on the shelf again and with a huge contract looming, Beal needs to feel like the Wizards are thinking about his best interests and not looking to tank.
"He's got two years left on his deal, and he's from Missouri and we are going to have to show him," Sheppard told ESPN. "We need to show him that we are about building this the right way, that we aren't going to have character-deficient guys around him. We are going to surround him with guys he wants to play with. He saw that right away in free agency with us bringing back Thomas Bryant."
Beal will certainly have time to consider the offer, as Monday also brought news that he will be the fifth Team USA player to pull out of the FIBA World Championships, which makes it a full quarter of the proposed roster to reconsider ahead of the summer tournament.