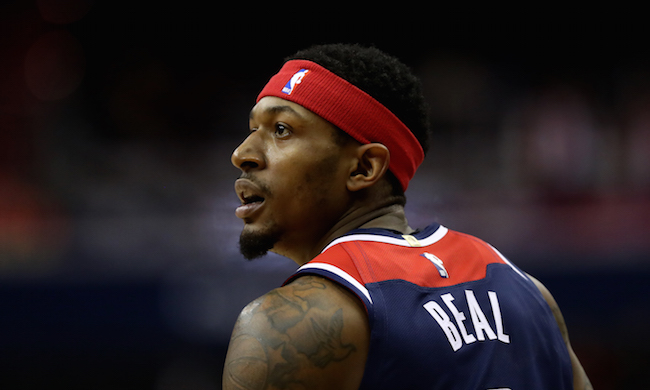 When the Wizards were down to the Raptors 61-50 at halftime it felt like the game was already over. Washington looked horrible and at one point was down 51-28 early in the second quarter. Bradley Beal, the Wizards best healthy player, had 10 points on 14 shots. It was just that kind of day for the Wizards. All the Raptors needed to do was go into cruise control.
Then Beal happened. He came out into the second half with a fire about him. There's taking over a game with scoring and then there's taking over the way in which Beal did. Not only did he drop 30 points in the second half (21 in the fourth), but he added 10 assists on top of that. That ability to get others involved while keeping up his own scoring is so key for a Wizards team missing John Wall.
Then, with time running down in the fourth quarter, Kawhi Leonard dropped in a jumper to put the Raptors up three. It was the Wizards turn to answer and they managed to find Beal after completely whiffing their first attempt at a tie. Of course, he hit it, tying the game and sending it to overtime.

Beal continued to make plays in overtime. Despite having the entire Toronto defense's attention on him, he still found ways to use his gravity. The Wizards found multiple open looks from the corner thanks to the defense closing in on Beal, but they struggled to convert. Once again, the Wizards needed Beal to save them and with less than 10 seconds left he delivered. He drove to the basket and got a look at the rim. He hit it and once again tied the game. The Raptors missed their game-winner attempt and off to double overtime it went!
Unfortunately for Beal it wasn't enough. The second overtime was dominated by tired legs as both teams just scratched and clawed for anything. Beal finished the game with 43 points, 15 assists, and 10 rebounds in a double-overtime triple-double. It was an incredible effort on his part to bring Washington back from the brink of death. Just unfortunate for him that he came up short, but when you look at the other side it makes sense why.
The Raptors had Kawhi Leonard in their corner. Leonard nearly matched Beal's performance with 41 points, 11 rebounds, and multiple key defensive plays.

Leonard was absolutely everywhere in the closing moments of the game whether it was defense, rebounds, or shotmaking. What he did can't be understated and it helped the Raptors win a close 140-138 contest, with Serge Ibaka providing the dagger as he hit a three-pointer to go up 139-138 in the final seconds.
The Wizards won't be seeking moral victories, but Beal continues to show he can be a leading man on a good and competitive team. The question moving forward will be whether that's enough to dig out of the hole they created for themselves early in the season.