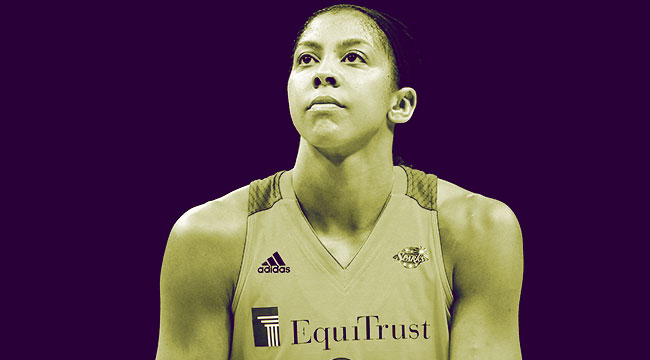 During one of the first possessions of Game 3 of the WNBA Finals between the Los Angeles Sparks and the Minnesota Lynx at Staples Center last Friday night, Candace Parker sent a graceful lob across the key to a teammate in the post for what should've been an easy bucket. But Parker's efforts were foiled by a Lynx defender, who darted between the offensive player and the ball to intercept the pass before parading down the court for an easy layup of her own. Ruefully, Parker glanced at the crowd with a look of exasperation — this was not the way a star player wanted to kick off a pivotal at-home finals game.
Seeing her disappointment, a tiny mixed girl sitting with her white mom and black dad a few rows over from me screamed "It's ok Candace!!!!" with all her might, channeling the empathy and concern that only a toddler recognizing the pain of someone they love can muster. Though I doubt the encouragement made it to Parker, she brushed herself off, got the ball back, and kept playing, proceeding to lead the Sparks to an eventual victory over the Lynx. Rows away, her tiny, biggest fan cheered her on the whole way, unrelenting even through botched passes and the occasional, unavoidable brick.
In a scene, that little girl's passionate fandom encapsulates the entire ethos of attending a WNBA game. Here was a toddler, she couldn't have been more than three or four, already seeing women who looked like her excelling — and yes, sometimes, making mistakes — at the highest level of athleticism in the country. This was clearly having an impact on her, and she was just one of many. In fact, I'd never been to a basketball game at this level where the majority of the attendees were women, and the feeling was an unexpectedly powerful one.
The crowd that night was completely dominated by women and girls of all colors and ethnicities; the elegant, intimidating on-camera reporters popping onto the court during timeouts were both black women; the coaches and players were predominantly women of color; the other journalists around me in press area were also, overwhelmingly women. The last time I was in a public place with this kind of a female majority it was at an all-women spa. The feeling was intoxicating.
In my teens, I played basketball myself all through middle school and most of high school, so I'm very familiar with the game and the culture that surrounds it. Already 5'8 at the precocious age of eleven, my height alone carried me through middle school, but I never quite had the dexterity or coordination that's required to become a star basketball player, so I never made it past JV and our team team routinely turned in completely defeated seasons. Conversely, our girls' varsity team was quite good, but at my school and beyond, there was an overarching sense that no one really cared about their games; our gyms remained tellingly empty even at home, while they were packed out for the boys' team, who, frankly, were a much worse team.
There was still a bit of that feeling on Friday night, as well, and it's no secret that the NBA is a much-glorified and hyped multi-million dollar component of American sports culture, while the WNBA has remained largely an afterthought. And while I'd never been to a WNBA game at Staples Center before, I know how packed out it is for Drake and Kendrick concerts, and for Clippers and Lakers games. Comparatively, the enormous arena was markedly empty, even for a finals game. But for the fans who were there, none of those comparisons mattered. You see, this experience was about representation.
Unlike high school games, the women on the court were professional basketball players, paid to compete, paid to be athletes, and they absolutely carried themselves with confidence the of professionals. In a culture that repeatedly tells women to shrink themselves, to make themselves smaller — word to Chimamanda Ngozi Adichie, care of Beyonce — these women were giants, lording their skill and presence over one another with all the ferocity that excellent competition brings. And the crowd, though small in numbers, couldn't get enough of it, relishing this often hectic and frequently male-dominated arena as a safe, exalted space for one night. During that game, we were all enormous, coasting off Parker and co.'s explosive momentum and force.
Girls and their moms, girls and their dads, wives, grandmas, aunts, friends, and yes, some boys too, valiantly cheered the Sparks on to their eventual victory that night, paying careful, close attention, and providing fantastic, authoritative commentary that rivaled any NBA announcer. Given my experience, it wasn't surprising to me that young girls possessed comprehensive knowledge of their favorite players, and the ins-and-outs of the rules of the game, or the intricacies of an offensive set, or a full-court press. What was surprising to me, was the freedom these women and girls felt to yell, pontificate, and predict the game unfolding before them. With no one to talk over them, tease them, or dismiss them, they became the experts, and that transformation was moving.
This was also the case, in a way, for the players on the court. The WNBA is an essential organization because it offers these women a chance to be front and center; confidence breeds confidence, and the level of athleticism displayed in that game, along with the ones prior and forthcoming, was downright inspiring. I don't play ball now, but seeing women pursue their passion with that kind of unfettered determination motivated me to be just as determined in my own work, and in my own writing.
Going to the game also reminded me, that back when I was on my awful JV team, my mom would still show up for my home games whenever she could, attentively watching, and cheering, despite the obvious reality that we were going to lose. Even when I told her not to come, embarrassed by our lack of victories, she still showed up. No matter how badly I sucked, having someone in the stands relentlessly cheering me on made a difference, and the time I spent on that team is unequivocally a part of who I am today.
There's a lot to be said for showing up and giving your all to something you love and believe in, even if you know victory and accolades aren't likely. I believe John Wooden called that character, in so many words. For women, no matter what our field, this experience is all too common. It can be an exhausting exercise to keep going, even if you never get that big win, or you're constantly getting sidelined at key moments. Even if nobody notices, or the system is designed to lock you out, it takes real courage to keep doing it anyway.
That's what Candace Parker did, and it just might lead her team to make championship history; both the Lynx and the Sparks are tied with three WNBA championships wins each, meaning whoever wins Game 5 on Wednesday night will tie the now-defunct Houston Comets' record of four titles. That WNBA Finals game was a reminder that basketball has no gender, and all of the stereotypes and barriers currently in place within sports, and the world beyond, that hamstring women's ability to operate to the fullest extent of their powers are slowly but surely crumbling, every single day.
But we still have to help knock them down. We still have to show up and get on the court, or out to the bleachers to support one another. So, if you can make it out to Game 5 tonight, show up and cheer, or tell the girls in the stands they can be sports superstars one day, or, just listen attentively to their recap of the last play without interrupting. And when they make mistakes, keep right on cheering. As even a child knows, at its heart, that's what basketball is all about.
The tie-breaking Game 5 of the WNBA Finals the Los Angeles Sparks and the Minnesota Lynx is in Minnesota tonight at 8 PM EST time. Tickets and more information available here.