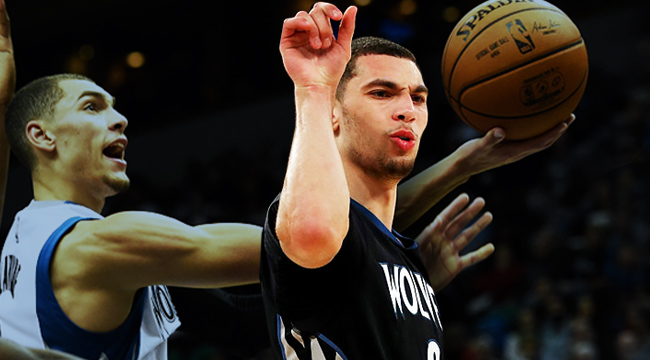 Zach LaVine might be best known for his outstanding dunking ability. Or maybe his place among a trio of young Minnesota Timberwolves hoping to build a power in Minneapolis. But after tearing an ACL in February, Andrew Wiggins, Karl-Anthony Towns and company fell short of the playoff birth many people hoped for.
The next season will be a critical one, as the Wolves hope to continue to build on their young core and fight for relevance in the Western Conference. The flashes are there, with Wiggins' scoring ability, Towns affecting everything in his path, and LaVine's extreme athleticism. But Tom Thibodeau still has to take them to the next level and make use of all that potential.
LaVine took a break from rehabbing to attend the Destiny 2 gameplay premiere event and chat with Dime about a wide variety of subjects, including his long road back to dunking form, his hopes for next season, and some of his favorite video games. We even got to ask the former UCLA Bruin about LaVar and Lonzo Ball.
Let's start with gaming. What games did you play growing up? What systems did you have?
I was late to the video gaming world, so my first console was a Gamecube. Sophomore year of high school, my dad gave it to me. I was playing Mario Kart, stuff like that. Then I moved onto the PS2, I got into Fallout. And now with Destiny on PS4, that's pretty much what I've been playing.
Gamecube was not the best system for sports games. Were you not really into sports video games growing up?
I never really been good at the sports games, man. I played so much basketball. You know, being a basketball player, it's hard. I played baseball and football games, but I stayed away from basketball. I played Madden and MLB The Show.
Okay, so what were your teams in Madden and The Show?
I'm the biggest Raiders fan, and I'm an Angels fan. I've seen Mike Trout a few times, and I love what he does for the game. So those are my two teams.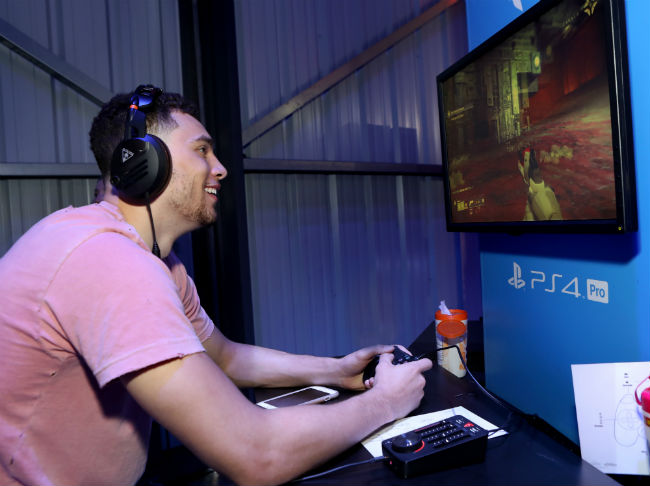 So you said you played a lot of Fallout. I was a huge Fallout 3 fan and loved the new one for the current consoles. Are you into that kind of gaming experience? Something that you can somehow lose 100 hours of your life on?
It takes a lot of your time up, but if you play them, for me I just like the experience of the story. Going from start to finish and going through different side quests. It's just really cool to explore a whole world and experience it.
You're a Raiders guy. I gotta ask about the team moving. They have two seasons left in Oakland. They just signed Marshawn Lynch. How are you feeling? Are you torn about them leaving for Vegas?
Yeah! You know, I'm all for — I'm going to be a Raider fan regardless. I feel like it's going to be a bigger market for them. It gives them a chance to — especially where they're trending now — to become one of the better teams in the league.
And I'm from the Seattle area so I know all about Marshawn. I know he's from the Oakland area so I think that's really good for the team.
It had to be tough being a fan and watching them put together that season and then see Derek Carr get hurt. When you see an athlete get injured like that — you have experience in dealing with that yourself — but what do you think as a fan?
It's tough, man. But you have to believe in your team. Injuries happen in sports and us as athletes try to deal with them. We don't get down about them. We take advantage of our training staff and get back to doing what we love.
I feel like Derek Carr is going to be fine, but it really did hurt them. He's thier leader. The most important player on that team is the quarterback, and I think that really hurt them. It's a bummer, but they'll come back strong.
Let's talk about your injury. You tore your ACL in your left knee in February. How are you feeling? How hard have you been rehabbing it?
I feel good. I'm rehabbing right now, about three and a half months out. It's healed really well. Doctors said if they had a perfect situation for where my knee could be at, it would be mine. So that made my day, and I'm back getting ready to do what I do.
When you're rehabbing like this, what can you do as far as getting back in playing shape? Can you shoot? Are you moving on it? What sort of things are you working on?
The main thing is you just can't do too much on it. You have to be smart. I shoot every day. I do stuff to improve my hands: my left hand, my right hand. My touch. I've been doing a lot of lifting as well to keep my body strong.
I feel like we had a really good year last year. I feel like if I didn't get hurt we definitely would have made the playoffs. Hopefully we take that and learn that accountability and take that next step.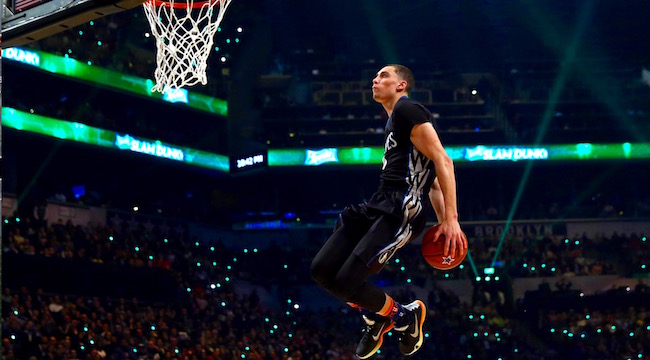 It might be a silly question, but obviously you can't dunk on your knee right now. Do you miss it? Is that something you're going to have to re-learn? Does that awareness around the hoop stay with you even if you take a few months off?
I feel athletically I'll be right back where I was with dunking. I mean, dunking is pretty easy for guys that are 6-foot-5 and above, so … (laughs) so I think that will come back pretty easily for me as far as getting my timing down on the court and things like that.
Expectations for your team were pretty high last year. Do you think they were a little bit too high? Did too many people expect you guys to make too big a leap forward?
You have to deal with that type of stuff though, man. We go out there and do what we have to do regardless of the hype or whatever people throw around us.
Do you have any expectations of what you want to see the team do in the offseason?
Just work hard. I pride myself on being one of the hardest workers. Just hopefully we carry that over into the next season and just get really serious about where we are as a team.
Anything from the front office? Is there a position you feel like the team is really missing to get you guys to take the next step?
Nah, I'm not no front office guy. I let them make all those decisions. I just worry about me. I make my plays on the court. I'll go out there and do whatever I need to do to help us win.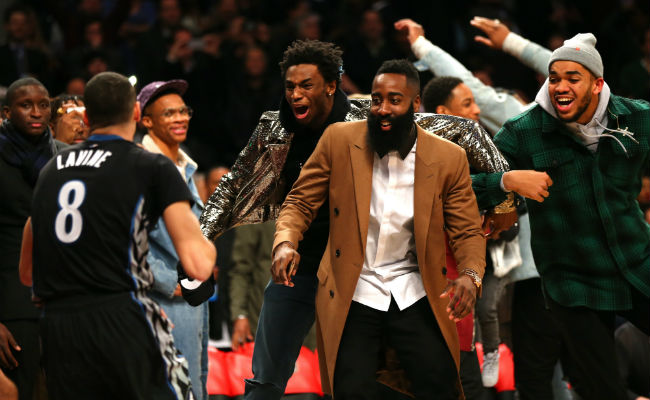 Let's talk about one of your teammates. Karl-Anthony Towns seems like one of the most interesting guys in the league. He's gotten some run in TV commercials as of late. Is he as funny in person as he seems on camera?
He's a straight goofball. He's a character. We're really close obviously, me and him and Drew [Wiggins], but he's a goofball. We all love him.
You're a UCLA guy. You were there for one season. When it comes to the Bruins these days everyone is talking about the Ball family. How interesting is it to see a family commit to that program the way the Balls have with three sons going to play there?
UCLA's a great program. I don't know why anyone wouldn't want to go there. I took one look when I stepped on campus and that was a wrap. I looked at the campus and stuff like that and I just felt at home.
I think it's going to be cool that a lot of good players are coming in there over the next few years. And the program is going to stay right where it is: always near the top.

I have to ask about LaVar Ball. He's made a ton of headlines over the last few weeks, and now it looks like he's getting his way with the Lakers likely drafting Lonzo second overall. What do you think about Big Baller Brand?
I support what they're doing. It's a family brand and they're being different. LaVar's an entrepreneur and I feel when its your kid – my dad is the same way – he has 100 percent faith in me. And I think it's really cool to see a father that has that much confidence in his kid that he's building a brand like they're doing.
It seems like a lot of different players haven't been critical of them so much as just worrying about Lonzo and hoping they're making the right decisions. When young players come to a team, do you worry about the people around them or do you just focus on what happens inside the locker room?
The truth is once you step on that court it's the only thing that matters. Once you get drafted, you have to prove yourself, you know. Outside distractions are going to be outside distractions, but everything comes down to what you do on the court. That's where the team, the bond, it happens from there.
You know, people are going to be worried about that. The NBA is a different game. It's not supposed to be hands-on like high school or college.
So when you're injured and away from the game, are you someone that wants to still be around your teammates? Do you kind of fade into the background and focus on getting healthy or do you still want to be a part of the team?
During the season I'm still around the team. In the offseason you're more worried about yourself because there's no team, there are no games to worry about with your team. You just keep yourself ready mentally but you're still staying in contact with your team, with your boys.
I wanted to ask about the Area 21 stuff with Kevin Garnett and his Boston Celtics teammates. They had a reunion without Ray Allen and it was really interesting to see them so hurt by his free agency decision. Is it endearing to see them remain so close? Is that something you think about with your team, if somewhere were to make that kind of decision?
We haven't gone through anything like that before, but I feel like we're close enough where we would all still be friends. Basketball, with free agency and trades and different things like that: they happen. You have to understand that as a team. As long as you're always boys, you can go through anything as teammates and friends. But I feel like that's a different situation that we haven't gone through yet.