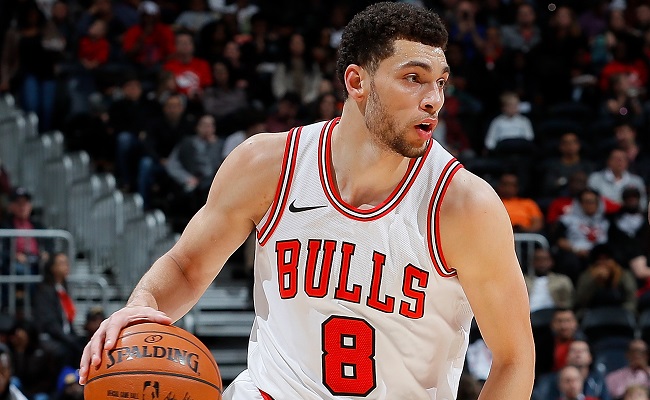 Restricted free agency is a tricky enterprise for all but the uber-elite players in the NBA and Zach LaVine doesn't quite fit into that category. The 23-year-old guard has displayed flashes of brilliance in his still-young career but, as of the 2018 offseason, LaVine is still something of a mystery with regard to what his ultimate destiny might be in the league — particularly coming off a season where he could only play in the second half after returning from an ACL injury.
With that as the backdrop, LaVine and the Chicago Bulls are in for a potentially raucous negotiation this summer and the Sacramento Kings reportedly may be looking to get involved to make things dicier.

LaVine might not be the best restricted free agent available, but he has real utility for the Bulls, particularly when he was a centerpiece of the deal that sent Jimmy Butler to Minnesota. Injuries limited the former UCLA guard to only 24 games of action but all signs point to LaVine's camp asking for the moon in free agency and Chicago doesn't have much of an incentive (despite strong salary cap flexibility) to pay top dollar unless prompted to do so.
Enter the Kings, who have more than $17 million in salary cap space with the ability to easily create extra room in the event of an offer sheet to LaVine. In some ways, the fit would be difficult to envision in Sacramento, with De'Aaron Fox and Buddy Hield on board, but LaVine would bring a scoring impetus and, in short, the Kings are often used as leverage from players and agents looking to score increased financial security elsewhere.
The Bulls could match any offer and, within reason, they might even be expected to do so. Still, the Kings could make life difficult for Chicago if they provide LaVine with a creative offer sheet and it would be interesting to see how the Bulls would react to such an event.