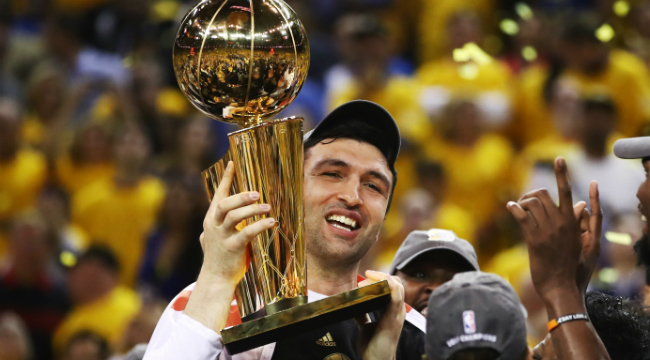 The Golden State Warriors won 67 games last season and are the defending champs, but one of their players thinks the team will be even better during the 2017-18 campaign. Zaza Pachulia sat down with Mark Medina of The Mercury News and laid out why he thinks there's still room for the Warriors to improve.
None of the reasons Pachulia laid out are exactly surprising, as he essentially thinks that the team will improve after bringing basically everyone back this offseason.
"I think we're going to be even better this year with the confidence, the trust factor and knowing for ourselves we won a championship with that team, with that personalities on the team and the chemistry we have," Pachulia said. "We can be even better with the focus we have with better details in how to improve."
Pachulia also responded to concerns about Houston adding Chris Paul, Oklahoma City adding Paul George, and Boston adding Kyrie Irving and Gordon Hayward by pointing out that the Warriors really bolstered their rotation over the summer, citing free agent acquisitions Nick Young and Omri Casspi alongside rookie big man Jordan Bell.
Again, none of this is stunning. Superteams usually need some time to work out whatever kinks might pop up over the course of a season, especially when they add someone to an already established rotation of players. If Pachulia is to be believed, a lot of those concerns are probably gone in year two of the Warriors featuring the NBA's most active social media user, Kevin Durant.
(Via The Mercury News)