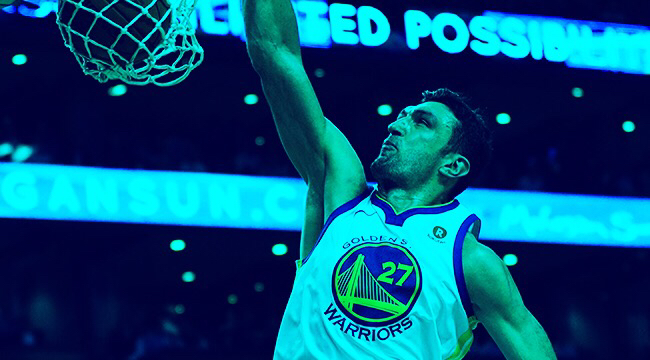 Zaza Pachulia is enjoying life as a member of the Golden State Warriors. It's hard not to — he has a ring, his family has enjoyed living in the Bay Area, and he appreciates that he's in a place where he can explore some of his interests outside of basketball.
There's also the fact that the Warriors are just a fun and talented team. As Pachulia says, this happens because Golden State is a place where egos are put aside and everyone is able to enjoy the success the team has. In a locker room with "no egos," Pachulia has thrived alongside is teammates.
And off the court, Pachulia has gotten the opportunity to explore a number of his interests. He's finds being around the tech scene and Silicon Vally interesting, and back in his home country of Georgia, he has established the Zaza Pachulia Academy, which helps train and educate basketball players between the ages of 5-20.
We sat down with Pachilia to talk life on and off the court, right before he presented the Boys and Girls Clubs of San Francisco with a check worth $25,000 for their sixth straight year of participating and completing the Kids Foot Locker Fitness Challenge, a program that was kicked off six weeks prior by another member of the Warriors, Andre Iguodala.


It seems like the Warriors have become a destination for veterans who want to win that ring. Was that something that motivated you to join them last offseason?
Well, everything starts with the interest, right? They showed the interest and, I've mentioned a couple of times before, I ended up being the first option at the center position, which is such a privilege, an honor to be part of this team. Looking at the opportunity, the guys you play against, the experience you're gonna get. Obviously it's very important to have the chance to win a championship, such a motivational thing, it was for me. Talking to coach Kerr, one of the amazing people I've met in the basketball world in general, I was convinced that this was the right place for me, that I could enjoy and have fun and have a great experience.
Most importantly, it's great for my family. Honestly, talking is one thing, but once you experience it yourself, it's totally different. We had a great year last year and I was in a similar situation this summertime, and the interest this time was mutual — I wanted to stay here and the team wanted me to stay here as well. It was pretty nice to make the decision again.
It sounds like, obviously you're a professional basketball player and you want to get a championship, but when you signed with the team, it was a lot more than "I want to get a ring." It's "I want to make sure it checks off all these boxes."
Absolutely. A ring is a huge motivation, like I said, a big part of this decision. But just being around the guys in this locker room, Steph, Klay, Draymond, KD, Andre, Shaun, all those guys. David West and all the young guys. And then to learn from coach Kerr and his staff and learn how to run the team and operations from Bob Myers, who's one of the best in this business.
The whole experience in the Bay Area is amazing. They treat me really well, me and my family. Obviously it's very interesting to be around a lot of start up companies and Silicon Valley. All that stuff, being a veteran and you're thinking more than basketball. Obviously basketball is the priority but all the opportunities and the people you meet are interesting, especially with today's reality in 2017, where computers and the apps and all this stuff are such a crucial part of our lives, and you're right in the center of it. If you have an interest in that, it's the right place to be.
Basketball is the priority, so many games, practices, etc. But once you have time to open your eyes and look at some meetings, open up some time for that part of your lifestyle, it's perfect. The opportunities are definitely right there.
As someone who sits on their couch and watches, it seems like the Warriors have more fun than any other team. What's the most fun part of being in Golden State?
This is the most talented team I've ever been a part of. These guys are really amazing, a lot of the best athletes in the world. The interesting thing is when I joined this team, they'd established that chemistry. I was on the other side playing against these guys or watching them on TV, so everybody notices that these guys are having fun, so how the hell do they win the games? The interesting part is to find the line between being professional, taking care of business, and also having fun. I've gotta give credit to coaches and the organization to let these guys have fun whenever it's time to have fun but when it's time to lock in and be serious, they take care of business because they know how to react to that.
Basically, the switch is on and off. They have a switch box. Plus they know and they have all the confidence in the world that they're really good. They literally changed this game, all this small ball, the pace and the shooting from anywhere on the court. Everyone is permitted, everybody's fine with their roles, as long as the team wins the games and wins a championship. We all know who are the shooters, who the scorers are, and everyone appreciates what each individual guy brings to the table.
The sacrifices, no egos. This is so important. Including me, everybody had bigger roles in different teams, either the touches, the points, the rebounds, the minutes. But coming to this team and what the winning does, you've gotta sacrifice. And if you're not willing to, it's hard to find your role, find a place here. One thing I learned here is winning is everything, nobody cares about the stats, nobody's gonna remember career highs or any aspect. But everybody is gonna win who was the champion last year. It's a pretty amazing experience.
Before the season you said you think the team would be better than it was last year. Through 28 games, would you say that's been the case?
Not really. We haven't shown that moment where we could be better, but I still believe we can be better. You've got to understand, and I'm not trying to make an excuse, but you've got to understand that this team has been to the Finals three times already. We're starting our fourth season, so hopefully it's going to be our fourth time in a row. For fitness, mentally tired, physically, it's a long season. We're looking at another 100 games, so it's normal to look at it and go "Oh god, we have how many games? It's only the first one." Or "It's only the 20th, we have 80 more to go." Sometimes you don't necessarily bring your focus every single night, and it's very hard to motivate, etc.
But one thing I'll tell is that we're getting better. We've definitely got better compared to how we played, there are people looking at us from the outside, but nobody understands better than we do and the energy, the focus level, it's definitely getting better. I'm excited about it, once we get to the playoffs, that's when we want to be playing our best basketball. Trust me, once you win a championship, nobody's going to remember how we started. Everyone's going to talk about the playoffs and the Finals.
Right now we have a couple guys banged up, that's part of three long seasons we've had. You have to be smart, but at the same time, understand improvement and progress throughout the season is crucial, and I think we're going through that. Our defense has been amazing the last couple games, so we hope we're gonna keep it up and we're gonna be even better.


Let's do some quick hitters on guys who are on the Warriors. Who is the funniest guy in the locker room?
There's not one single guy who's funniest, but I'd say Nick Young has brought some totally different perspective in this team where he's a super nice guy. He's pretty funny, I'm telling you, every single word he says, I don't know why, he has that kind of image, honestly. That has a lot to do with it. But he was welcomed on this team and some of the guys knew him before, and he's a character. He brings a totally different personality.
Best guy to talk to about things other than basketball?
Andre Iguodala, definitely. I'll go with him or David West. They read a lot, they've got a lot of information, and literally every day they come in with something new. Always interesting to go out and have dinner with them, just talk about anything — politics to business to investments to technology to science. Those guys are really well informed, I love it.
Most fun guy to guard in practice?
Draymond. You don't know what to expect from the guy, either he's gonna talk a lot of trash or he's not. When he talks trash it's interesting, but when he doesn't talk trash, that's interesting because you're going "What happened? Is he ok?"
Best shooter: KD, Steph, or Klay?
Oh that's a tough question. I don't think anybody has the answer about that. But I'll tell you what, though, I'll tell you something interesting about these guys. Most of the time after practices, KD and Steph are working on their shots from outside. I've seen so many times where one guys go five shots from each shots, five spots total, so 25 shots total from three. One guy goes from start to finish and makes 24 out of 25, it pushes the other guy to be perfect. That's amazing just to watch these guys pushing each other, they're pushing each other to be perfect.
That's what makes them special and the greatest shooters. There all are great, I can pass the ball and they're wide open. You've seen, probably, no one on the offense worries. That's the confidence we have in their shots, all three guys.

One thing I find interesting about you is you have a basketball academy back home in Georgia. Can you give me some details about what you've built up there?
This is something I'm definitely very excited about, I take it very seriously and try to be hands-on. I even have an app where I can watch the practices live on my phone, see how the practice is going.
Georgia hosted the Youth Olympic Games a couple years ago and they had to create an area where they put a tall building with four basketball gyms over there. After the Olympic Games, I got a call from the prime minister and the minister of sports, they said "We'd like to give you this building for you to run your Academy." In interviews I'd mentioned before that this is my goal after my career. So it kind of started earlier, but I had to take this opportunity. I took this responsibility to start my Basketball Academy.
Right now, we have close to 700 kids who practice every day from ages 5-20. We have three or four coaches, one is from Slovenia, one is from Serbia, one is American, and then locals like 10 Georgian young coaches. That way they learn from the 3-4 coaches. This is a huge responsibility, 700 kids. Think about it, Georgia is small, so for a small country, 700 kids is a pretty serious thing.
We're participating in the local championships. Actually, this year for the first time, we're gonna send a couple of our teams to the international level where they can play some other teams from some other countries. I just like to see it growing. Obviously I understand that they're not all going to be professional basketball players, but we also provide English lessons, math lessons, we have psychologists in the Academy, we have doctors in case something happens during practice — some kids get a boo boo. Everything is kind of professional level, we provide the gear for the kids, we have camps after every season. It's a lot of fun, there are talented kids where we'd like to help them reach their maximum talent.
Is that motivation similar to your motivation to work with Foot Locker and the Boys and Girls Clubs of San Francisco now?
Very similar. Every time I go back home my first stop is at back home to drop off my bags, then go to the Academy to say hi to the kids. Those kids are so special to me, the way their parents trust you to bring them to you, you're responsible for them. I always tell them how important it is that they are here, they should be thankful to their parents to bring them here because understanding sports is so important to everybody's life. You might not become the greatest athlete in the world but they teach you so many things — teamwork, professionalism, discipline, love of the sport, healthier lives. You become friends with the other guys who live the same way with all these things.
Some may become a professional athlete, playing at different levels in Europe, China, college, NBA, you name it. So just having the experience is amazing, it's great for their families, their friends, and it's great for the country. I'll be very proud if I see someone succeed, that's our goal to have as many successful athletes as possible. But at the same time, we teach them the highest quality education, because what if you can't make it? You have to be lucky, too, let's be honest, you have to be lucky. Competition is so high, especially today, everybody is playing basketball because it's one of the greatest sports in the world.
Without education, especially because this game became so fast, if you don't think on the court, it's hard to be successful. It's hard to be the best. Games speed up, it's so much faster, you have to make quick decisions, that's why your brain should be working as well. Education will help you achieve goals faster and easier rather than only just being physically strong.
These are the important things that I'm talking about to them, and I'm definitely looking forward to helping these kids with the Boys and Girls Clubs of San Francisco to give them the same messages. It's an amazing program these guys have been doing, just briefly when we went through it. They are so lucky, when I was their age, I wish we had this kind of program. It would have helped me more and other kids as well, but they are lucky. We're all thankful to Foot Locker, Kids Foot Locker, and Boys and Girls Clubs.