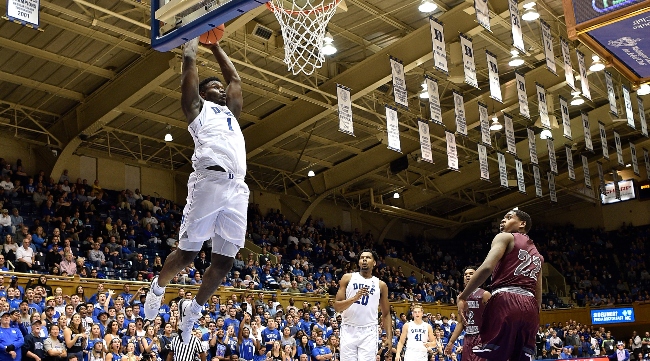 Zion Williamson is viewed as a near-lock to go No. 1 overall in the 2019 NBA Draft once he declares. It's impressive for a young player to have already become a consensus top pick this early in the process, but Williamson has captivated basketball fans with his unique and exciting brand of ball.
Which begs the question: What exactly is left for Williamson to accomplish in college? Of course, he can play for Duke, become a consensus All-American, and try to win an NCAA Championship. But seeing as how he's playing basketball for free and has a gigantic payday on the horizon, wouldn't it be better for him to just sit out, not risk injury, and spend the rest of his time preparing for the NBA?
According to Scottie Pippen on The Jump, that's exactly what Williamson should do.

"I think he's done enough for college basketball," Pippen said. "It's more about him personally now. I think for him as a young player I would shut it down. I would stop playing because I feel that he could risk a major injury that could hurt his career."
Tracy McGrady added onto Pippen's point that players in college football are skipping bowl games to prepare for the NFL Combine. It's not a completely off-base comparison (even if it is a bit flawed), and besides, if Williamson were to stop playing tomorrow and announce his intention to focus on NBA Draft, then he would still go No. 1 overall. He's that talented, plus if he was moved down a draft board, a team's marketing department would raise hell.
That said, the chances of Williamson actually skipping the rest of his season at Duke are incredibly small, not only because it's not something anybody ever does barring an injury, but most players aren't wired this way. Williamson declaring early would really, really hurt the Blue Devils, plus it invariably would cause many to question his drive and desire to be the best player.
This is more a fun thing to think about and debate than anything else. It's hard to envision a scenario where this happens barring something totally unforeseen, which outside of the lack of compensation is a good thing, because that means we get to spend the rest of this season watching Williamson dunk on people.