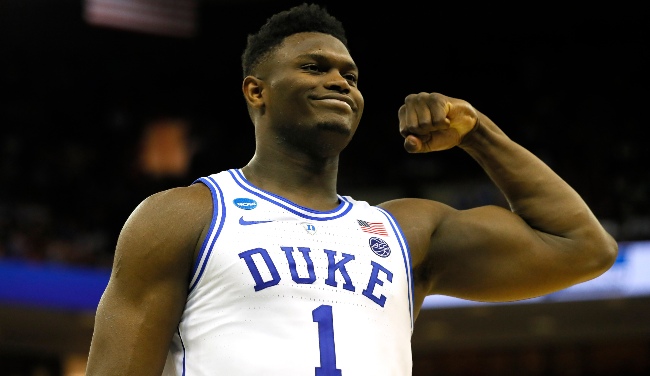 Now that Duke's NCAA Tournament run has come to an end, Zion Williamson can shift his attention to his NBA future. The star has yet to officially declare for the draft, but that's a question of when rather than if.
He's as much of a lock to go No. 1 in this summer's draft as any player in recent history, which will make this May's draft lottery a highly anticipated event. The winner is not just getting a tremendous player who has superstar potential, but they're immediately getting one of the most recognizable basketball players in the world.
It's not often that a college player has the name recognition that Zion does — aided by his unique first name — and he somehow managed to only make himself a bigger, more beloved player at Duke to build on the hype he had from putting out insane high school mixtapes. That also makes him an extremely valuable prospect for sneaker companies, who will be putting together massive offers for his services in an effort to have him in their gear for the start of his NBA career.

ESPN's Nick DePaula spoke with sneaker marketing legend Sonny Vaccaro (the man that brought Michael Jordan to Nike and Kobe Bryant to adidas) to get his thoughts on Zion's upcoming sneaker deal. Vaccaro thinks he's headed for a record deal and called him the most marketable person he's seen.
"In my lifetime, I think it's going to be the biggest bidding war ever done," said Sonny Vaccaro, the famed former marketing executive with Nike, Adidas and Reebok. "I would put them all on go."
What that bidding war means is Williamson will likely become the first rookie to get a signature sneaker from a major company since LeBron James in 2003, and speculation will run amok over the coming months about who he'll end up with. Where it used to be a few select brands capable of shelling out cash for top prospects, the current sneaker landscape makes Zion's case very interesting — and will likely make him very rich in the process.
Vaccaro still considers Nike the frontrunner, particularly after how they handled his shoe explosion by flying to China to create custom Kyrie 4s that had extra support for his size and explosive athleticism. He also noted there could be hurt feelings from some of Nike's established stars that don't have signatures, however, if Williamson comes in and gets a nine-figure deal with a signature straight out of college. As such, DePaula notes it's possible they pitch him on being a Jordan athlete, giving him a signature on the Jordan line, where only Russell Westbrook and Chris Paul have their own shoe.
Adidas will also be a major player in negotiations, given that he played on the adidas AAU circuit in high school and, of course, was spotted on IG live after his injury in a full adidas tracksuit. While they've let some of their free agents walk in recent years, adidas has shown a willingness to be aggressive for top players, whether it's the massive deal they gave James Harden or their pursuit of Giannis Antetokounmpo this past year. If any rookie falls into that category of potential for a sneaker company, Zion is it, so they'll surely come strong.

Beyond the big two, the thing that makes Zion's sneaker free agency fascinating is the fact that Puma and New Balance both are looking for that signature star and could bring a massive offer to the table — and much more easily offer that signature shoe immediately. As DePaula notes, Chinese sneaker giant Anta could also get into the mix as they have a desire to get a young superstar to gain a stronger foothold in the States. All three being in the mix will only drive up the price, because as Vaccaro notes, Zion could be the player to vault a brand into massive popularity.
"What Michael did for Nike, Zion could do for somebody new," Vaccaro said. "What Steph Curry did for Under Armour — they weren't new, but they weren't there… I would find a new way to make him America's child. I just think America loves Zion Williamson."
That's the impact Zion can have and it's why he very well could be the first rookie to get nine figures in his first shoe deal, surpassing those of LeBron James and Kevin Durant.