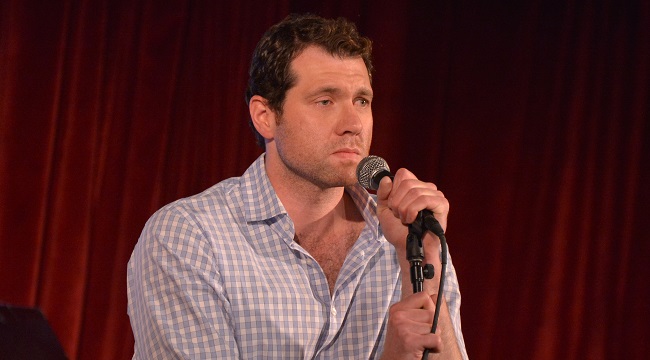 On this week's episode of WTF with Marc Maron, comedian and Billy on the Street star Billy Eichner spoke about his love of musical theater, his role as Timon in Jon Favreau's live-action-ish The Lion King and many other wonderful things. Yet one of the more intriguing things he and Maron talked about, albeit briefly, was his upcoming Netflix special. For aside from the February announcement reported exclusively by The Hollywood Reporter, which revealed that Eichner would be making a "unique" hour of comedy for the streamer, nothing else was known about it.
Speaking with Maron, however, Eichner revealed that the Netflix special would be more like his pre-Billy on the Street live show Creation Nation, which ran in New York during the 2000s. "I'm doing my first Netflix special, which will come out next year at some point," he explained. "That will, in a way, hearken back to my live show, to Creation Nation. It won't be exactly that. It's not going to be in the form of a talk show, but it will have variety elements and be very unique to me."
In 2005, the New York Times profiled the show, which was created by Eichner and several fellow alumni from Northwestern. The premise, which stemmed from Eichner proposing "a gay version of Regis and Kelly," involved a fictional "land ruled by artists, celebrities and people who like to talk about pop culture without necessarily contributing to it." New shows were performed monthly, as that's about how long it took everyone involved to cobble together the necessary material, including various multimedia and Billy on the Street-esque clips.
"There's no traditional sit-down celebrity interview," Eichner told Maron when asked if there would be any celebrity guests in the special. "Might there be cameos? Perhaps." And much like Creation Nation before it, the comedy actor added that it will be "a live stage show… with video elements." Whether said elements involve another rousing call to action for lesbians everywhere or Billy on the Street's infamous purple shirt, however, remains to be seen.
(Via WTF with Marc Maron)