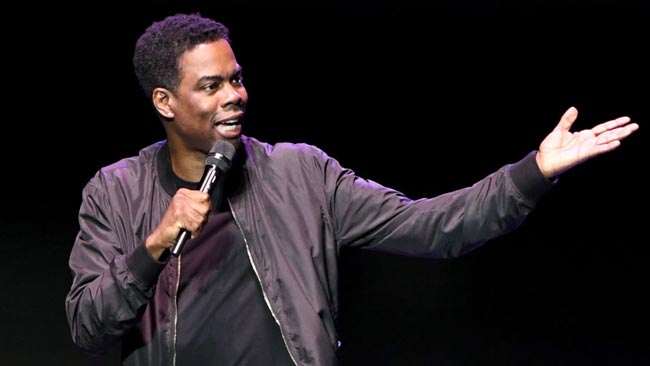 The tug of war between performers and the audience on cell phone usage has a new player — Chris Rock. Following in the footsteps of Jack White, Dave Chappelle, Alicia Keys and other high-profile artists that want their fans to watch the performance and not record it, Rock has banned cell phones, requiring fans to lock their devices in small pouches.
For Rock, there are only a few designated areas to unlock the phone, even during an intermission. Chris Penman was at Rock's latest stop on his Blackout tour in Glasgow, Scotland. His father was recovering from heart surgery, so he pulled out his phone to check in between acts, and was quickly ushered out the door. It's led to a minor outcry on the internet:
"I must have only looked at it for about 15 seconds, no-one was on stage and I held it discreetly on my lap, then I was approached by a guard. My dad is in the heart transplant ward in the Golden Jubilee in a really bad way. I explained the full thing but they still said I had to leave. I couldn't believe it. I'm still baffled today. It's just extraordinarily petty and unreasonable.

I'm happy that my dad is doing better but I'm angry because my wife paid £140 for the tickets and we didn't even get to see Chris Rock. It was the first night I've left my dad in weeks, and was supposed to be a bit of a break, but ended up completely ruined by this ridiculous situation."
According to various attendees of Rock's shows, the phones are locked in the pouch when they arrive, they can be unlocked by security in the designated areas and when they leave. It's unknown how Penman got his case open in his seat, considering these rules. All in all, some fans are taking it better than others:
There's also an unfortunate reality as a subtext to the phone ban: What if a terrorist attack occurs? How will people call for help or their loved ones? Ahead of Rock's concert in front of 22,000 people at Manchester Arena, fans are thinking about last year's terrorist attack that left 12 dead, and how cell phones helped many get to safety. "This really worries me – I can't believe we have to lock our phones up – especially with what happened here last May," a person who wished to remain anonymous said to the Mirror.
(Via The Scotsman)