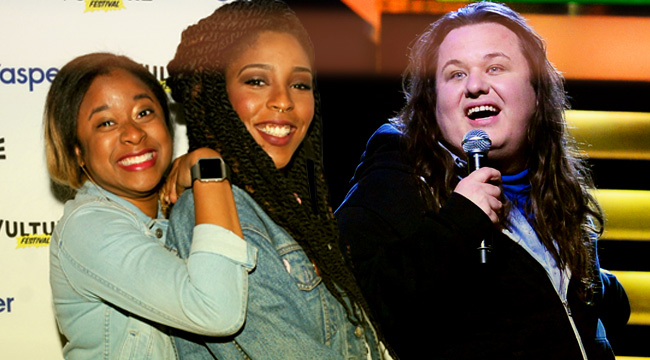 Welcome to Comedy Now, a weekly column cataloging what comedy fans should know about what's available in the streaming world. Whether it's a brand new special, an old classic, or the oddball show that defies categorization, we'll list as many as we can for your enjoyment right here. Who knows? We may even throw in a few non-streamable bits on occasion, like tour announcements from our favorite comics. You can check out the previous column here.
What's New
Shane Torres: Established 1981 (Album)
Everyone knows who Anthony Bourdain nemesis Guy Fieri is, but stand-up comedian Shane Torres? Not so much. Thanks to a recently viral bit about the Food Network star from his upcoming debut album Established in 1981, however, every foodie and comedy nerd with a wi-fi connection is about to know his name. "This may be somewhat of a controversial opinion, but can anyone explain to me what the f*ck Guy Fieri did to anyone?" asks Torres. "Cuz people sh*t on that dude all the time and as far as I can tell, all he did was follow his dreams." Established in 1981 drops September 8th.

2 Dope Queens' Upcoming Specials (HBO)
2 Dope Queens is a hugely popular podcast featuring Jessica Williams (The Incredible Jessica James, The Daily Show) and Phoebe Robinson (Broad City). Sometime in 2018, it will also become a series of four hour-long specials on HBO. The precise format and content of these specials remains to be seen, but that didn't stop HBO Programming President Casey Bloys from praising them in a statement. "We're looking forward to bringing these very funny, talented women and their unique points of view to the HBO audience," he said.
Brad Paisley's Comedy Rodeo (Netflix)
Stand-up comedy aficionados may not be too familiar with country musician Brad Paisley, but Paisley's fans are quite familiar with his comedy. From the ludicrous lyrics he often writes, to his frequent appearances on late night television, the Nashville stalwart has made a name for himself in the pop comedy world. And thanks to Netflix, his Comedy Rodeo special will likely reinforce this with his fans when it drops August 15th. Featuring comics Nate Bargatze, John Heffron, Jon Reep, Sarah Tiana, and Mike E. Winfield, and with cameos by Reba McEntire and David Hasselhoff, it's sure to please its target audience.
Lynne Koplitz: Hormonal Beast (Netflix)
A frequent host of syndicated and network-based shows like Change of Heart, Later and How to Boil Water, Long Island comedian Lynne Koplitz has otherwise spent most of her career doing stand-up, which has included appearances on Comedy Central and the annual Just for Laughs comedy festival in Montreal. On August 22nd, her latest special, Hormonal Beast will drop on Netflix in what the streaming giant dubs an "unabashed" look at "being crazy, the benefits of childlessness and the three things all men really want."

Untitled David Letterman Talk Show (Netflix)
In what felt like an inevitable (yet wonderful) turn of events, former Late Show host David Letterman will make his return to television sometime in 2018. Announced on Tuesday by Letterman's new home, Netflix, the untitled talk show series will consist of six episodes featuring "in-depth conversations with extraordinary people" and "in-the-field segments." This longform approach to a late night-style talk show will undoubtedly give Letterman the kind of platform the "retired" host has craved since leaving CBS. It may even, as our Mike Ryan argues, let him surpass Johnny Carson as the king of late night.
The Chris Gethard Show Returns (truTV)
Following a brief period of uncertainty, comedian and improv maestro Chris Gethard's cult talk show, The Chris Gethard Show found new life on truTV. Not only that, but the minds behind the legendary "Dumpster episode" were given the OK to broadcast each week's episode live (albeit with a 10-second delay and commercial breaks). Judging by the premiere episode and its John Mulaney-starring followup, Gethard and his crew of public access outcasts are back and better than ever. New episodes of The Chris Gethard Show air Thursdays at 11pm ET on truTV, and viewers can call or Skype in, or follow along online.
Tim and Eric Awesome Show, Great Job! Awesome 10 Year Anniversary Version, Great Job? (Adult Swim)
To celebrate 10 years of Tim Heidecker and Eric Wareheim's surrealist comedy, the pair is bringing their recently concluded live tour show to Adult Swim with Tim and Eric Awesome Show, Great Job! Awesome 10 Year Anniversary Version, Great Job? on August 27th. Set to air that Sunday night at 12 midnight ET, the special "celebrates the 10-year anniversary of the show with a special 1/2 hour episode," as well as "[n]ew sketches, familiar faces, and the same old Awesome Show." But that's not all, because Tim & Eric's Bedtime Stories will return for another season on Sunday, September 10th at 12 midnight ET.

What's Wrote
You Can't Spell America Without Me by Alec Baldwin and Kurt Andersen (Book)
Whether or not you like Alec Baldwin's Donald Trump impression on Saturday Night Live, the frequent guest host and 30 Rock co-star's take on the president is coming to a book store near you. Working with Spy magazine co-founder Kurt Andersen, Baldwin co-wrote You Can't Spell America Without Me, a parody of the presidential memoir by (and all about) the current primary occupant of the White House. Slated for a November 7th release, the book — whose new cover was just revealed — will nearly mark the one-year anniversary of Trump's shocking election win.
What's Live
New York Comedy Festival (Festival)
The annual New York Comedy Festival is fast approaching (November 7th-12th), and the official lineup and schedule for this year's acts was just announced. In conjunction with TBS, who's co-sponsoring the festival, both Conan and Full Frontal with Samantha Bee will film on location and New York to commemorate the week's festivities. Meanwhile, headliners Bill Maher, Brian Regan, Nick Offerman, Ron White, Iliza Shlesinger, Jim Norton, Tom Segura, Chris Hardwick and many others will perform throughout the week at various locations and times. Special pre-sale tickets are available here.
What's Gone
The End of Seeso and @midnight
Not everything in the era of peak TV stand-up comedy lasts. Hence why both NBC's humor-centric digital streaming service, Seeso and Comedy Central's internet-based panel show, @midnight are departing forever. Suspected for some time, Seeso's departure was confirmed by a post on the streamer's Facebook page. "We're writing to let you know that later this year," the post read, "Seeso will be shutting its comedy doors." Some of its original programming has since moved elsewhere, but many shows and stand-up specials remain in flux. As for @midnight, Chris Hardwick's popular program spoke with Uproxx about its impact.