Welcome to Comedy Now, a weekly column cataloging what comedy fans should know about what's available in the streaming world. Whether it's a brand new special, an old classic, or the oddball show that defies categorization, we'll list as many as we can for your enjoyment right here. Who knows? We may even throw in a few non-streamable bits on occasion, like tour announcements from our favorite comics. You can check out the previous column here.
What's Now
Comedy Central bids everyone a hearty Thank You, Goodnight on YouTube
On Monday, Comedy Central's flagship half-hour program, Comedy Central Stand-Up Presents… got a boost from a new web series titled Thank You, Goodnight. The short videos follow comedians Yamaneika Saunders, Joel Kim Booster, and Casey James Salengo as they travel from venue to venue in New York City, doing stand-up and performing sketch versions of experiences loosely based on their own road stories. Each episode also features new comedians like Shalewa Sharpe, Alzo Slade, and Ryan Beck as they get picked up along the way.

Does Ricky Gervais have any Humanity left?
Whether you're likely to enjoy Ricky Gervais's first stand-up special in seven years or not, Humanity is now available to stream on Netflix. Many of the purposely offensive British comedian's most ardent fans are already singing its praises online, but plenty of detractors (including myself) have also predictably taken the bait and engaged with the special's cumbersome humor. Which, to be frank, is probably what Netflix was counting on when it allegedly paid a whopping $40 million for the rights to stream Humanity exclusively on its platform.
What's New(s)
HBO's 2 Dope Queens specials will be available for download
Next Monday, March 19th, the four 2 Dope Queens specials broadcast by HBO in February will be available for digital download. Co-starring Jessica Williams (The Daily Show) and Phoebe Robinson (Broad City), who also started the podcast of the same name, the four HBO specials were directed by comedian Tig Notaro and featured a diverse array of celebrity guests, comedians, and topics. From Jon Stewart's participation in a "New Yorker" test to Uzo Abuda's nerdy discussion of old gaming systems in the episode on "Blerds," all four specials are worth your time.
Wyatt Cenac's Problem Areas announces its impressively diverse writing and research teams
Soon after HBO debuted the first promotional material for The Daily Show alum Wyatt Cenac's new "docuseries," Wyatt Cenac's Problem Areas, the network revealed the promising program's full writing and research staff. Executive produced by fellow ex-Daily Show team member Hallie Haglund, who also serves as the head writer, Problem Areas will feature the comedic talents of Emma Carmichael, Chrissy Shackelford, Dillon Stevenson, Eliza Cossio, Kerry Coddett, and Chris Duffy. Meanwhile, the research team boasts Justin Ellis, Tammy Kim, Allissa Wickham, and Matt Williams.

Wanda Sykes and Tig Notaro to headline Boston's Women in Comedy Festival
The 9th annual Women in Comedy Festival in Boston is getting a significant boost this year. In addition to garnering the support of HBO for the first time in its history, the influential festival will also be headlined by prominent comics Tig Notaro and Wanda Sykes. Emma Willmann (Crazy Ex-Girlfriend), Gina Yashere (Crashing), Kat Radley (staff writer on The Daily Show), and Julie Goldman (Curb Your Enthusiasm) will also feature in this year's lineup, along with many other comedians, comedy troupes, and various workshops. Tickets are now available for sale at the WICF website.
Kathleen Madigan's Boxed Wine and Bigfoot tour gets new dates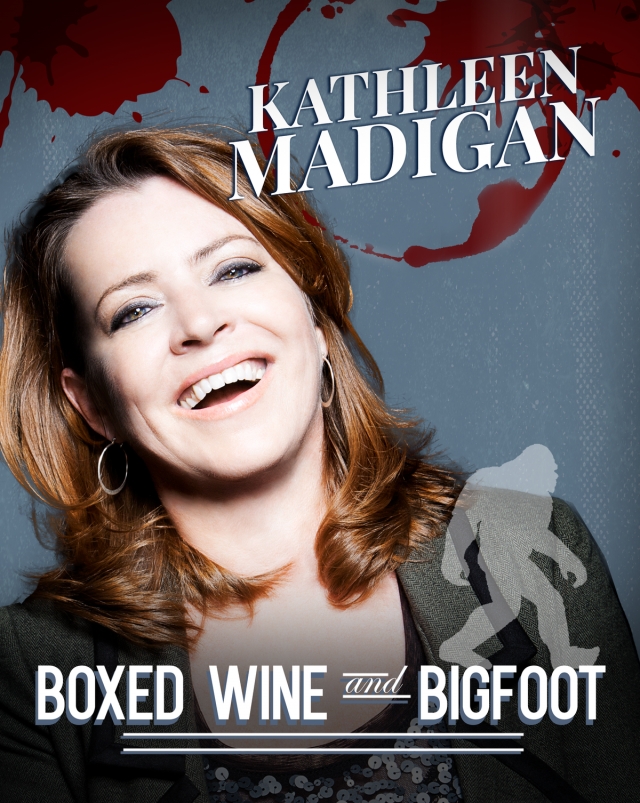 Kathleen Madigan has made it a habit of producing some of the best live stand-up around. A frequent performer on The Tonight Show with Jay Leno and The Late Show with David Letterman, Madigan just added a slew of new dates to her current tour, Boxed Wine and Bigfoot. "I had most of the summer off," she recently told The Interrobang. "When I came home to this tour schedule I couldn't have been more excited. It's a lot of cities I know and a few that I haven't been to which is the perfect mix." Tickets for current tour dates and new ones from September on can be purchased here.
British comedian James Acaster's four-special special Repertoire gets a trailer
You probably don't know who British comedian James Acaster is, but the Mock the Week regular (who made his way across the Atlantic to do stand-up on Conan last summer) is here to tell you all about himself in a series of four — yes, four — hour-long specials recorded for Netflix. Each titled Recognise, Represent, Reset, and Recap, the four individual hours culminate in the "comedy miniseries" Repertoire, in which Acaster delivers his unique comedic take on his love of loopholes, classic photo poses, why England is such a furious nation, the results of his year-long bread research, and more. It's weird, but it's also wonderful.

What's Later
The second season of Netflix's The Standups begins streaming next Tuesday
The second season of Netflix's The Standups series is set to stream on Tuesday, March 20th. The first, which debuted last summer, featured the likes of Nikki Glaser and Deon Cole, who told Uproxx about the effects of streaming on comedy viewership, and why bingeing it all just makes so much sense. They're not wrong, which is why Netflix ordered a second season with six brand new comics — Rachel Feinstein, Kyle Kinane, Joe List, Brent Morin, Aparna Nancherla, and Gina Yashere. Filmed at the Globe Theatre in Los Angeles, each comedian's 30-minute set will be available to binge next week.