Welcome to Comedy Now, a weekly column cataloging what comedy fans should know about what's available in the streaming world. Whether it's a brand new special, an old classic, or the oddball show that defies categorization, we'll list as many as we can for your enjoyment right here. Who knows? We may even throw in a few non-streamable bits on occasion, like tour announcements from our favorite comics. You can check out the previous column here.
What's New
Dulcé Sloan Joins The Daily Show (Comedy Central)
Nearly six months after naming Gina Yashere as The Daily Show's new "British Correspondent," host Trevor Noah and Comedy Central announced this week that comedian Dulcé Sloan will join the program as its latest team member. Described by the official press release as a "unique emerging voice in the world of comedy," Sloan "offers a fresh and honest perspective, bringing her signature point-of-view and confidence to commentary on a wide range of topics." The @midnight and late night veteran made her debut on Thursday with a desk piece about New York Fashion Week.

Marc Maron: Too Real (Netflix)
Ahead of his new book's October release, WTF podcaster Marc Maron just debuted his latest comedy special on Netflix. In Too Real, the GLOW star waxes in his trademark, neurotic fashion about a litany of anxiety-inducing subjects. As Maron explains in a recent Uproxx interview, however, he had some trouble naming one of his more distasteful topics specifically — President Donald Trump. "I have a hard time saying it. I don't like saying 'President Trump,'" he said repeatedly. "I don't like saying his name. I don't like really uttering his name that often."
Felipe Esparza: Translate This (HBO)
On the heels of George Lopez and Al Madrigal, Mexican-American comedian and actor Felipe Esparanza's new stand-up hour will waste no time directly addressing immigration issues along the US-Mexico border. Appropriately titled Translate This, the comic's first HBO special will debut simultaneously on HBO and HBO Latino on Saturday, September 30th at 10pm ET/PT. (And as HBO's official press release rightly notes, late September to early October is "Hispanic Heritage Month.") Aside from politics, Esparanza jokes about "his ongoing difficulty translating for his parents" and "raising his blond-haired, blue-eyed stepson."
Joaquín Reyes: Una y no más (Netflix)
Not only has Netflix expanded into the bustling comedy scene in India with the likes of Vir Das, it's also tapped into non-English-speaking markets. French comic Gad Elmaleh's recent English and French-language specials were a major part of this effort, and Spanish actor and comedian Joaquín Reyes's Una y no más is the latest addition. Best known for his celebrity impressions, Reyes's new hour features "a night of stories about buses, bathroom habits, royalty and more."

Gary Owen: I Got My Associates (Showtime)
Former serviceman and BET regular Gary Owen's third Showtime special, I Got My Associates, will debut Friday, September 8th at 9pm ET. Filmed in Alabama, the bits and stories that comprise the new hour "[run] the gamut from celebrity weddings and bumping into LeBron James in the bathroom to the dichotomy of his hillbilly family and being married to the daughter of a founding member of the Black Panthers." Owen, who has cultivated a strong black following, was recently featured in the documentary series The Gary Owen Show, which chronicles his interracial family life in a small Ohio town.
What's Not
Shaquille O'Neal Presents: All Star Comedy Jam (Netflix)
Since the late 2000s, former basketball player turned sports commentator Shaquille O'Neal has produced and curated a series of stand-up comedy showcases for Showtime. Six of these All Star Comedy Jam specials, including the first Shaq co-organized with Cedric the Entertainer, are now streaming on Netflix. These include the original All Star Comedy Jam, as well as five subsequent specials based in Atlanta, Dallas, Las Vegas, Orlando and South Beach. It's an interesting acquisition, especially since Netflix is posed to debut its Def Comedy Jam 25 special highlighting 25 years of Russell Simmons' seminal program.
What's Heard
Shane Torres: Established 1981 (Platform)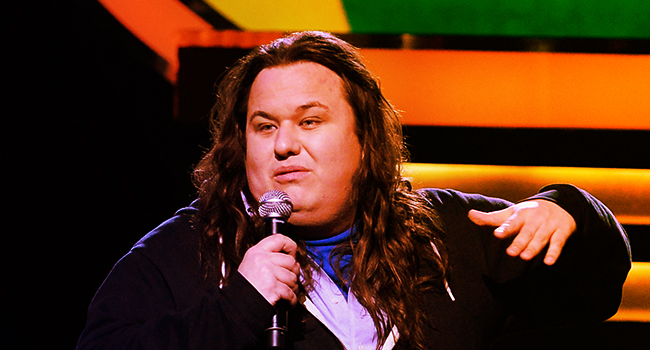 Former Portland comedian Shane Torres went viral in August when a five-minute routine about Guy Fieri from his new album, Established 1981 exploded online. Not only is the comic's debut record now available for purchase, but he also talked to Uproxx about his time in the Pacific Northwest, his friendship with fellow ex-Portland resident Ron Funches, and whether or not he wants to be known as "The Guy Fieri Comic." (Spoiler: he doesn't.) "I hope people actually listen to the whole thing and don't assume I'm just 'The Guy Fieri Comic' or something like that," he said. "That worries me a little bit."

What's Live
Jim Norton: Kneeling Room Only (Tour)
Comedian Jim Norton, whose recent Netflix special, Mouthful of Shame featured the radio personality getting his bare ass spanked by Robert De Niro, will head back out on the road for the Kneeling Room Only tour. With an opening show scheduled for September 22nd at Seattle's Neptune Theater, Norton's latest string of dates will take him across the country through late November. Tickets are currently available for sale on the comic's official website, and include stops in Portland, Austin, Las Vegas, Madison and New York.
The Harvey Relief Benefit: Comedy Helps with Ron White, Iliza Shlesinger and Chris D'Elia (Show)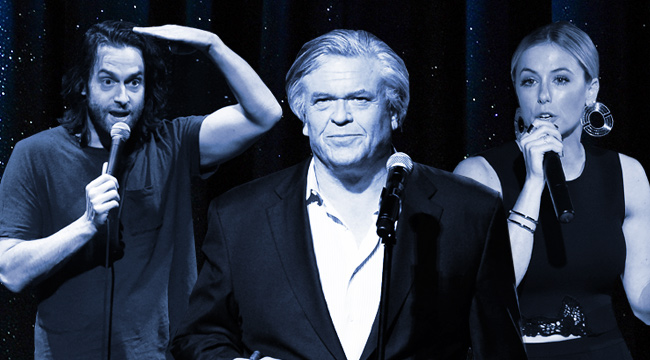 On Monday, Texas-born comedians Ron White and Iliza Shlesing joined Chris D'Elia for the special benefit show for the American Red Cross in Austin, Texas. The Harvey Relief Benefit: Comedy Helps raised over $250,000 for the American Red Cross's efforts in Houston and the surrounding region, which was devastated by Hurricane (then Tropical Storm) Harvey.