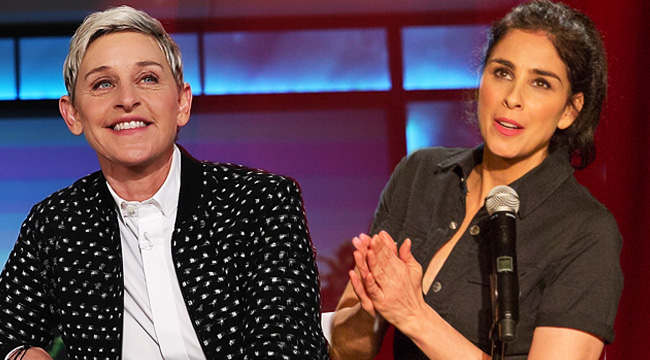 Welcome to Comedy Now, a weekly column cataloging what comedy fans should know about what's available in the streaming world. Whether it's a brand new special, an old classic, or the oddball show that defies categorization, we'll list as many as we can for your enjoyment right here. Who knows? We may even throw in a few non-streamable bits on occasion, like tour announcements from our favorite comics. You can check out last week's column here.
What's New
Untitled Ellen DeGeneres Comedy Special (Netflix)
When daytime talk show host Ellen DeGeneres last did a concert special, HBO's Here and Now in 2003, Donald Trump's Celebrity Apprentice didn't exist yet. In the nearly 15 years since, we've had more than enough of the reality television star turned president, but nowhere near enough stand-up by DeGeneres. That's all about to change thanks to a new Netflix special announced Wednesday on Twitter. Little is known about what DeGeneres' next hour will look like (or what she will call it), but early reports indicate we should see it sometime in 2018.

Sarah Silverman: A Speck of Dust (Netflix)
Meanwhile, Sarah Silverman — whose famous exchange with Bernie Sanders supporters at the Democratic National Convention may have inspired her upcoming Full Frontal-like Hulu show — debuts a brand new special Tuesday, May 30th on Netflix. Titled A Speck of Dust, the 70-minute stand-up film features the dark comedy fans of Jesus Is Magic and We Are Miracles know and love. It also unsurprisingly includes a few soirees with American politics, but Silverman expertly avoids standing on the soapboxes favored by some comics and instead focuses on her comedy. Which is really, really good in A Speck of Dust.
Hasan Minhaj: Homecoming King (Netflix)
In his recent chat with Uproxx, Daily Show correspondent Hasan Minhaj explained the appeal of the one-person show format he embraces in Homecoming King, which dropped earlier this week on Netflix. "A traditional stand-up set," he said, "[is] almost like a mixtape of thoughts and ideas… and you sort of string them together." Meanwhile, one-person shows like Colin Quinn's New York Story and Neal Brennan's 3 Mics "[feel] like a whole meal." Critics and audiences can quarrel over points like these all they want, but one thing is clear: Minhaj's Homecoming King is a moving personal portrait that stands apart from most specials.
T.J. Miller: Meticulously Ridiculous (HBO)
Okay, Silicon Valley's very own Erlich Bachman won't be around to insult older male employers, women, minorities and just about everyone else next season. Yet that doesn't mean fans won't have plenty of places to see T.J. Miller, whose new comedy special, Meticulously Ridiculous premieres Saturday, June 17th on HBO. And if the first trailer, which dropped earlier this week, is any indication, Miller is going to be just fine once Silicon Valley bids Bachman adieu after its phenomenal fourth season comes to a close. Besides, between Gorburger Show, Ready Player One and other gigs in film in TV, Miller won't be left wanting more.

Oh, Hello On Broadway (Netflix)
With specials like Maria Bamford's Old Baby, Netflix has endeavored to diversify the kinds of comedy specials it puts out this year. Enter Oh, Hello On Broadway, a filmed version of John Mulaney and Nick Kroll's wonderful stage show about two ornery, elderly New Yorkers, Gil and George. It's not a traditional stand-up special, nor is it really stand-up comedy; yet Oh, Hello isn't really a scripted stage play either. It's, um… it's Oh, Hello. And thanks to the streaming giant, fans who haven't had the chance to check out the original Broadway run will get to encounter George and Gil in all their comedic glory on Tuesday, June 13th.
Hood Adjacent with James Davis (Comedy Central)
With the cancellation of The Nightly Show with Larry Wilmore and the addition of Gorburger Show, Jordan Klepper's upcoming Daily Show followup, Anthony Atamanuik's The President Show and more, Comedy Central finds itself in a weird place. On the one hand, it's definitely trying to up the ante in terms of late night programming. On the other hand, the network's talent diversity in front of (and behind) the camera isn't as strong. Hence Hood Adjacent with James Davis, a new program featuring the Snapchat star and comedian's United Shades-esque explorations. It premieres Wednesday, June 28th at 9pm ET/PT.
I'm Dying Up Here (Showtime/YouTube)
A solid two weeks before its Sunday, June 4th premiere on Showtime, the Jim Carrey-produced dramedy I'm Dying Up Here put the entire pilot on YouTube for all to see. Based on Los Angeles Times reporter William Knoedelseder's memoir of the area's first comedy clubs, the new series features Melissa Leo and an ensemble cast of actors and comedians portraying versions (or as Al Madrigal told Uproxx, "types") of characters based on the real-life figures who lived it. In other words, since I'm Dying Up Here is a dramatization, audiences won't see anyone playing a younger version of David Letterman.
What's Not
The President Show (Comedy Central)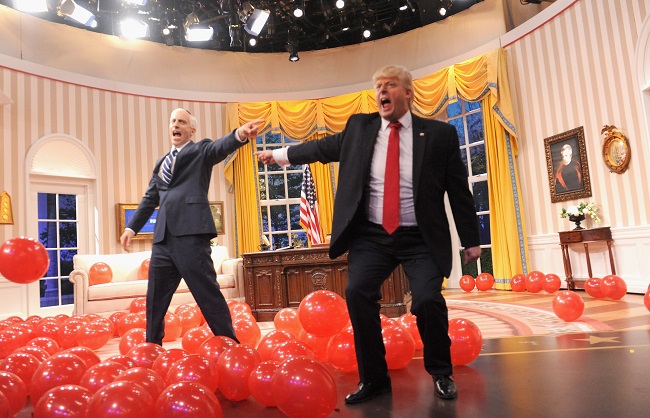 Speaking of Atamanuik's President Show, Comedy Central announced an extended order of seven additional episodes for the late night parody of Donald Trump's administration. From fooling all of the internet with an out-of-context viral clip to many other notable moments, the late night talk show parody pits the United Citizens Brigade alum's excellent impression of the boastful figure against the world — including the very country he's supposedly in charge of. "I'm so grateful that Comedy Central has decided to end its tenure as a cable network by renewing The President Show," Atamanuik said in a statement.
What's Heard
The Kevin McDonald Show (Podcast)
Chances are if you know Kids in the Hall, you know who Kevin McDonald is. The Canadian sketch comedy group blast through the '80s and '90s with some of the most original (and memorable) sketch comedy ever seen, and McDonald was there every step of the way. These days the Canadian comic hosts his own podcast, Kevin McDonald's Kevin McDonald Show, which typically records each episode live in front of a living, breathing audience. McDonald's latest guest is fellow Canuck Mike Myers, whose new Gong Show character is… something. The new episode is available on iTunes and SoundCloud.