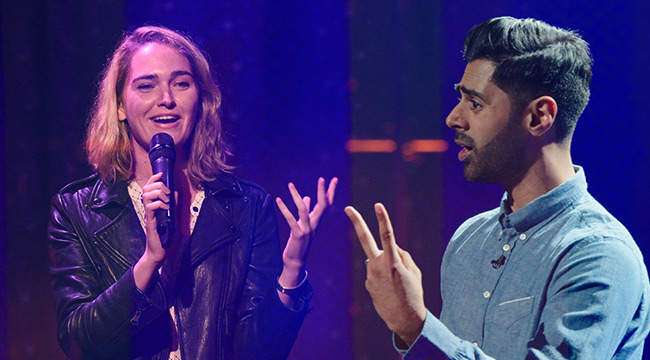 Welcome to Comedy Now, a weekly column cataloging what comedy fans should know about what's available in the streaming world. Whether it's a brand new special, an old classic, or the oddball show that defies categorization, we'll list as many as we can for your enjoyment right here. Who knows? We may even throw in a few non-streamable bits on occasion, like tour announcements from our favorite comics. You can check out last week's column here.
What's New
Untitled Jena Friedman Special (Adult Swim)
Last year, former Daily Show field producer and Late Show with David Letterman writer Jena Friedman released her first stand-up special, American C*nt at Seeso. (Yes, that's what she titled it.) The Edinburgh Fringe Festival show one-woman show on which she based it drew widespread acclaim, and the resulting hour didn't disappoint, but it begs the question… What's next? An new half-hour special at Adult Swim, that's what. According to a press release, Friedman will "probe America, tackling evergreen issues related to politics, gender and American culture" in the untitled show, which also doesn't have a release date yet.

Jordan Klepper Solves Guns (Comedy Central)
Speaking of The Daily Show, the surviving late night juggernaut at Comedy Central has produced quite a few standouts among its correspondents. Stephen Colbert went on to host The Colbert Report and The Late Show, Samantha Bee skyrocketed to the top with Full Frontal at TBS, and Larry Wilmore — despite The Nightly Show's cancellation — hasn't faltered as of late. Just as many good things are happening for Jordan Klepper, the drastically tall correspondent whose popular Trump rally segments scored him his own forthcoming program and a new topical special, Jordan Klepper Solves Guns, set to air June 11th at 10pm ET.
Hasan Minhaj: Homecoming King (Netflix)
Nor should we neglect Hasan Minhaj, Klepper's fellow Daily Show correspondent, whose performance at the 2016 Radio and Television Correspondents Association Dinner propelled him into the spotlight. A year later he hosted a Donald Trump-less White House Correspondents Association dinner and premieres a concert film version of his well-received one-man show, Homecoming King on Netflix next week. Set to drop Tuesday, May 23rd on the streaming giant's platform, Minhaj's new special tackles immigration, family, and equality from the perspective of an American-born performer whose family hails from India.
Tracy Morgan: Staying Alive (Netflix)
Whether you prefer the Tracy Morgan of Saturday Night Live and 30 Rock fame, or the Tracy Morgan of stand-up classics like One Mic and Bona Fide, the performer's new special at Netflix is a sight to behold. As our review notes, Staying Alive brings to life the promising comedy of Morgan's Picking Up the Pieces, a 2016 tour the comedian embarked on a year and a half after his near-fatal car accident in June 2014. Considering the physical and mental rehabilitation Morgan endured after surviving the accident, which killed James "Jimmy Mack" McNair and left him in a coma, his return to the stage is something to behold.
What's Up
David Letterman to receive the Mark Twain Prize for American Humor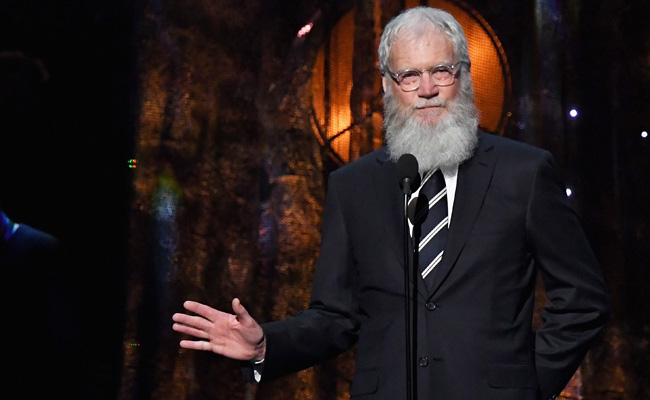 Despite retiring in 2015 as host of The Late Show, which he created, David Letterman hasn't left the limelight entirely. This year alone he inducted Pearl Jam into the Rock and Roll Hall of Fame, witnessed the publication of his first biography, and — sadly — said goodbye to his famous mother, Dorothy Mengering. Despite these pain and triumphs, however, the John F. Kennedy Center for the Performing Arts announced it would give Letterman its cherished Mark Twain Prize for American Humor. Recently awarded to the likes of Bill Murray, Eddie Murphy and Carol Burnett, Letterman's latest honor is richly deserved.
Jimmy Kimmel will host the 2018 Academy Awards
Warren Beatty's Best Picture Oscar mishap dominated the news cycle following the 2017 Academy Awards telecast. What didn't, however, was Jimmy Kimmel's performance as the master of ceremonies — something the Jimmy Kimmel Live host told Uproxx was a possibility beforehand. (After all, everyone mis-remembers Letterman's stint.) But if his recent viral healthcare plea and the reaction to it are any indication, Kimmel is almost definitely having a moment. So much that the powers that be announced he would return to host the 2018 Academy Awards telecast on Sunday, March 4th, 2018.
What's Wrote
Mean Dads For A Better America by Tom Shillue (Book)
If you recognize Tom Shillue, it's either from his occasional appearances with "The Rag Time Gals" on The Tonight Show Starring Jimmy Fallon, or his recently canceled late night Fox News program, Red Eye. Then again, with frequent stints on Comedy Central's Broad City and many other late night shows, chances are you've come across the 50-year-old comic's pretty face somewhere in the comedy landscape. And on June 6th you'll be able to bury your face in his new book, Mean Dads For A Better America: The Generous Rewards Of An Old Fashioned Childhood, when it becomes available for sale online and in stores.

What's Live
Mom's Night Out: Summer Break (Tour)
Upright Citizens Brigade alums Kristin Hensley and Jen Smedley, the pair behind the massively successful video series #IMOMSOHARD, are going on tour. Channeling the spirit of Tina Fey and Amy Poehler's previous collaborations, Hensley and Smedley's Mom's Night Out: Summer Break Tour begins this week in Portland, Oregon and stretches across the country through June and July. Tickets are currently on sale at their website, which also features a regularly updated selection of their most recent Facebook videos.
Mystery Science Theater 3000: Watch Out for Snakes! (Tour)
It simply isn't enough for the team behind Mystery Science Theater 3000: The Return to take over everyone's Netflix queues. Hence why creator and original host Joel Hodgson, new host Jonah Ray, robots Crow, Tom Servo and Gypsy, and many others are taking the show on the road for the Watch Out for Snakes! tour this summer. From early July to mid August, fans and newcomers alike in cities across the country can experience a live MST3K show. Tickets are available for sale at the tour's website, which indicates which stops will feature two back-to-back shows — the favorite Eegah show, followed by a "secret surprise film."
19th Annual Del Close Marathon (Improv)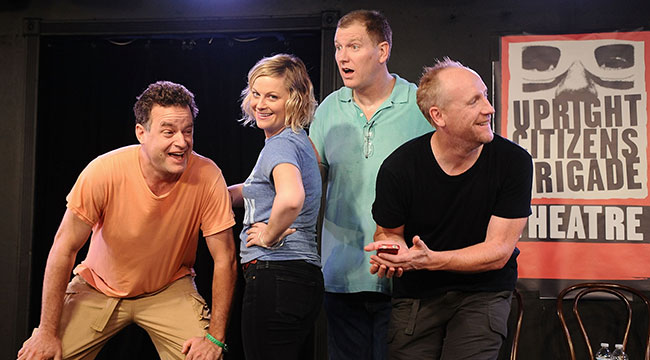 Ever been to an improv show? What about an improv "marathon"? If your answer to both is "no," but especially to the latter, then you may want to check out the 19th Annual Del Close Marathon in New York next month. Scheduled for the last full weekend of June, the long-running Upright Citizens Brigade staple costs $40 (for weekend passes) and will feature a who's-who of former and current UCB members. So far, scheduled performers include the likes of Amy Poehler, Sasheer Zamata, Matt Walsh, Bobby Moynihan, Horatio Sanz, Nicole Byer, Anthony Atamanuik, Peter Grosz, Jason Mantzoukas, Jo Firestone and more.