Welcome to Comedy Now, a weekly column cataloging what comedy fans should know about what's available in the streaming world. Whether it's a brand new special, an old classic, or the oddball show that defies categorization, we'll list as many as we can for your enjoyment right here. Who knows? We may even throw in a few non-streamable bits on occasion, like tour announcements from our favorite comics. You can check out last week's column here.
What's New
Lucas Brothers: On Drugs (Netflix)
The latest addition to Netflix's explosive array of original stand-up programming, Lucas Brothers: On Drugs introduces the identical twin comedians to one of their largest audiences since appearing on The Tonight Show. Favorites of host Jimmy Fallon, Keith and Kenny Lucas have made a name for themselves elsewhere with the animated Lucas Bros. Moving Co. on FXX, and appearances in film (22 Jump Street) and on television (The Grinder, Lady Dynamite). On Drugs offers fans and newcomers alike a taste of the brothers' first original hour. The special, which premiered April 18th, is now available to stream.

Lots of premiere dates (Netflix)
While the Lucas Brothers' special was one of the last original stand-up shows to hit Netflix in April, May is sure to add plenty of new material come May 2nd, when the latest concert film from Lady Dynamite's Maria Bamford hits. In every week that follows, new specials from Norm MacDonald (May 9th), Tracy Morgan (May 16th), Hasan Minhaj (May 23rd) and Sarah Silverman (May 30th) will drop intro the streaming giant's massive content well.
Michelle Wolf's stand-up debut (HBO)
Best known as a The Daily Show with Trevor Noah correspondent, former Wall Street employee turned comic Michelle Wolf has quickly worked her way up the stand-up scene in New York. She gave one of the most memorable performances in the first season of Night Train with Wyatt Cenac on Seeso, and recently made her European debut at the renowned Edinburgh Festival Fringe this past summer. Later this year, she'll be recording her first stand-up special with HBO at New York's Skirball Center under the direction of Chappelle's Show co-creator and comedian Neal Brennan.
Lewis Black: The Rant is Due (Audible)
Whenever he's not too busy raving about American politics, satirist Lewis Black keeps busy touring his Rant, White & Blue show. That, and premiering a brand new comedy series on Audible titled The Rant is Due, in which Black performs original diatribes created and submitted by fans. Yes, that's right — you can actually have your own personal outburst converted into another one of Black's trademark routines. "A new audience will hear the rants of their fellow citizens," Black said in a statement. "It will not change your life but it will be a lot of fun. And if it's not a lot of fun, it will piss you off and that's a really good time in my book."

Al Madrigal: Shrimpin' Ain't Easy (Showtime, then Hulu and Amazon)
Wolf's HBO debut isn't the only directing credit Neal Brennan will earn in 2017, as former Daily Show correspondent Al Madrigal's new Showtime special, Shrimpin' Ain't Easy will also bear his mark. Premiering May 5th at 9pm ET, Madrigal's first concert film since 2013's Why Is The Rabbit Crying? will feature the "half Mexican, half Sicilian" comedian's penchant for connecting stories from his family history to current events. (For example, Donald Trump's infamous taco bowl picture from a poorly thought-out Cinco de Mayo tweet last year.) Madrigal also stars in the upcoming Jim Carrey-produced series I'm Dying Up Here, which dramatizes the '70s comedy scene in Los Angeles.
What's Not
Just Like Us (Netflix)
Directed by Egyptian-American actor and comedian Ahmed Ahmed, the documentary Just Like Us — which premiered at the 2010 Tribeca Film Festival — is now available to stream on Netflix. A repurposed comedy tour Ahmed and other Middle Eastern performers participated in, the film presents what the New York Times called a "laudable if lightweight argument for broader minds and thicker skins." Almost seven years later, Just Like Us seems more relevant than ever in the age of Trump — even if, as Times critic Jeannette Catsoulis put it, the more "yuk-worthy moments [threaten] to defeat the film's purpose."
What's Wrote
Midnight Confessions by Stephen Colbert (Book)
Late Show host Stephen Colbert is no stranger to writing books. As a correspondent and writer on The Daily Show with Jon Stewart, and later as host of The Colbert Report, he wrote several books of political satire. Colbert even co-authored Wigfield: The Can-Do Town That Just May Not with Amy Sedaris and Paul Dinello in 2004. So what will the heir apparent to David Letterman do next? Turn "Midnight Confessions," one of his Late Show's popular segments, into a book. According to the Hollywood Reporter, Midnight Confessions will hit shelves on September 5th.

Sicker in the Head by Judd Apatow (Book)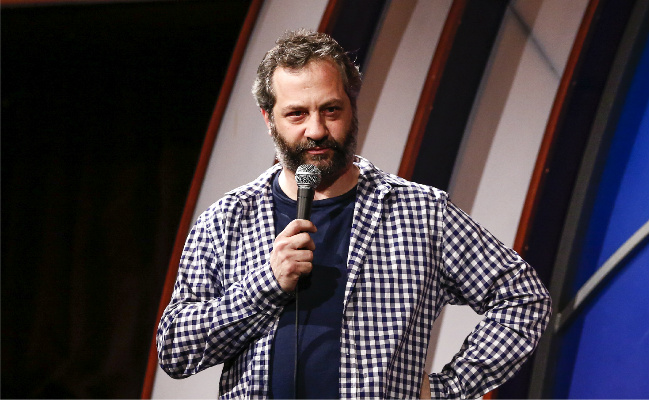 Between helping bring Girls to an end and kickstarting Pete Holmes' Crashing on HBO, continuing Love on Netflix, and filming a documentary about the late Garry Shandling, you'd think Judd Apatow would want a break. Who knows? Maybe he does, but until then the comedy maestro will press forward with several ongoing projects — including a sequel to his 2016 book of interviews, Sick in the Head: Conversations About Life and Comedy. Titled Sicker in the Head, THR reports the new book will feature Apatow's conversations with Norman Lear, Kevin Hart, Whitney Cummings and others. No release date has been set by Random House.
What's Live
Mike Birbiglia: The New One (Tour)
Following the critical success of his second directorial feature Don't Think Twice, and the recent release of his Netflix comedy special Thank God for Jokes, Mike Birbiglia is hitting the road for a brand new tour. He's even calling it "The New One," a silly name that is hopefully still around by the time he commits the show to film and finds a home for it. Before then, fans can check out Birbiglia's latest set at one of the many dates and venues announced so far. Those interested better act fast, however, as many shows have already sold out. Luckily, Birbiglia has already announced additional shows for some venues.
Colossal Clusterfest Goes To Wayne's World (Festival)
Comedy Central's new Colossal Clusterfest, which the cable channel announced in February, promises to be one of the biggest stand-up and music festivals of the summer. Major headliners like Jerry Seinfeld and Kevin Hart were announced for the three-day event's initial outing. Following an update last Friday, however, Colossal Clusterfest will truly go big (instead of going home) with a ton of new acts added to the lineup — including a live reading of Wayne's World run by Broad City stars Abbi Jacobson and Ilana Glazer.