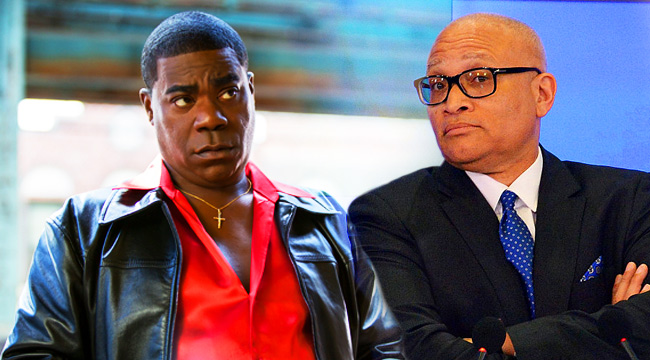 Welcome to Comedy Now, a weekly column cataloging what comedy fans should know about what's available in the streaming world. Whether it's a brand new special, an old classic, or the oddball show that defies categorization, we'll list as many as we can for your enjoyment right here. Who knows? We may even throw in a few non-streamable bits on occasion, like tour announcements from our favorite comics. You can check out last week's column here.
What's New
Tracy Morgan: Staying Alive (Netflix)
While last year's Picking Up The Pieces tour doesn't count as a stand-up special, per se, we still put it on our best-of list for 2016 based on Tracy Morgan's commanding stage presence. The Saturday Night Live and 30 Rock alum had no trouble convincing audiences he was back in action following his brush with death in 2014, and if the new trailer for his Netflix debut Staying Alive is any indication, that is still very much the case. Based on the aforementioned tour, Morgan's first comedy special since 2014's Bona Fide wastes no time diving right into the car accident that killed friend and fellow comic James "Jimmy Mack" McNair. Hilarious anecdotes about his recovery, his family and other Morgan punchlines drop May 16th.

Hasan Minhaj: Homecoming King (Netflix)
Between his recent performance at the Donald Trump-less White House Correspondents Association Dinner, last year's viral soap box moment from the Radio and Television Correspondents Association Dinner, and his rising profile on The Daily Show, it's difficult not to know who Hasan Minhaj is. If you're a Netflix subscriber who still isn't sure, however, that will all change when Minhaj's one-man show, Homecoming King premieres May 23rd. The new special, the culmination of several years' worth of touring, demonstrates Minhaj at his best while discussing his personal connections to immigration and similarly politicized topics.
Norm Macdonald: Hitler's Dog, Gossip & Trickery (Netflix)
If you haven't watched Norm Macdonald's Netflix debut or read our chat with the man who swears he's not an "anti-comic," then you should do both immediately. Hitler's Dog, Gossip & Trickery, which premiered April 9th on the streaming platform, is a perfect time capsule of the SNL alum's signature stand-up routine. Witty wordplay, long diatribes dedicated to unassuming topics but riddled with well-crafted jokes, and more populate the new hour. Longtime fans will immediately recognize the more traditional type of comedy the regularly touring comic displays throughout, and newcomers just might appreciate the break from political satire it affords them.
The Jim Jefferies Show (Comedy Central)
After Comedy Central decided to cancel The Nightly Show with Larry Wilmore, the network announced multiple new current events programming spearheaded by other comedians to fill the void. The President Show and Problematic have already debuted with varying degrees of success, but unlike Wilmore's program and its recently announced replacement headed by The Daily Show's Jordan Klepper, these are short orders. So too is Australian comic Jim Jefferies' self-titled program, which will attempt to funnel the outspoken performer's penchant for tackling pervasive issues with his popular style when it premieres June 6th at 10:30pm ET on Comedy Central.

Rory Scovel: Tries Stand-Up For the First Time (Netflix)
In 2011, comedians Jon Dore and Rory Scovel appeared together on Conan in a segment alleging the show had accidentally double-booked them for the same episode. It's one of the talk show's more entertaining sketches of the past few years, especially for the hilarious interactions Dore and Scovel have with each other. The latter, who recently appeared in Undateable and Modern Family, will make his Netflix debut on June 20th with Rory Scovel Tries Stand-Up For The First Time. Scovel, whose previous set The Charleston Special was released last year, earned high marks from New York Times comedy critic Jason Zinoman.
What's Heard
Larry Wilmore: Black on the Air (Podcast)
Despite no longer being a part of the Comedy Central family, Larry Wilmore hasn't disappeared entirely from the limelight. The new HBO comedy Insecure, which he co-created and executive produces, received critical acclaim for its phenomenal first season. Yet Wilmore didn't seem satisfied with staying behind the scenes, so this week he launched a new podcast with Bill Simmons' The Ringer titled Larry Wilmore: Black on the Air. Described as a "podcast where he weighs in on the issues of the week and interviews guests in the worlds of politics, entertainment, culture, sports, and beyond," Wilmore's first episode features an interview with fellow new podcaster Norman Lear.
Dr. Katz: The Audio Files (Audible)
Remember the late '90s animated series Dr. Katz: Professional Therapist? If the show doesn't ring a bell, check out the massive oral history Uproxx put out to commemorate its 20th anniversary. Otherwise, longtime fans of the show will be happy to know that Audible is releasing 15 brand new episodes later this summer called Dr. Katz: The Audio Files. Debuting June 8th on the audio-only streaming platform, each episode of the new series will feature therapy sessions with well-known comics — including Sarah Silverman, Ray Romano, Margaret Cho, Maria Bamford, Pete Holmes, Dana Gould, Emo Philips, Ron Funches and Andy Kindler.
What's Wrote
Represent: The Badass Woman's Guide to Running for Office and Changing the World (Book)
Comedian and Grace and Frankie star June Diane Raphael will join forces with Kate Black of Emily's List fame to write an equally funny and important book about women and politics. Titled Represent: The Badass Woman's Guide to Running for Office and Changing the World, the "concrete, funny, stylish, accessible, and interactive women's guide to running for office" will combine elements of a workbook planner with popular how-to guides in order to educate women interested in political office about the nature of the beast. Potential readers who aren't intested in running shouldn't be discouraged, as the book will also offer information for "how to support, uplift and nominate other women" in the field.
What's Live
Chris Gethard: Beautiful/Anonymous Podcast (Tour/Podcast)
In addition to promoting his recent HBO one-man show Career Suicide and preparing for a new season of his self-titled variety program, Chris Gethard also runs a weekly podcast called Beautiful/Anonymous in which he spends an hour on the phone with a complete stranger. It's a fantastic podcast in its own right, but Gethard recently announced he would up the stakes by taking it and a brand new comedy routine on the road for The Beautiful/Anonymous Tour. Tickets for Canadian and American dates through June are currently available for sale on Gethard's website.