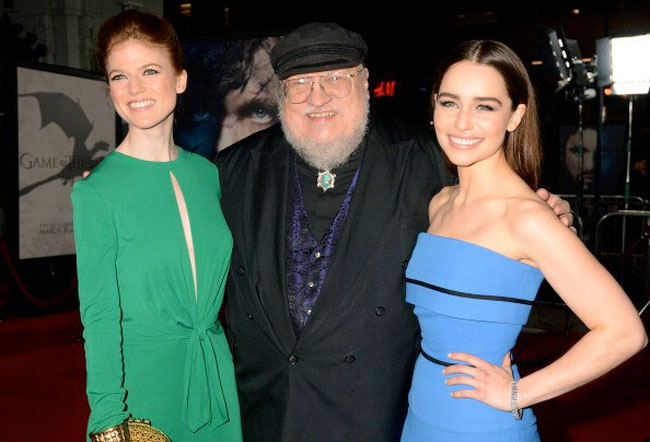 Game of Thrones author George R.R. Martin wasn't always considered a slow writer. Back in the early days of his Song of Ice and Fire series, he delivered book one in 1996, book two in 1998, and book three in 2000. But then something happened. Book four, A Feast For Crows, took an agonizing five years to complete and only featured storylines from Westeros, completely ignoring everything happening in the east with key characters like Daenerys Targaryen and Tyrion Lannister. Book five, A Dance With Dragons, came out six years later in 2011.
Just so you understand what this means: In 2000, Tyrion Lannister escaped from his prison cell in King's Landing, fired off that fateful crossbow bolt, and boarded a ship to the east. Readers didn't get another page of his story for 11 long years.
At the time, Martin blamed the delays on what he called the 'Meereenese knot,' a complicated series of events where numerous characters and plot points converged on Daenerys' conquered city of Meereen. To call it writer's block wouldn't be accurate. According to Martin, he wrote a lot. And rewrote a lot. And threw away large chunks of material. And started over several times. He just couldn't get things right.
As for the delay on book six, The Winds of Winter? It's only been four and a half years since A Dance Of Dragons, so George is still ahead of schedule compared to Feast and Dance. And while he's being extremely tight lipped regarding his progress, he recently had a 'Master Conversation' at the Santa Fe Independent Film Festival and had this to say on the reason the books aren't coming out sooner (via IndieWire):
"Writer's block isn't to blame here, it's distraction. In recent years, all of the work I've been doing creates problems because it creates distraction. Because the books and the show are so popular I have interviews to do constantly. I have travel plans constantly. It's like suddenly I get invited to travel to South Africa or Dubai, and who's passing up a free trip to Dubai? I don't write when I travel. I don't write in hotel rooms. I don't write on airplanes. I really have to be in my own house undisturbed to write. Through most of my life no body did bother me, but now everyone bothers me every day. I have assistants and minions whose main job is to make sure people don't bother me so I can actually get writing done."
George R.R. Martin is notoriously set in his ways when it comes to writing, to the point where he still works on an old computer running an MS-DOS text editor. So when he says everything has to be just right, he means it. And while it's understandable that fans are upset with having to wait so long between books on account of Game of Thrones' massive success, let's put this into perspective: the show has turned the series into one of the biggest fantasy franchises in history. GRRM is being hailed as the next Tolkien, and he has to deal with the expectations — and the schedule — that go along with that.
The pressure is nothing new. Even before the show aired, Martin received an unprecedented amount of anger and vitriol related to the delay of new books. It got to the point where fellow fantasy author Neil Gaiman put out an open letter defending George entitled "George R.R. Martin Is Not Your Bitch." This came out in 2009, two years before the HBO show even started. So you can only imagine how much worse it is now that the world is in the throes of Game of Thrones mania.
Here's hoping The Winds of Winter is close to being done … both for our sake and for George R.R. Martin's.
(Via IndieWire)