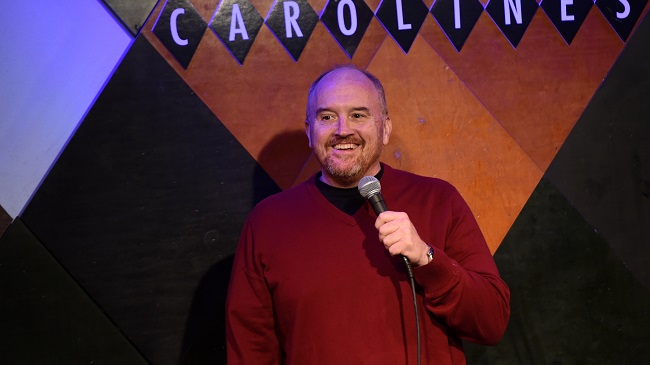 Whether or not Louis C.K. decides to revive Louie for FX, Larry David/Curb Your Enthusiasm-style, the stand-up comedian has a lot going on at the moment. His Louie-esque spin-off with Pamela Adlon, Better Things, just premiered to decent critical acclaim, and Louie Anderson won the Emmy for Best Supporting Actor in a Comedy Series for his other show, Baskets. So yeah, Louis C.K. isn't going anywhere for a while — even if his lovely face won't actually be appearing on our television screens anytime soon.
Never fear! For the 49-year-old comic hit the road over the summer to try out some new stand-up material, and by all accounts it ain't half bad. On Tuesday, Louis C.K. emailed fans to let them know he was "continuing my live stand-up tour" and "adding many cities and dates" to his schedule. He promises this batch of shows is "full of brand new jokes (since my last special)," and that fans and newcomers alike will enjoy them. Even if they're from — or live in — Kansas City, Missouri:
I will be touring heavily far beyond that. So if you don't see your town on the list, it is likely that I'm coming to you later in the year. It's NOT because I hate your town. Indeed I go to towns that I hate to work all the time. For instance, I played in Kansas City this summer. And I had a great time there. And boy do I hate Kansas City. I hate Kansas City so much, that I had to go to a doctor to "have that looked at". Luckily, the doctor assured me that I am very healthy and that, indeed, Kansas City is an astonishing dump.
Tour stops announced include, but are not limited to:
Chicago, IL
Madison, WI
Newark, NJ
Albany, NY
New York, NY
Pittsburgh, PA
Philadelphia, PA
Charleston, SC
Austin, TX
Dallas, TX
Miami, FL
Washington, DC
Los Angeles, CA
Vancouver, BC
Seattle, WA
Denver, CO
Portland, OR
And no, Kansas City is not among the new cities added to the latest leg of the tour. For dates, times and tickets, check out Louis C.K.'s official website.