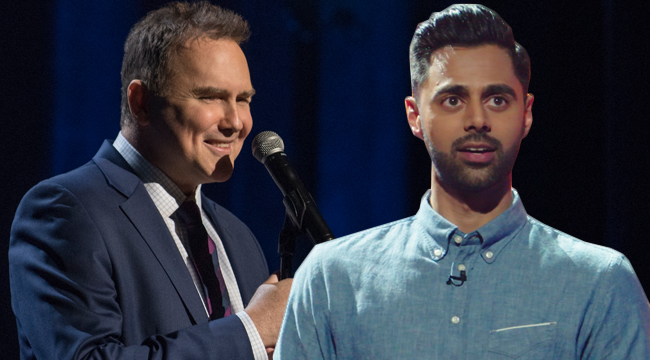 Welcome to Comedy Now, a weekly column cataloging what comedy fans should know about what's available in the streaming world. Whether it's a brand new special, an old classic, or the oddball show that defies categorization, we'll list as many as we can for your enjoyment right here. Who knows? We may even throw in a few non-streamable bits on occasion, like tour announcements from our favorite comics. You can check out the previous column here.
What's Now
Gad Elmaleh is living the American Dream on Netflix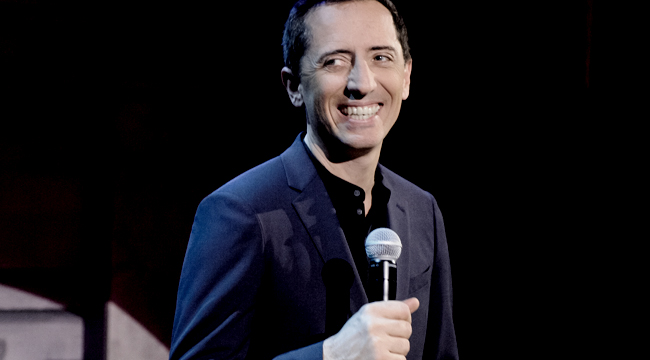 Best known as the "Seinfeld of France," Moroccan French comedian Gad Elmaleh recently immigrated to the United States after achieving fame and fortune back home to seek the same the in the American comedy scene. The result, after many years of practice and fine-tuning, is his first-ever English-language special Gad Elmaleh: American Dream, which premiered Tuesday on Netflix. As the comic explained to Uproxx, he's excited by the prospect of starting from scratch in the U.S. — but he's also worried by the country's current political state.
Cameron Esposito and Rhea Butcher find a home for Take My Wife
Comedians Cameron Esposito and Rhea Butcher have been trying to find a home for their fan-favorite streaming series Take My Wife ever since its original distributor, Seeso, folded last year. Thanks to the wonder that is Apple's iTunes store, both the first season and the never-before-seen second season are now available to download. Esposito made the announcement on her official Twitter account on Monday, and Butcher subsequently remarked on the first and second season's top rankings among iTunes's most-downloaded TV offerings.

What's New(s)
Netflix is giving everyone a talk show
Seeing as how Netflix has all but conquered the world of producing and distributing stand-up comedy specials, it seems late night-style talk and variety programming is next. Chelsea Handler's program gave way to David Letterman and Joel McHale, which have since been followed by announcements regarding upcoming shows from The Daily Show alums Michelle Wolf and Hasan Minhaj. Now comedian Norm Macdonald, whose Norm Macdonald Live has graced YouTube with its presence for years, is making good on his teasing in January about Netflix giving him his own show with Norm Macdonald has a Show.
The Sklar Brothers hit the road with Audible
While discussing their Poop Talk documentary with Uproxx, comedians and twin brothers Randy and Jason Sklar revealed they were working on something new with Audible. That "something" is actually Sklars and Stripes, a long-form audio "documentary" set for release on April 5th. The six hour-long series of recording "captures their experiences on the road" and offers listeners a full album from the tour the Sklars recorded on, The Tour Tapes. For Sklars and Stripes, the brothers "traveled to red states and blue states, red cities in blue states, and blue cities in red states" across America.
Louie Anderson puts on some Big Underwear
April is also going to be a big month for Louie Anderson, the Emmy Award-winning comedy actor who plays the mother of Zach Galifianakis's title character in Baskets. In addition to publishing a new book, Hey Mom, he will also release a brand new stand-up special with Comedy Dynamics on April 3rd titled Big Underwear. "This is my 40th year as a stand-up comic," Anderson said in a press release, "and I hope I created really big shoes to fill because I know I have really Big Underwear to fill." The new special will premiere on Amazon, Comcast, DIRECTV, AT&T, DISH, iTunes, Charter, Google Play, and other platforms.

Netflix gives Ray Romano and Billy Eichner their first comedy specials
Just because Netflix has recently announced a slew of new talk shows doesn't mean it's getting out of the stand-up business. In addition to continuously releasing new concert films from the like of Elmaleh and Marlon Wayans, the streaming giant also announced plans for new specials by Billy Eichner and Ray Romano. The former Billy on the Street host's will be his first comedy special ever, and will include a mix of traditional stand-up and his trademark man-on-the-street antics. Romano's hour will also be the 60-year-old Everybody Loves Raymond star's first stand-up special.
Wyatt Cenac's HBO series gets a title and a premiere date
Back in October, HBO announced that former The Daily Show correspondent turned People of Earth star Wyatt Cenac would be getting his own "docuseries" with the network. What's more, his old Daily Show boss Jon Stewart would be serving as the show's executive producer. Now the program has a title and a premiere date. Wyatt Cenac's Problem Areas will debut Friday, April 13th at 11:30 pm ET/PT on HBO, and will run for 10 episodes. Throughout the series, the titular host "examines a wide range of social and cultural problems facing Americans" and will offer "comedic solutions to everyday inconveniences."
Australian comedian Hannah Gadsby's Nanette opens in the United States
You may not know who Hannah Gadsby, but the Australian comedian is nonetheless making a real effort to teach American audiences all about herself with the U.S. debut of her live show Nanette. Opening at the SoHo Playhouse in New York City for a run lasting through mid-April, Gadsby's award-winning show endeavors to challenge destructive cultural norms via the comic's unique way of embracing her life as a self-titled "not normal." If you happen to by the NYC area sometime later this month or in early April, go check it out.

Comedy Central launches a new web series, Thank You, Goodnight
Comedy Central's flagship half-hour program, Comedy Central Stand-Up Presents…, is about to get a boost from a new web series. Starting next Monday, Thank You, Goodnight will follow different comedians like Yamaneika Saunders, Joel Kim Booster, and Casey James Salengo as they travel from venue to venue doing stand-up and experiencing scripted versions of experiences loosely based on their own stories from the road. Each episode will also feature new comedians like Shalewa Sharpe, Alzo Slade, and Ryan Beck as they get picked up to tag along for the ride.
What's Later
Ricky Gervais attempts to convince Netflix he has Humanity
British comedian Rick Gervais's first stand-up special in nearly a decade, Humanity, is coming to Netflix next week. Filmed at the Apollo Hammersmith in London, the creator of The Office joins fellow Brits Jack Whitehall and Jimmy Carr in the streaming giant's growing cadre of European performers. Humanity will tackle subjects like aging, celebrity, and society — topics Gervais has ridiculed with his all-too-familiar snark at the Golden Globes and other broadcast events.