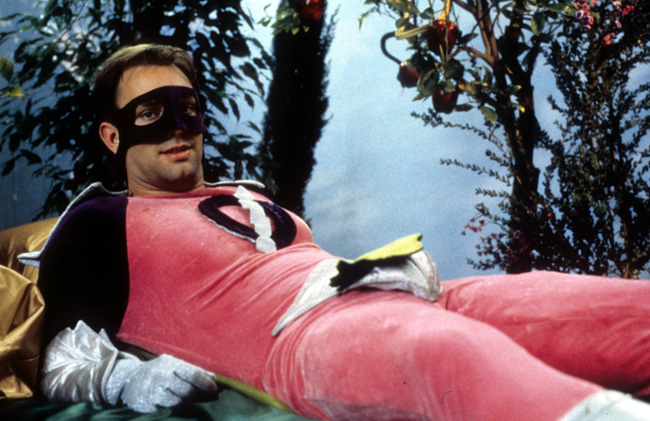 There have been versions of this story going around for years, most notably as an odd footnote in Big Red Son, one of the David Foster Wallace essays published in his collection, Consider the Lobster. So the story goes, once upon a time, Trey Parker and Matt Stone had just released The Spirit of Christmas, the animated Christmas video that went viral before that was a thing, which led to them getting a deal with Comedy Central to make South Park.
They were doing research for their next project, Orgazmo, a movie about a Mormon porn star, when they met a porn producer and former porn performer named Farrell Timlake (porn name: "Tim Lake"), who became Parker and Stone's "porno concierge" (according to one Orgazmo producer). Timlake would invite them down to his porn sets, which naturally presented a number of irresistible opportunities for pranks. At one point, a mutual acquaintance of both asked to invite some "friends" down to a Timlake set Trey and Matt would be attending to watch a shoot and meet Hollywood's new wonder boys. The friends turned out to be Carrie Fisher, Richard Dreyfuss, Timothy Hutton, and Buck Henry.
Of course, none of the Hollywood luminaries had seen Trey Parker and Matt Stone in the flesh at that point, so before they arrived, Trey and Farrell decided to switch personas. With Trey playing Farrell Timlake, porn producer, and Farrell playing Trey Parker, hotshot comedy animator. The story of what happened next has stuck with me through the many years since I read Consider the Lobster, for one because it's a great story, and two because I used to work for Farrell Timlake's brother and business partner. Imagine reading David Foster Wallace on your lunch break at the porn warehouse and finding a story about your boss. Now you have a small, strange window into my pre-FilmDrunk life.
I was offered an interview with Farrell Timlake, President/Owner of Homegrown Video, at this year's AVNs, and obviously the first order of business was to get the story straight from the horse's mouth.
—
FILMDRUNK: I was wondering if you could retell the Trey Parker story.
FARRELL TIMLAKE: Well, you mean how I came to meet him, or one of the adventures we had on the way?
No, I mean the time where you guys switched places to try and freak out a bunch of Hollywood people.
Haha, okay. Well, that was after we met and had been hanging for a while. They'd done the Spirit of Christmas video which was what became South Park. So a lot of people had seen that, like George Clooney and stuff had sent that around to all his Hollywood friends. So a couple of people knew who they were just through having the same agent and whatnot, and one of them was a guy named Charlie Wessler. Charlie Wessler produced the movies Dumb and Dumber, Something About Mary. Even worked on some of the Star Wars films going back to the original one.
So Wessler, he knew that Trey was working on this Mormon porn guy superhero script and knew that we were shooting porn together, and said, "Come over to my apartment and you guys can shoot some video. I'm going to invite some friends to watch you as you shoot it."
So we showed up and Trey pretended to be Farrell Timlake the ultimate porn producer, and I pretended to be Trey Parker the up-and-coming Hollywood sensation. So then the friends showed up, and they turned out to be Carrie Fisher, Richard Dreyfuss, Timothy Hutton, and Buck Henry. And all of them had little entourages with them, so basically it was probably like 25 people in the room, and they set up almost like stadium seating to watch us as we were shooting. And I'm just looking like a little hippie kid, and they're all coming up to me going, "You're so talented, you're going to be the huge sensation," and I was all Mr Humble, "Oh, thank you very much, I appreciate it."
Meanwhile Trey's storming around going, "People. People. I need more ass licking. God damn it! Can I have more ass licking?"
We just kept on throwing them curve balls. A couple of the so-called production assistants were actually porn stars, they were just not made up or anything, just dressed in sweats and walking around serving coffee or cupcakes or whatnot. Couple of them pretend like they get so turned on by what we're shooting that they run out on the balcony to get it on.
And Buck Henry, he's shown up with his own camera. He goes from filming the action that we were shooting to filming the couple out on the balcony. We had one porn star that was a– she was in the '70s porn scene, like a golden age star and she had become a makeup artist, and so we had her outside. It turned out that Buck Henry actually knew her from their swinging days at Plato's Retreat. So, they see each other and are like, "Oh God, I haven't seen you since that orgy!" They're just hugging and kissing and it was just a grand reunion.
And we just kept on shooting behind-the-scenes photos and stuff, like Matt Stone farting on Richard Dreyfuss and Tim Hutton and Carrie on a couch with a couple giving each other head right next to them. And they're just sitting there like, "Oh this happens to us every day. Oh yeah, this is what we do for fun."
We had somebody there that had a product, Love Cuffs, and it was essentially this surfer guy who made a bondage product that was– essentially it was a surf board strap with velcro and whatnot that you could use for bondage. Carrie Fisher had this big six-foot-four super good looking blonde guy with her. They bought his whole box of stuff [laughter] and at the end of the evening took that home.
At a certain point, I [still in persona as "Trey Parker" as far as the Hollywood people are concerned] just make like I'm so turned on shooting the action– wait, no, hold on, I'll get to that. At one point, I look at Carrie and I say, "God, I got to take a pee. Can you get the shot for me?" And she's like, "Yeah, what should I get?" I'm pushing the camera in her hand, "Close ups. Just get close ups." She says, "Yeah, okay," and she just jumps right into filming.
And at a certain point I [again, still in persona as "Trey Parker" as far as the Hollywood people are concerned] just make like I'm so turned on, like I'm so overcome with how hot the action is that I unzip and drop trou and jump into it [as in having sex with the actress – "humping away" according to some accounts]. And you hear the whole room go, "Ooooh, no," Like, "his career is over before it even started!"
So we f*cked with them all night long. The only person that learned what was happening was Timothy Hutton at the end, who stayed later so he kind of was in on the joke. But, by the next day, literally Trey's agent was already here and like, "Oh, did you know that Trey was in porn?" And it was already going around at whatever cocktail party that next afternoon. It was talked about, and then I guess some of the pictures surfaced of crazy stuff going on. Some pictures ended up on IEG, that was the company that broke the Pam and Tommy video, and all chaos broke loose. I guess Carrie Fisher was really pissed off and whatnot. But it was funny because they were obviously just so into it, and literally, like Richard Dreyfuss was so enthralled with the action that he was sitting so close his nose was almost touching somebody's ass or someone bouncing up and down. It was beautiful in that regard.
—
What a great story. Allegedly.