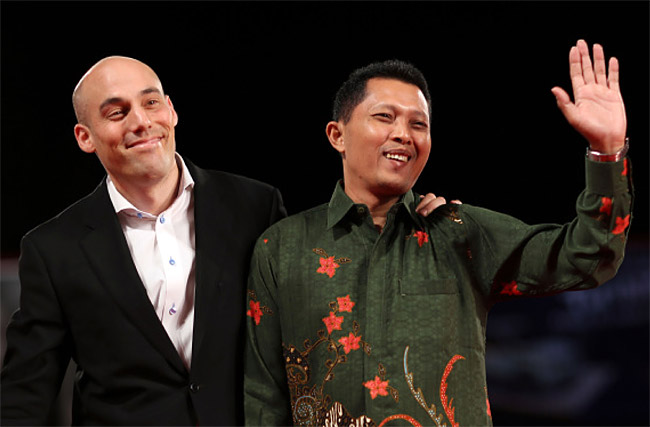 Act of Killing, from director Josh Oppenheimer (above left), is probably one of the best documentaries of all time. Oppenheimer won a MacArthur Genius Grant for his work last year as well as a Grand Jury Prize at Venice for his Act of Killing follow-up, The Look of Silence. Which, incredibly, I still have not seen.
While I self-flagellate in penance for that and you discuss amongst yourselves all the ways in which I'm just the worst, Oppenheimer recently sat down with Nonfiction Films to choose six nonfiction films that mean something to him. Already taking liberties on account of being an officially-recognized genius, Oppenheimer chose eight movies, not all of them strictly "nonfiction." Here they are, in no particular order. You can see Oppenheimer's explanations of his choices over at Nonfics.
1. Even Dwarfs Started Small (Werner Herzog, 1970)
Summary: With a cast composed entirely of dwarfs, Werner Herzog (Aguirre, the Wrath of God) tells a tale of asylum inmates taking over the asylum. The institution's governor is holed up in his own home with a rebel hostage to keep him company. As the inmates' wrangling for the release of their fellow captive comes to naught, all symbols of ordered society are mocked and brought to a shambles. Typewriters are smashed, flowers are set on fire, a dinner ceremony ends with the slapstick smashing of plates, a monkey is tied to a crucifix and paraded in solemn observance, chickens resort to cannibalism. All vestige of order is disrupted in Herzog's blackly humorous, fatalistic parable, leaving us with nothing but the mad, strident cackling of a dwarf. It's not just that the dwarfs are grotesques, but that we all are grotesques in this eerie little world, and it's only through Herzog's eye that we see this clearly. This deceptively simple story builds with amazing power from beginning to end, brutal and compassionate, uncompromising and mad. –Jim Gay [Amazon]
[Streaming? No.]
2. The Apple (Samira Makhmalbaf, 1998)
Summary: This Iranian drama, scripted by Mohsen Makhmalbaf, was directed by his 17-year-old daughter, Samirah Makhmalbaf. His screenplay is based on factual news accounts of two 11-year-old girls who were locked away from the world by their parents until social workers stepped in. Shooting in video and on celluloid, the two Makhmalbafs managed to get the actual family members to portray themselves in this docudrama that follows the two girls, Zahre and Masume, returning home after their release from state custody. [Amazon]
[Streaming? No.]
3. Animal Love (Ulrich Seidl, 1996)
Summary: Acclaimed and controversial filmmaker Ulrich Seidl (Dog Days, Jesus You Know) explores the underbelly of modern life with two surreal odysseys not easily forgotten. Darkly comical and provocatively disturbing, Animal Love offers a glimpse into the strange and eccentric world of lonely animal lovers on the fringes of society. Meticulously shot in Diane Arbus fasion, Seidl's protagonists sublimate their emotional needs and desires for intimacy through their four-legged friends. [Amazon]
[Streaming? No.]
4. Land of Silence and Darkness (Werner Herzog, 1971)
Summary: Through examining Fini Straubinger, an old woman who has been deaf and blind since adolescence, this film shows how the deaf and blind struggle to understand and accept a world from which they are almost wholly isolated.
5. Shoah (Claude Lanzmann, 1985)
Summary: Over a decade in the making, Claude Lanzmann's nine-hour-plus opus is a monumental investigation of the unthinkable: the murder of more than six million Jews by the Nazis. Using no archival footage, Lanzmann instead focuses on first-person testimonies (of survivors and former Nazis, as well as other witnesses), employing a circular, free-associative method in assembling them. The intellectual yet emotionally overwhelming Shoah is not a film about excavating the past but an intensive portrait of the ways in which the past is always present, and it is inarguably one of the most important cinematic works of all time. [Amazon]
[Streaming? No.]
6. Sweet Movie (Dusan Makavejev, 1974) and 7. WR: Mysteries of the Organism (Dusan Makavejev, 1971)
Summary: What does the energy harnessed through orgasm have to do with the state of Communist Yugoslavia circa 1971? Only counterculture filmmaker extraordinaire Duan Makavejev has the answers (or the questions). His surreal documentary-fiction collision WR: Mysteries of the Organism begins as an investigation of the life and work of controversial psychologist and philosopher Wilhelm Reich and then explodes into a free-form narrative of a beautiful young Slavic girl's sexual liberation. Banned upon its release in the director's homeland, the art-house smash WR is both whimsical and bold in its blending of politics and sexuality. [Amazon]
[Streaming? No.]
8. Titicut Follies (Frederick Wiseman, 1967)
Summary: The film is a stark and graphic portrayal of the conditions that existed at the State Prison for the Criminally Insane at Bridgewater, Massachusetts. TITICUT FOLLIES documents the various ways the inmates are treated by the guards, social workers and psychiatrists. [Amazon]
[Streaming? No.]
This list has brought a few things to light:
1. As to what separates us normals from Joshua Oppenheimer, you can now add to a genius grant about $300 worth of rare DVDs.
2. Josh Oppenheimer: His tastes aren't what you'd call "sun/fun."
3. Netflix, iTunes, Amazon, et al really need to up their classic documentary game.
4. I should probably just bite the bullet and drop $40 on Werner Herzog's dwarf movie. I don't want to die without having seen dwarves crucify a monkey, though it's hard to beat the mental image I already have of an eccentric German man filming it.