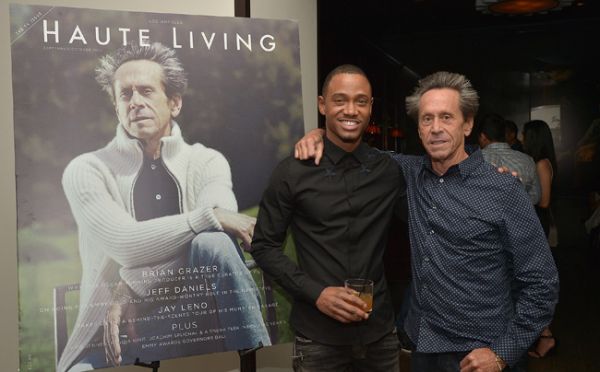 I've heard plenty of contemporary stories from Hollywood assistants and gofers about having to deliver dubious packages (mostly cocaine) to industry big wigs, so I can only imagine what it was like in the '70s. A time when debauchery reigned and the unprotected sex flowed like wine! (Or so my favorite movies would have me believe).
Producer Brian Grazer was on WTF with Marc Maron this week, and Maron, always the ace interviewer, wisely asked Grazer about the kinds of things he witnessed as a young assistant in '70s Hollywood. At which point Grazer launched into a story about having to deliver some legal papers (and a girl) to an action star's house. Which turned out to be hosting a massive orgy.
GRAZER: I did go to a star's house, action star, where there was a pretty grand-level orgy going on. In the daytime. Literally in the daytime, out in Calabasas. There was 100 people…

MARON: 100 people! And you were like 20 years old? Standing there with some legal documents?

GRAZER: I was 23. My boss… my boss had a boss, that asked if I would do this thing because he knew I was like a frisky kid trying to learn a lot. So I was co-opting everybody at Warner Bros. to learn something, and he thought he was co-opting me to do stuff. He did ask if I could stop at the corner of Topanga Blvd. and the 101, I stopped at the corner and picked up a girl. Her name was Kim. And I took her to this place, and I talked to her. She wasn't interested in me, I was just a goofy clerk. So I'm driving her to this place where I didn't know what was going on, papers plus the girl. And so I get there and it was very, like, Easy Rider kind of people, stars… that kind of scene. And she soon enough had her clothes off and was having sex with somebody. And I stood up, like… I was in shock. I didn't know what was going on.

The girlfriend of one of the stars said "Come on, kid, put the papers down," but I didn't know what to do. I was a very, very naive kid.
Don't you hate it when your stand-in for an awesome story doesn't take advantage of these amazing opportunities? It's like the worst kind of Choose Your Own Adventure. You didn't know what to do? It's an orgy, man! Fill in somewhere!
Grazer was 23 at the time, which would've made this 1974 or 75. As for who the action star was, here is an incomplete list of  actors who starred in action movies in the late '60s or early '70s:
Steve McQueen
Charles Bronson
Bruce Lee
Sean Connery
Clint Eastwood
Gene Hackman
Paul Newman
Peter Fonda
Jim Brown
Charlton Heston
John Wayne
Richard Roundtree
Robert Duvall
Chuck Norris
Burt Reynolds
Roy Scheider
Robert Blake
Ernest Borgnine
Roger Moore
David Carradine
Sylvester Stallone
Clint Eastwood
James Caan
I could see it being McQueen, James Caan… Burt Reynolds is almost too on the nose. Any of these, really. I like the idea of it being Charles Bronson, but I can't imagine a guy who started chewing tobacco at the age of five being able to stomach three busloads worth of hippies just lying around his house.
I tried to see if I could find anything about any of them ever living in Calabasas, but I've got nothing so far. I'll guess we'll have to crowd source this. Now then, which one of your moms is named "Kim?"