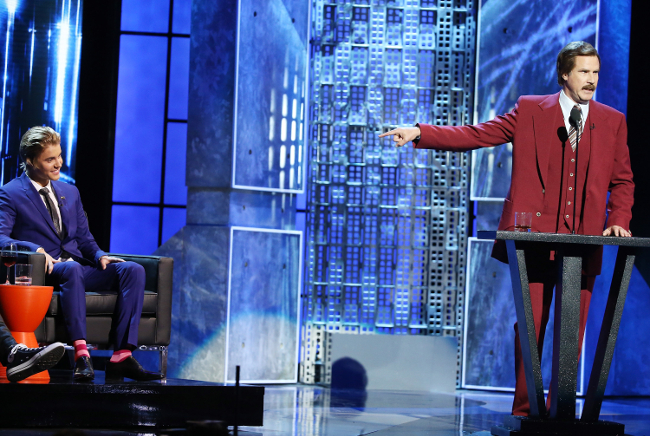 The Comedy Central Roast of Justin Bieber took place Saturday night in Los Angeles, and it was a regular who's who of famous people who were available to kiss a 21-year old's ass. Celebrities from Martha Stewart to Will Ferrell (as Ron Burgundy) showed up to tell their meanest jokes about that kid who pissed in a mop bucket, and we're sure he laughed it all off like a champ as he continues his "I'm a good boy again, I swear" PR tour. While we already know some of the allegedly hilarious and edgy jokes that were told at the pop singer's expense, most of us poor losers will have to wait to watch the edited broadcast on Comedy Central on March 30.
And edited it will be, as Variety reports that Comedy Central is apparently not cool with some Paul Walker jokes that were told on Saturday night. Walker, of course, died in a car accident in 2013, and since Bieber has a reputation for driving like an A-hole, the easy jokes seemed to fall into place. Too bad the audience wasn't laughing.
"Roasts often push the limits of good taste and we give the participants full reign to try things knowing we have the edit to shape the show," said a Comedy Central spokesperson in a statement. "Sometimes the line is discovered by crossing it. The Paul Walker references will not be in the telecast." (Via Variety)
So what are some examples of the jokes that were "eliciting groans instead of laughs" on Saturday?
"'Move bitch, get out of the way!' is what Paul Walker should've told that tree," roast veteran Jeff Ross said during his set, referencing Ludacris' hit song "Move Bitch." "Too soon? Too fast? Too furious?"

"Just this past year, Justin got arrested for drag racing," said "Saturday Night Live" star and roaster Pete Davidson. "Unfortunately, it wasn't with Paul Walker. What? He's doing great! He's got a movie coming out!"
This is only a guess, but Comedy Central probably learned from the heat that Amy Schumer faced after the Charlie Sheen roast, when she took a shot at Steve-o by using Ryan Dunn's death as a punchline. Even if the Walker jokes aren't edited out, it's safe to assume that, like Schumer, Ross and Davidson would refuse to apologize. But if we know anything about today's Internet, a preemptive effort in decency still won't stop people from being pissed off about everything.