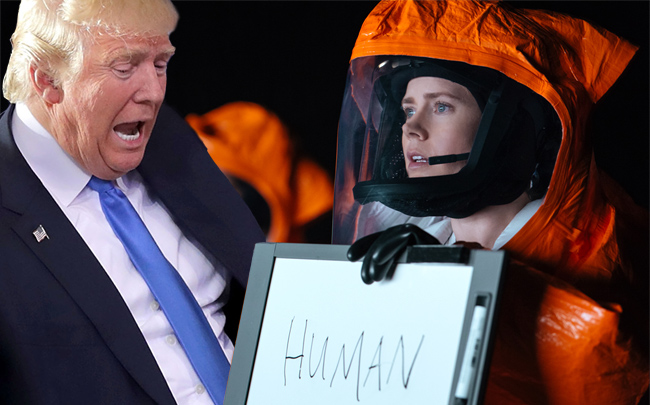 http://filmdrunk.podbean.com/mf/web/geii7x/Arrival_Trumpocalypse_2016_Frotcast_314_.mp3–

Listen on the player above, or download as an mp3 here (right-click, save as).

Now you can also listen on Soundcloud or Stitcher.
Election 2016! I mean, we couldn't *not* talk about it, right? Much as that probably would've been for the best. Is this the worst thing that could've happened? Who's to blame, besides everyone? How do we cope with President Trump? This week's guests include comedians Matt Lieb and Joe Sinclitico. Joe and I both saw Arrival, and offer our no-spoilers reviews. We also try to break down the multiple timelines theory of Westworld, rip on Aaron Sorkin, answer your emails, and of course, Crystal Corner, the segment about people who've so embraced the post-fact world that they literally believe in magic rocks. They don't seem so crazy now, do they? Enjoy, and Frot on.
#Content
3:00 – Joe experiences his first post-election discrimination. "Trump is president, 'wop' is back."
7:00 – Matt's tale of the sad mariachi band hired to celebrate a Clinton victory trudging home without playing a note.
10:00 – We've had dipshit idealogues, and smart demagogues, but is Trump our first dipshit demagogue?
18:39 – Aaron Sorkin's open letter. Ya think?!
21:18 – Speaking of smugness, more "out of the mouths of babes" tweets of people assigning profound thoughts to their 8-year-olds.
32:15 – Listener email backing up and expanding my point about 80s comedies being obsessed with people eating weird food.
35:30 – Joe and I discuss Arrival (a no-spoiler discussion)
39:45 – Movie theater etiquette
57:20 – Westworld and the multiple timeline theory, and also what Joe would do in Westworld.
1:10:35 – Because he's been driving and off the grid, we get to break the news to Matt that Leonard Cohen is dead and get to hear his fresh reaction to the news.
1:15:30 – EMAILS. How to deal with talking politics with shitty relatives and co-workers
1:28:10 – Crystal Corner
DONATE on Patreon at Patreon.com/frotcast. It helps us keep the Frot ad-free. For just $10, Matt Lieb will sing you your very own Royalty Freestyle on the topic of your choosing.
EMAIL us at frotcast@gmail.com, LEAVE US A VOICEMAIL at 415-275-0030.
SUBSCRIBE to the Frotcast on iTunes.
ENGAGE with our #Brand
—Vince on Twitter
—Matt Lieb on Twitter
—Allison Mick on Twitter
PLEASE leave us a review on iTunes!