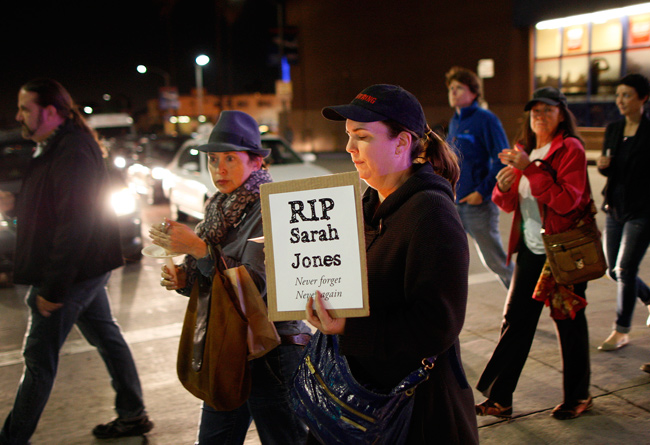 If you'll remember, 27-year-old camera assistant Sarah Jones was killed while shooting a dream sequence on a trestle with train tracks in Savannah, Georgia last year, allegedly because director Randall Miller opted to shoot the scene guerrilla style on what ended up being a live track. The director of Midnight Rider (a biopic of Gregg Allman) this week accepted a plea deal that would give him two years in county jail, eight years probation, and a $20,000 fine, in exchange for prosecutors dropping charges against his wife, Midnight Rider producer Jody Savin.
A third defendant, executive producer Jay Sedrish, also pleaded guilty to involuntary manslaughter and criminal trespassing on Monday but avoided jail time. He will be allowed to serve 10 years of probation from his home in California.

In the crash a year ago, a freight train traveling 55 mph plowed into the director's crew on a Georgia railroad bridge.

"They didn't think a train was going to come, but a train came, they tried to get the bed off the tracks," Deadline author David Robb told CBS News correspondent John Blackstone. "The train hit the bed, and the bed hit Sarah and knocked her into the train and she was killed."

CSX Transportation, the railroad company that owns the bridge where the crash occurred, has said it twice denied the filmmakers permission to shoot footage on its tracks in rural southeast Georgia. Under state law, someone can be convicted of involuntary manslaughter for committing a misdemeanor – in this case trespassing – that unintentionally causes another person to be killed. [CBS]
It was the first time criminal charges have been brought in a filming death in 30 years, since three actors were killed in a helicopter accident while shooting The Twilight Zone. Of course, Miller has also been sued multiple times in relation to the case, including one suit filed by Gregg Allman who sought to keep Miller from making the film, which was settled out of court. Jones' family, hairstylist Joyce Gilliard, and make-up artist Antonyia Verna, who were both allegedly injured in the accident, filed separate lawsuits against Miller, Open Road Films, and the company that owned the train tracks. Allman, who was listed as an executive producer on the film, had to petition to be taken off the list of defendants in those lawsuits.
From the Verna suit:
Once it became apparent that a train was heading toward their shooting location, Verna claims, crew members had less than 60 seconds to evacuate the scene. However, because running toward the coming train provided the shortest path to safety, crewmembers actually had much less time to escape. The trestle bridge hovers high above the Altamaha River, and since crewmembers were much closer to land where the train was approaching, they ran that way. Six people, including Verna and Gilliard, were injured when the train, which was traveling at over 60 miles per hour, passed through the set.

Among the other damning allegations in the Verna lawsuit are accusations that the production failed to take "minimum safety precaution" – from not having a lookout to not holding a pre-shoot safety meeting to not attaining an on-set medic – while also filming in an "unreasonably dangerous site" without getting proper permission and clearance.
From the Gilliard suit:
"The pressure from the train was so strong it pulled me off what I was holding on to and it snapped my arm," Gilliard told reporters during a conference call on workplace safety April 23. "I immediately grabbed my arm and wrapped it up with a piece of the prop, which was a sheet."
It's clear mistakes were made. Lots and lots of them. You normally have PAs with walkie talkies clearing traffic when you shoot in the street, how do you not have a lookout when shooting on train tracks?
Skirting onerous regulations by shooting guerrilla style used to be something of a badge of honor in the indie film community, and incidents like this will probably change that, at least for a time. Avoiding bureaucracy is one thing, but you still have to protect your crew. I mostly just feel bad for everyone involved. I've f*cked up my fair share of times, I'm just thankful none of my f*ck ups ever got anyone killed. One time I lit a fart and my friend laughed so hard he busted his forehead open on a lamp fixture and had to go to a business meeting with a big gash on his head the next day, but that's about as far as it goes. He never sued.