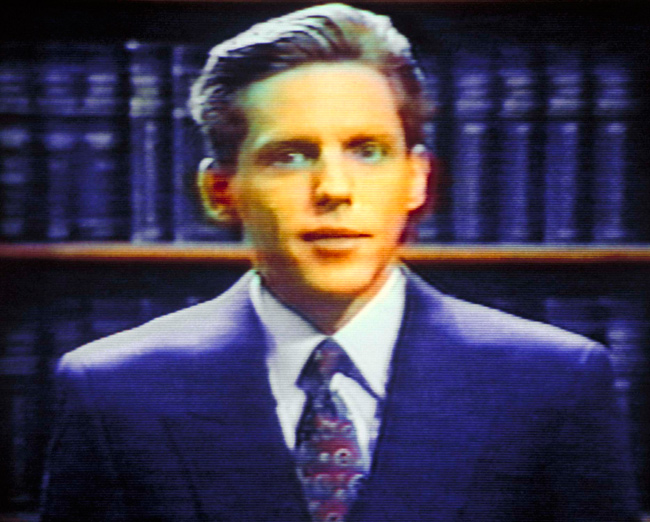 To go along with the ongoing mystery of what happened to his wife who hasn't been seen in public since 2007, Church of Scientology head David Miscavige is also reportedly having his father tailed. According to police as reported by the LA Times, Miscavige paid two private detectives $10,000 a week to follow his father, Ronald Miscavige Sr., spying on his emails, eavesdropping, and planting a GPS on his car over the course of 18 months. In related news, I need to find out how to get into the private eye business.
The surveillance of Ronald Miscavige Sr., a longtime Scientologist who had recently parted ways with the church, was described by Florida private eye Dwayne S. Powell, after he was arrested in July 2013 near Milwaukee with two rifles, four handguns, 2,000 rounds of ammunition and a homemade silencer in his rented SUV.

When confronted by West Allis, Wis., police responding to a report of a suspicious man in the neighborhood, Powell said he was house-hunting, according to the documents.

"Do I have to give you my name?" he asked the officers. "What law did I break?"

Police placed Powell, now 43, under arrest on suspicion of obstruction and in his pockets found a folding knife, a flashlight and his Florida driver's license and private investigator credentials. His Ford Edge also contained two laptop computers, binoculars, a GPS tracking device and a stun gun.
Damn, I had my fingers crossed that he was driving a Nissan Cube, the ultimate private eye car. Anyway, Powell then told police that he had been working for the Church of Scientology, paid to spy on 79-year-old Ronald Miscavige Sr. According to the police report, Powell says he was tailing Miscavige because "they [Ronald and his younger wife Becky] left the church two years ago and David is afraid that Ronald will speak with the media about the negative inner workings of the church and David's abuse of the members of the church."
Powell told police he would follow Ronald to the library and take pictures of his screen while he surfed the internet, pull up next to him to record his phone conversations, go through his garbage, etc. But this was my favorite part:
Once, while tailing Miscavige on a shopping trip, Powell and his partner watched him grasp his chest and slump over while loading his car. After his arrest, Powell told police he'd thought Miscavige was having a heart attack and might die. He said he phoned his intermediary for instructions.

Two minutes later a man who identified himself as David Miscavige called him back, according to records.

"David told him that if it was Ron's time to die, to let him die and not intervene in any way," the records state, noting that the apparent emergency passed "and nothing further happened."
The Church, naturally, denies ever employing Powell or knowing him at all.
"Please be advised that Mr. Miscavige does not know Mr. Powell, has never heard of Mr. Powell, has never met Mr. Powell, has never spoken to Mr. Powell, never hired Mr. Powell and never directed any investigations by Mr. Powell," Michael Lee Hertzberg, Miscavige's attorney, said in an email to The Times. [LA Times]
Is there anyone more perfectly, comically evil than David Miscavige? He's like the evil frat guy in a college movie. David Spade in PCU but shorter and with fluffier hair. "My dad? Screw my dad! He's old! I don't have to deal with him or any of these toads any more! I'm flying shotgun with Maverick now! Isn't that right, Tom Cruise! HA HA HA HA HA HA HA…." (*Miscavige and Cruise speed away in specially-designed Miata, their valor medals trailing in the breeze*)