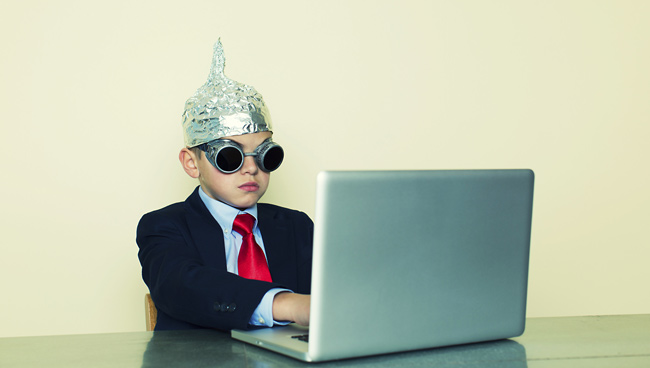 THE ADULT FILM MINUTE: Once per month, Dr. Chauntelle Tibbals will be telling us a little bit about what's going on in adult entertainment and why it should matter to you.
Brian Merchant recently wrote a piece titled "Your Porn is Watching You" for Motherboard/VICE. In it, Merchant draws inspiration from a Bay Area software engineer and blogger named Brett Thomas.
According to Thomas, online porn could be the next privacy scandal! You see, Thomas recently had a random chat a bar with *someone* who worked in online porn production ("production" is implied). In the midst of the conversation, the "porn professional" insisted that collecting and selling user data wasn't part of the adult entertainment industry's business model. Thomas wasn't convinced by the porn professional's assertions though, and he blogged about The Pornpocalypse: how, if you're watching porn online in 2015, you should expect that your viewing history will eventually be released to the public and attached to your name.
Can't this happen with anything online though? I mean, isn't the embarrassing amount of money you recently spent at Woodstock Chimes just as accessible as anything else?
So then Merchant gets all Motherboard on Thomas's post. After a summary that claims Thomas's "pornpocalyptic pronouncements" have any number of damaging implications beyond the potential humiliation and danger of being outed as a porn watcher – because there are all sorts of repressive places in our world that will not look too kindly on your consumption of certain types of porn, and we still act like watching porn in and of itself is a bad thing (though it's not) – Merchant claims 1) private browsing and clearing your history won't stop porn companies from being able to track you online and 2) that representatives from a piracy-based tube site were the only people who would respond to his query for additional insights.
After being asked to comment on this directly, I had a few thoughts…
Re 1) No kidding! Who among us thinks any of our browsing habits are private? They absolutely are not, regardless of surreptitious, express, and/or egregious data mining that may or may not be happening on windchime websites (or via the secondary analytics tools they use). Merchant seems to know this, but he also uses fear and shame associated with porn consumption to frame a point that applies to the entire Internet. And re 2) As for the idea that representatives from a piracy-based tube site were the only ones who bothered to respond… Well, here's some of what I got:
According to Amelia G, CEO of BlueBlood.com: "Free porn tracks people in a way that paid porn does not. If you buy a membership on a pay site, the membership is the product. If you watch stolen porn on free sites, odds are that your data is the product."
According to Stewart Tongue, Owner of WebsiteSecure.org: "Data is protected much better within the adult industry than outside it. Mainstream companies utilize pixel tracking and spy techniques to monitor their visitors to a much greater extent than any porn site ever would. Even more importantly, while a porn site could potentially track what you watch for the purpose of updating their website to include more of the content you want to see during your next visit, the real danger comes from the kind of spying that governmental entities like the NSA have been guilty of since 9/11."
And according to Hawk Kinkaid, COO of Rentboy.com: "There are broader definitions of tracking being employed outside of what I believe to be the original good intention of monitoring nefarious behavior. As these definitions are broadening, they put a lot more people in vulnerable spaces – spaces where the law allows digging into [people's] personal lives. [We ask] 'Can the government see my dick pic?' and the reality is there are laws allowing for that. The big question then is, are there businesses that are cooperating with the government – things like Google and Facebook and other so called 'sheriffs of the government' – that are allowed to dig into that material under the guise of legislation? A lot of these laws come up for renewal in June [2015], and I think it's important for people to really consider what this issue of privacy means."
I hate to turn this into some sorta Captain Obvious PSA, but if you're online in 2015, you're being tracked. As such, if you're uncomfortable with market research and data gathering, you should probably just refrain from using the Internet and/or smart anything. Actually, you should probably refrain from buying all goods or going anywhere, ever. Oh wait…
That said, if you want to minimize the risk of your porno browsing history being released to the world, you should be engaging reputable paysites, ones that are invested in protecting their customers and treating them well. And, if you want to avoid those aforementioned cock-blocking "sheriffs of the government," there're always sites like Boodigo.com, where you can "search for what you're really looking for, anonymously."
Dr. Chauntelle Tibbals is a sociologist specializing in gender, sexualities, work and organizations, media and technology, and popular culture. She has been studying the adult entertainment industry for over ten years.