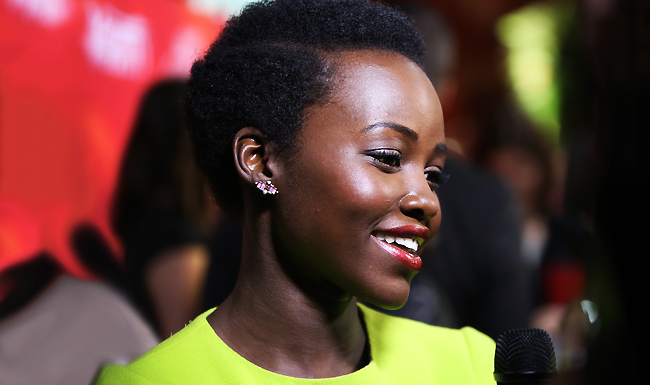 Marvel's Black Panther may be about to add an Oscar-winner to its cast, as the Hollywood Reporter claims Lupita Nyong'o is in serious talks to star alongside Chadwick Boseman. Obviously Nyong'o is already in tight with the Disney blockbuster machine as she voiced Maz Kanata in Star Wars: The Force Awakens, so her joining Black Panther wouldn't be all that surprising.
We don't know many specifics about the potential role yet, although early indications suggest Nyong'o will be playing the movie's love interest. If the Black Panther movie plans to stick closely the source material, that narrows the possibilities down quite a bit.
Of course, Black Panther's most recent love interest Storm is straight out. Well, unless the movie features another white-haired, weather-controlling lady called, uh, "Gale" or "Tempest" or something.
The more likely possibility is Monica Lynne, who's been an on-and-off-again partner for T'Challa since the '70s. A singer the Panther met in New York, Monica tried to make a go of it in Wakanda, but the people there initially rejected her as an outsider. T'Challa and Monica were even engaged at one point, although the character has largely disappeared in more recent years.
If Marvel wanted to add some additional superpowered muscle, they could have Nyong'o play Monica Rambeau. For those not familiar, Rambeau has gone by many aliases — she started out as a version of Captain Marvel, but has also gone by Photon, Pulsar and Spectrum. T'Challa and Monica have never had an official romance, but there's been plenty of hinting. It's a very long shot, but it would certainly be interesting if the Captain Marvel movie featured Nyong'o as the Monica Rambeau version of the character.
Any possibilities I missed? Let me know in the comments. Black Panther hits theaters July 6, 2018.
(Via the Hollywood Reporter)