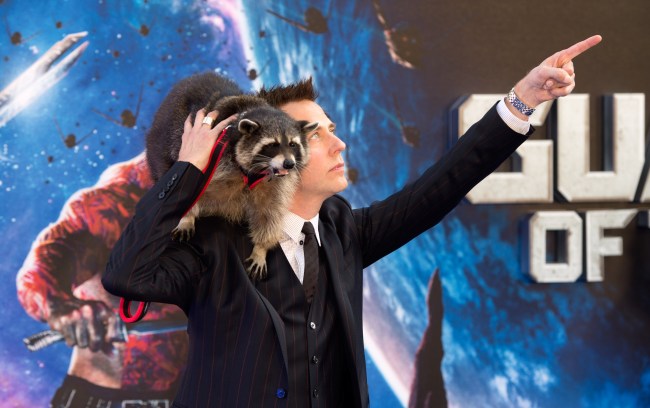 Even though James Gunn is presumably very busy working on Guardians of the Galaxy Vol. 2, he still found time to give a lengthy Q&A on Facebook. Among the highlights were him saying he probably won't direct any non-Guardians Marvel movies and him pointing out that even though Suicide Squad broke Guardians' record for biggest August opening weekend, it may not win out in the end:
"It beat us first weekend. We almost made more money second weekend. And there is a very likely chance we'll make more money at the end of the day (we made more domestically than BvS even). The great thing about Guardians wasn't that it came in and made a ton of money but that so many people went and told their friends about the movie, who went to see it, and that people kept coming back again and again."
And there's no reason for Gunn to worry about angering anyone at DC/Warner over money talk, because they already tried to hire him and he said no:
"I've had opportunities to make DC films, but I haven't said yes to anything, and not sure I would at this time. I've talked before about which projects appeal to me the most if I was into making one, and it's always Shazam and Metal Men and Swamp Thing and [Jonah] Hex and a few other DC IPs I've enjoyed for a great deal of my life."
Shazam! is already in production with The Rock as Black Adam. Swamp Thing should probably show up in Justice League Dark, which is an animated project now (with Matt Ryan reprising the role of Constantine), although it was in development as a live-action film with names like Colin Farrell and Cara Delevingne being kicked around in questionable rumors. Jonah Hex, meanwhile, was hailed as "the funniest movie of the summer" by one writer and probably regretted by everyone else except Josh Brolin.
The only one of those projects Gunn specifically mentioned that might still be on the table is Metal Men, but we don't really see Gunn jumping from Marvel to DC to make that. Then again, we couldn't see how Rocket Raccoon would work on the big screen, and that turned out brilliantly…
Love that guy.
(Via James Gunn and /film)