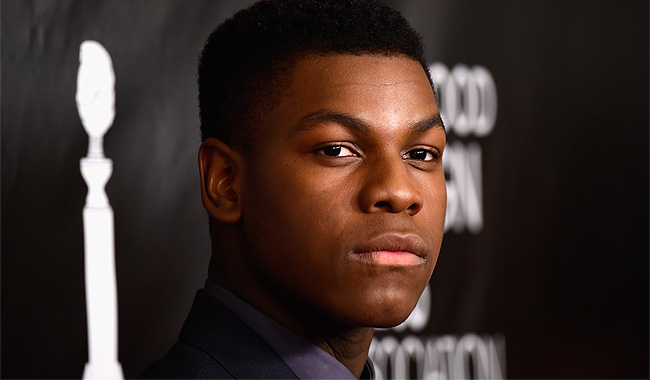 A role in a Star Wars movie can be a mixed blessing. Some actors, like Harrison Ford, Ewan McGregor, and Natalie Portman, have used Star Wars as a springboard to mega-stardom. Others have struggled after being too strongly identified with the characters they've played. It looks as though Star Wars: The Force Awakens star John Boyega will likely be in the former camp. First he landed a major part in James Ponsoldt's The Circle, a Dave Eggers adaptation that will find him appearing alongside Tom Hanks and Emma Watson. Now he's grabbed a role in another blockbuster franchise.
According to Deadline, Boyega has claimed the lead in Pacific Rim 2, playing the son of Stacker Pentecost, the commander played by Idris Elba in the original movie. Series creator Guillermo del Toro seems appropriately jazzed to have Boyega on board…
"I am very proud and happy to welcome John into a fantastic sandbox. The Pacific Rim universe will be reinforced with him as a leading man as it continues to be a multicultural, multi-layered world. 'The world saving the world' was our goal and I couldn't think of a better man for the job."
Pacific Rim 2 has had its share of development ups and downs, and was seemingly canceled at one point, but it was eventually revived under new director Stephen S. DeKnight, with del Toro remaining on board as a producer. Aside from Boyega, it isn't known who else might appear in Pacific Rim 2, or if any of the original cast will be returning.
Pacific Rim 2 goes into production late this year, and will probably be released sometime in 2017.
(Via Deadline)